---
Ticker Tape Digest's
Performance of Leading Breakout Stocks in 2012 and 2011
Monday - January 9 - Update
---
Ticker Tape Digest provides a list of breakout stocks. We list them as Leaders, Average and Laggards. This list is the top performers so far for 2011.
Be sure to check TTD's premarket breakout watch list. This gives you a great opportunity "to be prepared for the next key breakout stock just before it happens." The list is updated daily.
---
TTD's Top Performaning Breakouts for 2011
Latest prices are January 6, 2012
---
Stocks with Gain in blue have surpassed their breakpoint and have broken out of their base.
---
Breakout Stocks Performance in 2011 as of Dec. 31, 2011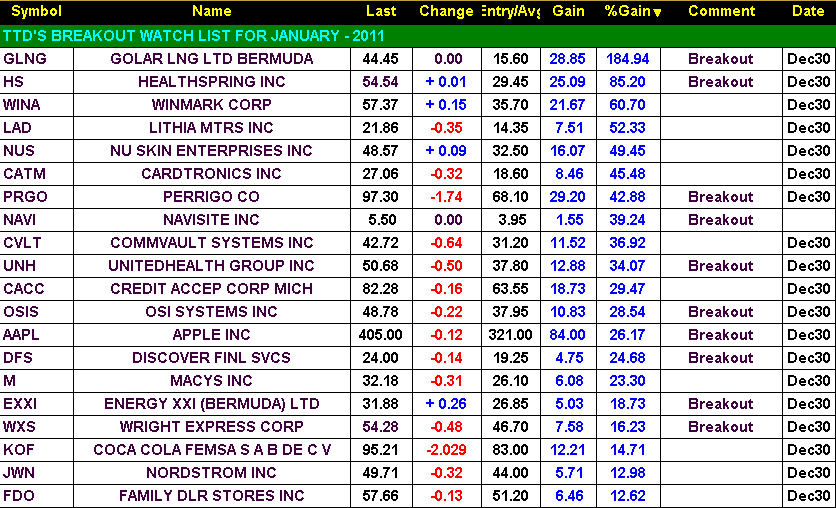 ---
---
---
---
---
---

---
---
---
---
---
---
Guide: Symbol=Ticker, Name=Corporate name, Entry is the buy price to enter on the breakout, Last=prior close, Change=change from last close to prior, Date=date of price of close etc, Gain in blue is price above breakpoint (entry), Gain in red is price below breakpoint (entry)., % Gain in blue is % over breakpoint (entry), Gain in red is % below breakpoint (entry)
TTD takes no responsibility for trading by those using this information. The stocks presented in our report are those we deem the best looking Trade Setups for the long side. We take no responsibility for the accuracy of this data, although every effort is made to present the information correctly. Copyright Ticker Tape Digest.
Copyright --- Ticker Tape Digest - 2012