---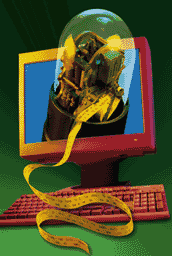 Ticker Tape Digest
Monday - February 5, 2007
---
By Leo Fasciocco -- TTD
Ticker Tape Digest presents its daily breakout and Short Selling report. It contains Breakout Stocks and Stocks under Significant Accumulation.Data is from tape action for the day. These stocks are most suitable for aggressive investors seeking ideal entry points for leading stocks.
These stocks will do very well during bull markets and strong market rallies.
TTD also presents Stocks To Sell or Sell Short.These issues are suitable for aggressive investors willing to take short positionsboth as trades or for longer-term plays. These stocks will do very well during bear markets or market corrections
TTD's multi-media updates include a slide-show that presents charts. It is available with use of the Real Player One that can be downloaded for free from real.com. The latest versions of Microsoft's explorer and Netscape have the player already installed and works well with TTD's slide shows.
TTD's more advanced video show comes as Microsoft video file and is best used with cable or high-speed service.
TTD also has a special feature section on Tips - Questions and Answers at the Forum section.Go To Forum click here
To email Leo leo@tickertapedigest.com.For service, email Beverly Owen owen@tickertapedigest.com. TTD's Tel: 1-480-926-1680.
---
---
Breakout Stocks
Total Buy Breakouts so far today - 14
Stocks Screened- 8,200
Bull side - Good number of breakouts today as market is mixed. Quality is average. Bulls need to be very selective.
Long-Term Environment for bulls: Favorable.
Market Status (Daily) - NYSE Bullish, Nasdaq Bullish
Market Status (Weekly) - NYSE Bullish, Nasdaq Bearish
---
Today's Featured Breakout Stock
Telecom Firm's Net to Climb 34% This Year, TTD Sees Run to 33
ATHR based in Sunnyvale, Ca., builds high-speed connections for telecom service. Annual revenues: $183 million. ATHR breaks out today from a 14-week, cup-and-handle base today with a big expansion in volume. So far today, ATHR is trading 5.1 million shares, double its normal daily volume of 2.5 million shares.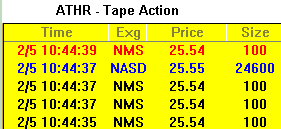 The company's radio-frequency transceiver chipsets combine features such as a radio, power amplifier, low-noise amplifier, and a media access control (MAC) processor onto just two or three chips, eliminating the need for bulkier components in wireless networking equipment.
The company's top customers include networking device makers such as Alpha Networks (15% of sales), Hon Hai Precision Industry (15% of sales), Cameo Communications (13%), and Askey Computer (10%). The fabless semiconductor company was started by faculty members from Stanford and Berkeley.
TTD highlighted the stock at our midsession show on the web.
The tape action in ATHR was a bit mixed so far today. TTD has picked up some big blocks going off on down ticks. However, the stock has held up well. One of the bullish blocks crossing today is highlighted in our clip. It is a big block of 24,600 shares crossing on an up tick to 25.55 from the prior trade at $25.54.
Technically, the stock is acting extremely strong.
The stock's spread (range from high to low) widens as volume expands today. That shows the volume is able to push the stock's price.
The stock's TTD momentum indicator (top of the chart) is strongly bullish. The accumulation - distribution line has turned up and has hit a new peak confirming the breakout today.
TTD's long-term chart of ATHR shows the stock now in position to hit a new all-time high.
This year, analysts predict a 34% increase in ATHR's earnings to 70 cents a share from 52 cents a share a year ago. The stock sells with a 37 price-earnings ratio, which TTD sees as reasonable.
Going out to 2008, ATHR's profit growth should accelerate to 40% with earnings advancing to 98 cents a share.
For the upcoming first quarter, ATHR's net should leap 57% to 14 cents a share from 9 cents a share a year ago. In the recently reported fourth quarter, ATHR's revenues leaped 65%. For all 2006, they were up 64%. The company makes products for the bluetooth, a cellphone linked product.
Strategy Opinion: TTD sees ATHR is a hot sector - bluetooth. TTD is calling for the stock to climb to 33 within the next few months. A protective stop can be placed 23. TTD rates ATHR an excellent intermediate-term play because of its strong earnings growth, which could lead to profit upgrades.
Sponsorship: Very Good. The top four large fund holders in the stock all have a 4-star rating from Morningstar. The highest is a 5 the lowest 1. A key buyer recently was 4-star rated Vanguard Strategic Equity Fund which picked up 348,000 shares. Also, 4-star rated Alger Capital Appreciation Fund picked up 222,000 shares.
Insider Activity: Neutral. Very little activity lately. Currently, 12 analysts follow the stock, 7 have a buy, up from 6 three months ago. In mid-December Piper Jaffray came out with an upgrade to outperform.
---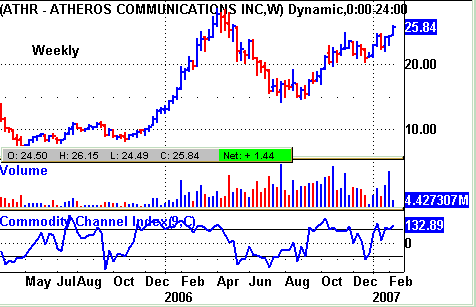 ---
TTD's Breakout Profile Rating

Atheros Communications Inc. (ATHR)
| | | | |
| --- | --- | --- | --- |
| TTD Check List | Bullish | Bearish | Neutral |
| Near 52-week High | YES | | |
| Volume | YES | | |
| Tick Volume | YES | | |
| Price Trend - Daily | YES | | |
| Price Trend - Long Term | YES | | |
| Price Daily Spread | YES | | |
| Base Structure | YES | | |
| Base - A-D | YES | | |
| Earnings-Quarterly | | | YES |
| Earnings-Long Term | | | YES |
| Earnings Outlook | YES | | |
| Industry Group | YES | | |
| Prior Breakout Success | YES | | |
| Fund Sponsorship | YES | | |
| Total Score | 12 | 0 | 2 |
---
All Timely Breakout Stocks From Tape Action Today
(The "breakout List" gives all stocks breaking out of a base of five weeks or more. These stocks have a good chance to trend higher. However, a stop should be used to avoid those that do not work.
(Trading strategy: One should buy breakout stocks at breakpoint by using market order or stop buy)
---
Charts of Selected Breakout Stocks Today
---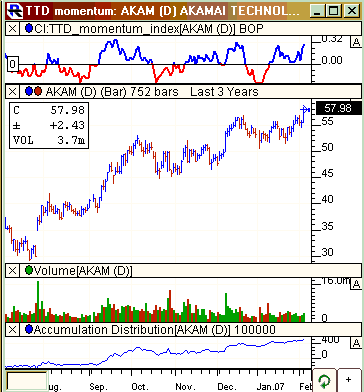 ---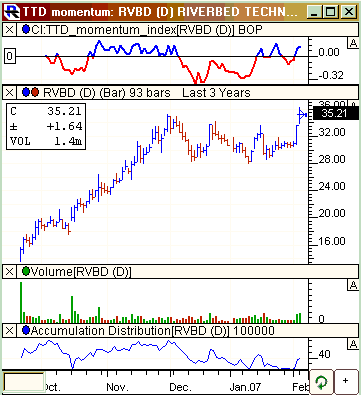 ---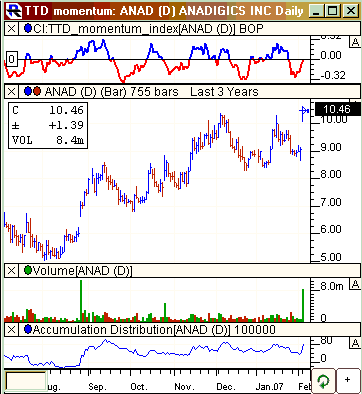 ---
Ticker Tape Digest's
Stocks To "Sell or Short"
Ticker Tape Digest's Daily List of "Stocks To Sell or Sell Short" ranks stocks well timed to be sold immediately based on daily trading. The list can be used as an alert to reduce current long-term positions.
Shorts from tape action so far today - 5
Stocks Screened - 8,200
Long-Term Environment for bears: Unfavorable.
Bear Side - Very few breakdowns today. Bears be selective. Some key bear plays working well. TTD's recent short Illumina (ILMN) falls 1.42 to 35.75.
List of Stocks To Sell or Short
(Trading strategy: These stocks can be sold short, or if held should be sold. If a stock is sold short, a protective stop buy should be placed. Short plays work best when the stock market is in a down trend.)

---
Commentary on TTD's Feature Bear Play
AVID, bases in Tewksbury, Ma., make products used in the digital editing and professional audio systems used by the film, music, and television industries. Annual revenues: $775 million. AVID falls sharply today after reporting a loss for the fourth quarter late last week. The stock is trading 1.3 million shares so far today, double its normal daily volume of 569,000 shares. TTD sees the stock as a good short here.
The stock got off to a bearish start today. TTD's clip of the tape shows a big block of 50,000 shares crossing on a modest down tick to $33.56 from the prior trade at $33.57.
AVID's products include Film Composer, Symphony, and Avid Xpress. They are used by music and film studios, postproduction facilities, radio broadcasters, and television stations including the BBC, CBS, and NBC.
Its Digidesign unit markets the ProTools line of sound editing systems. Avid also makes animation design software, newsroom automation systems, and digital storage systems. The company provides a line of video editing products for the consumer market through its Pinnacle Systems division.
The company reported a loss for the fourth quarter of $1.28 a share compared with a profit of 44 cents a share a year ago. Results include a large charge for goodwill linked to the acquisition of Pinnacle Systems in August of 2005.
TTD's daily chart of AVID shows the stock's price breakdown. Most noteworthy is that the accumulation - distribution line is in a steep decline. That indicates clear heavy selling pressure. TTD is targeting AVID for a decline to 25 within the next few months. The stock is suitable for aggressive bears.
---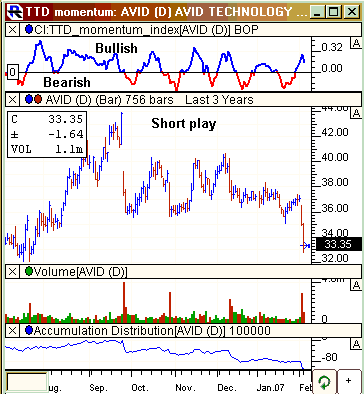 ---
TTD columnist Leo Fasciocco has covered the stock market for over 20 years. His articles appear in many publications. He is also a speaker at the Intershow conferences. He has been on television and radio. He is author of many educational articles about stock investing and the book "Guide To High-Performance Investing."
For information to subscribe to the Ticker Tape Digest Services call: B. J. Owen at 1-480-926-1680. Distributed by Corona Publishing Enterprises. Ticker Tape Digest Inc. P.O. Box 2044 Chandler, Az. 85244-2044. TTD "Professional Report" is available on the World Wide Web: $100 per month. Password needed. "TTD Professional" Faxed is $200 per month. The TTD Daily Report is $39.95. Credit cards accepted.
(The information contained has been prepared from data deemed reliable but there is no guarantee of complete accuracy. Ticker Tape Digest Inc. is not affiliated with any broker, dealer or investment advisor. Nothing in this publication constitutes an offer, recommendation or solicitation to buy or sell any securities. Further research is advised. This report is copyrighted and no redistribution is permitted with out permission. Some of the charts are from Telescan, Insight Trading, First Alert and other sources.)