---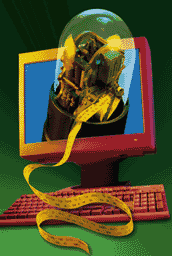 Ticker Tape Digest
Tuesday - February 13, 2007
---
By Leo Fasciocco -- TTD
Ticker Tape Digest presents its daily breakout and Short Selling report. It contains Breakout Stocks and Stocks under Significant Accumulation.Data is from tape action for the day. These stocks are most suitable for aggressive investors seeking ideal entry points for leading stocks.
These stocks will do very well during bull markets and strong market rallies.
TTD also presents Stocks To Sell or Sell Short.These issues are suitable for aggressive investors willing to take short positionsboth as trades or for longer-term plays. These stocks will do very well during bear markets or market corrections
TTD's multi-media updates include a slide-show that presents charts. It is available with use of the Real Player One that can be downloaded for free from real.com. The latest versions of Microsoft's explorer and Netscape have the player already installed and works well with TTD's slide shows.
TTD's more advanced video show comes as Microsoft video file and is best used with cable or high-speed service.
TTD also has a special feature section on Tips - Questions and Answers at the Forum section.Go To Forum click here
To email Leo leo@tickertapedigest.com.For service, email Beverly Owen owen@tickertapedigest.com. TTD's Tel: 1-480-926-1680.
---
---
Breakout Stocks
Total Buy Breakouts so far today - 14
Stocks Screened- 8,200
Bull side - TTD picks up a good number of breakouts today, with some high-growth plays in the list. Bulls be selective.
Long-Term Environment for bulls: Favorable.
Market Status (Daily) - NYSE Bullish, Nasdaq Bearish
Market Status (Weekly) - NYSE Bullish, Nasdaq Bearish
---
Today's Featured Breakout Stock
Mosaic Co. (MOS) 23.47, up 1.11 - Breakpoint 22.70
Fertilizer Firm's Net to Leap 146% in Fiscal 2007, TTD Sees 29
MOS, based in Plymouth, Mn., products crop nutrition products. Annual revenues: $5.3 billion. MOS, a stock TTD recently featured as one to accumulate, breaks out today from a 10-week flat base. Volume so far today is running at 3.7 million shares. Its average daily volume is 2.9 million shares. The stock is acting very well with prospects for strong earnings in coming quarters. That is due to demand to produce more corn and the need for fertilizer.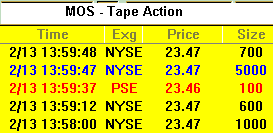 TTD's clip of the tape shows buying demand is still strong in the afternoon. A big block of 5,000 shares crossed the tape on a modest up tick to $23.47 from $23.46.
The company was pieced together from the merger of IMC Global and Cargill's former crop nutrition unit in late 2004, creating one of the world's largest makers of phosphate and potash crop nutrients.
MOS combined IMC's largely domestic business with the global reach provided by Cargill's businesses. MOS does more than two-thirds of its business outside the US. Cargill owns two-thirds of Mosaic, marking the first public ownership of any part of Cargill, the second-largest private company in the U.S. (behind Koch).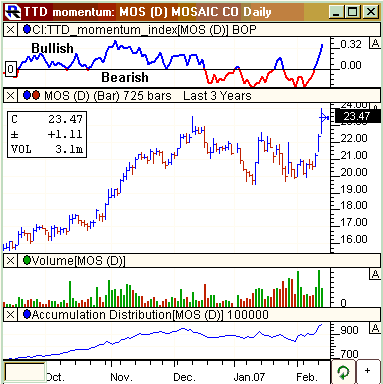 TTD's daily chart shows the clean and solid breakout from a well-formed base. The stock's TTD momentum indicator (top of the chart) is very bullish.
Most impressive is that the stock's accumulation - distribution line (bottom of the chart) has hit a new peak. That is very good confirmation of the strength of the buying propelling MOS higher. Note too that the two largest volume days in the past six months came on days when the stock closed higher.
TTD's long-term chart shows the stock in an up trend and within position to attack its all-time high.
Most analysts expect MOS to benefit from increased demand due to a recent weak corn crop. The idea is that more corn will be planted and thus, a need for more fertilizer this time around.
For the fiscal year ending May 30, MOS' earnings are projected to soar 146% to 76 cents a share from 31 cents a year ago. That gives the stock a price-earnings ratio of 31 based on fiscal 2007 net.
That is low given the projected growth rate. For fiscal 2008, earnings are forecasted to climb 79% to $1.37 a share from the anticipated 76 cents a share in fiscal 2007.
For the upcoming fiscal third quarter ending Feb. 28, MOS should check in with a profit of 16 cents a share compared with a loss of 19 cents a share a year ago. The fiscal fourth quarter will be very strong with net surging 146% to 76 cents a share from 31 cents a share a year ago.
Strategy Opinion: TTD is very bullish on MOS. The fundamentals support the stock pushing higher. TTD is targeting MOS for a move to 29 within the next few months. A protective stop can be placed near 21. TTD rates MOS a very good intermediate-term play with potential to show a 50% appreciation in 12 to 15 months.
Sponsorship: Good. The largest fund holder is American Funds Fundamental Investor with a 2.4% stake. It has held its position steady. The largest buyer recently was 4-star rated Fidelity Advisor Mid Cap Fund which purchased 3.5 million shares. There was some heavy selling by two large fund holders.
Insider Activity: Slightly Bullish. One insider was a buyer through an open market purchase. No insiders were sellers. Six analysts follow the stock, 2 have a buy, 3 are neutral, one has a sell. On Jan. 30, JP Morgan put out a buy. It cited rising demand for fertilizers.
---
---
TTD's Breakout Profile Rating

Mosaic Co. (MOS)
| | | | |
| --- | --- | --- | --- |
| TTD Check List | Bullish | Bearish | Neutral |
| Near 52-week High | YES | | |
| Volume | YES | | |
| Tick Volume | YES | | |
| Price Trend - Daily | YES | | |
| Price Trend - Long Term | YES | | |
| Price Daily Spread | YES | | |
| Base Structure | YES | | |
| Base - A-D | YES | | |
| Earnings-Quarterly | YES | | |
| Earnings-Long Term | | | YES |
| Earnings Outlook | YES | | |
| Industry Group | YES | | |
| Prior Breakout Success | YES | | |
| Fund Sponsorship | YES | | |
| Total Score | 13 | 0 | 1 |
---
All Timely Breakout Stocks From Tape Action Today
(The "breakout List" gives all stocks breaking out of a base of five weeks or more. These stocks have a good chance to trend higher. However, a stop should be used to avoid those that do not work.
(Trading strategy: One should buy breakout stocks at breakpoint by using market order or stop buy)
---
Charts of Selected Breakout Stocks Today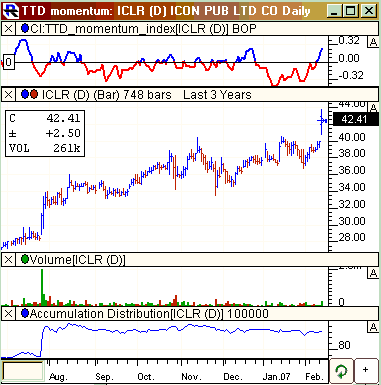 ---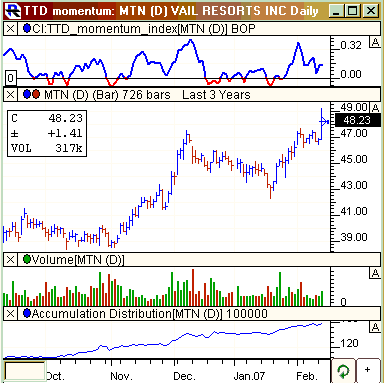 ---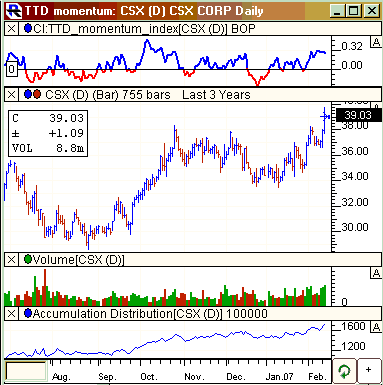 ---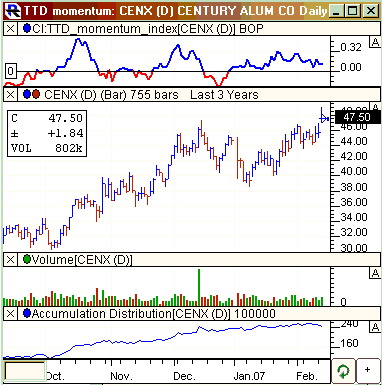 ---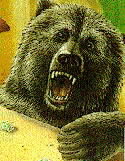 Ticker Tape Digest's
Stocks To "Sell or Short"
Ticker Tape Digest's Daily List of "Stocks To Sell or Sell Short" ranks stocks well timed to be sold immediately based on daily trading. The list can be used as an alert to reduce current long-term positions.
Shorts from tape action so far today - 7
Stocks Screened - 8,200
Long-Term Environment for bears: Unfavorable.
Bear Side - Modest list of breakdowns today. Bears be selective as market consolidates. TTD's short from Monday, Ctrip.com (CTRP) falls 1.95 to 58.30, a great play so far for bears.
List of Stocks To Sell or Short
(Trading strategy: These stocks can be sold short, or if held should be sold. If a stock is sold short, a protective stop buy should be placed. Short plays work best when the stock market is in a down trend.)

---
Commentary on TTD's Feature Bear Play
ININ, based in Indianapolis, develops enterprise software that enables customers to automate their business communications. Annual revenues: $62 million. ININ tumbles sharply today on massive volume after reporting disappointing earnings. The heavy selling signals a race to the exits. TTD sees it as an opportunity for bears. We see more on the downside.
So far today, ININ is down 3.80 points. The stock is trading 1.9 million shares. eight times its normal daily volume of 222,000 shares. The tape action continues bearish even into the afternoon. TTD's clip of the tape highlights a big block of 5,000 shares going off on a down tick to $16.81 from the prior trade at $16.82.
The company's proprietary Enterprise Interaction Center and Interaction Recorder software provides a single integrated service that is able to process thousands of telephone calls, e-mails, faxes, voice-mail messages, Internet chat sessions, and Web callback requests.
ININ's customers include Ameritech, BuyItNow, Deutsche Telekom Berkom, Seagate Technology, and Toshiba.
Today, ININ reported that net for the fourth quarter declined to 9 cents a share from 11 cents a year ago. The news was taken very bearishly.
TTD's daily chart shows a gap breakdown on big volume. The technical action comes as a surprise since the stock was acting well. TTD views ININ as a trading short with potential for a decline to 12 within the next few months. Bears can clip profits at that target point.
---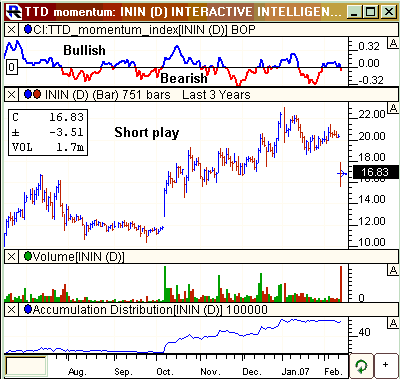 ---
TTD columnist Leo Fasciocco has covered the stock market for over 20 years. His articles appear in many publications. He is also a speaker at the Intershow conferences. He has been on television and radio. He is author of many educational articles about stock investing and the book "Guide To High-Performance Investing."

For information to subscribe to the Ticker Tape Digest Services call: B. J. Owen at 1-480-926-1680. Distributed by Corona Publishing Enterprises. Ticker Tape Digest Inc. P.O. Box 2044 Chandler, Az. 85244-2044. TTD "Professional Report" is available on the World Wide Web: $100 per month. Password needed. "TTD Professional" Faxed is $200 per month. The TTD Daily Report is $39.95. Credit cards accepted.
(The information contained has been prepared from data deemed reliable but there is no guarantee of complete accuracy. Ticker Tape Digest Inc. is not affiliated with any broker, dealer or investment advisor. Nothing in this publication constitutes an offer, recommendation or solicitation to buy or sell any securities. Further research is advised. This report is copyrighted and no redistribution is permitted with out permission. Some of the charts are from Telescan, Insight Trading, First Alert and other sources.)