---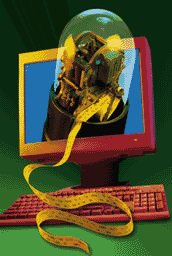 Ticker Tape Digest
Wednesday - March 4, 2009
---
By Leo Fasciocco -- TTD
Ticker Tape Digest presents its daily breakout and Short Selling report. It contains Breakout Stocks and Stocks under Significant Accumulation.
Data is from tape action for the day. These stocks are most suitable for aggressive investors seeking ideal entry points for leading stocks.
These stocks will do very well during bull markets and strong market rallies.
TTD also presents Stocks To Sell or Sell Short. These issues are suitable for aggressive investors willing to take short positions both as trades or for longer-term plays. These stocks
will do very well during bear markets or market corrections
TTD's multi-media updates include a slide-show that presents charts and analysis at midsession. Some times TTD presents feature analysis on stocks and the market. TTD uses Windows Media Files. (WMV).
TTD also presents a "Breakout Watch List" that is up dated daily. This list consists of key stocks in position to breakout. A close watch of this list can put you in the stock just as it breaks out.
TTD often suggests using stop buy orders to enter. It is very important to buy a breakout stock as close as possible to the break point. The idea is to get "elbow room" if the stock should follow through to the upside. This is very important in being successful in making big money with breakout stocks.
TTD also has special feature sections on Educational Tips on Investing.
To email Mr. Leo Fasciocco leo@tickertapedigest.com.For service, email Beverly Owen owen@tickertapedigest.com. TTD's Tel: 1-480-926-1680.
---
Total Buy Breakouts today - 1
Stocks Screened - 8,200
Bull's Strategy - Only one breakout today. Stock market rallies strongly today in what appears to be a short-covering led rally. Bulls remain conservative and patient. The key now is to see a rally follow through move.
(Put mouse on Dow chart to see Nasdaq chart)
Long Term Environment for bulls: Unfavorable
Market (Daily) - NYSE Bearish, Nasdaq Bearish
Market (Weekly) -NYSE Bearish, Nasdaq Bearish
Market (Monthly) NYSE Bearish, Nasdaq Bearish
---
Today's Feature Breakout Stock
Net for 4th Quarter to Soar 69%, TTD Targets 21
TTD's Quality Rating of Stock - LFT - BELOW AVERAGE
LFT, based in Xiamen. is China's leading software developer and information technology services provider for the financial services industry. Annual revenues: $100 million. LFT's stock, a laggard, breaks out from an 8-week, cup-and-handle base today. The stock is the only one TTD spotted as a breakout today. We call it a laggard because it has not made at least a 52-week high. However, the stock had move up from 11 to 15 to form its base. So it is now in an up trend.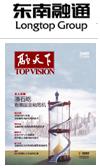 LFT's stock is up nicely today participating in the market's rally. Volume is running at 501,607 shares, almost four times its normal daily volume of 147,000 shares.
The stock moved higher in the morning, coasted midday and then turned higher again in the afternoon. It participated nicely in the stock market's rally today.
TTD's clip of the tape shows a big block of 22,400 shares crossing the tape at $15.80. The trade came within a sequence started by an up tick from $15.79. The tape action showed modest institutional buying interest in the stock.
LFT develops and delivers a comprehensive range of software solutions with a focus on meeting the rapidly growing IT needs of banks and insurance companies. More than 80% of the firm's business is derived from software development; the rest comes from other services like ATM maintenance. The firm has about 1,740 employees throughout China.
TTD's performance chart going back just three months shows LFT's stock appreciating 28%. That compares with a 20% drop in the S&P 500 index. LFT has been acting very strong in recent months.
TTD's long-term chart shows LFT's stock as high as 30 back in 2007. It then worked lower bottoming around 11. It has since turned up.
LFT's daily chart shows a rally from 11 to 16 recently. The stock then set up a cup-and-handle base. Today's breakout is classic. The stock does have overhead resistance reflecting recent trading at a higher price. That is a negative.
The structure of the base is bullish showing a contraction of volume near the low.
The TTD momentum indicator (top of chart) is strongly bullish.
The accumulation - distribution line (bottom of chart) is rising strongly. That indicates strong underlying buying for the stock.
LFT's earnings for the fiscal fourth quarter ending March 30 should soar 69% to 15 cents a share from 9 cents a share a year ago. The highest estimate for the quarter is at 16 cents a share.
For the recently reported fourth quarter, LFT's revenues soared 79%. Revenues from software development jumped 89%. The gains represented strong business from banks.
Net for the year ending March 31 should increase 15% to 85 cents a share from 74 cents a year ago. The stock sells with a price-earnings ratio of 20, which is reasonable. Looking out to fiscal 2010, the Street projects a 17% gain in net to 99 cents a share.
Strategy Opinion: LFT is a lagging stock that is now turning higher off a well-formed base. TTD suggests scaling into the stock with just a partial stake. We are targeting the stock for a move to 21. A protective stop can be place 15.50 giving it some room because of the strong quarterly results coming. TTD rates LFT more of a trading play.
Sponsorship: Not available. LFT has 50 million shares outstanding.
Insider Activity: Not available. Six analysts follow the stock, and all have a buy.
---
---
Stock Performance Chart for 3 months with Quarterly Earnings Markers.

---
TTD's Profile Rating
Longtop Financial Technologies Ltd. - (LFT)
| | | | |
| --- | --- | --- | --- |
| TTD Check List | Bullish | Bearish | Neutral |
| Near 52-week High | | | YES |
| Volume Expansion | YES | | |
| Tick Volume | YES | | |
| Price Trend - Daily | YES | | |
| Price Trend - Long Term | | YES | |
| Price Daily Spread | YES | | |
| Base Structure | YES | | |
| Base - A-D | YES | | |
| Earnings-Quarterly | YES | | |
| Earnings-Long Term | YES | | |
| Earnings Outlook | YES | | |
| Industry Group | YES | | |
| Prior Breakout Success | | YES | |
| Fund Sponsorship | YES | | |
| Total Score | 12 | 2 | 0 |
---
Timely Breakout Stocks From Tape Action Today
(The "breakout List" gives all stocks breaking out of a base of five weeks or more. These stocks have a good chance to trend higher. However, a stop should be used to avoid those that do not work. (Trading strategy: One should buy breakout stocks at breakpoint by using market order or stop buy.

---
Charts of Breakout Stocks
None
---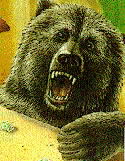 Ticker Tape Digest's
Stocks To "Sell or Short"
Ticker Tape Digest's Daily List of "Stocks To Sell or Sell Short" ranks stocks well timed to be sold immediately based on daily trading. The list can be used as an alert to reduce current long-term positions.
Shorts from tape action so far today - 3
Stocks Screened - 8,200
Long-Term Environment for bears: Favorable.
Bear Side - Just a few breakdown stocks today as stock market stages a rally. Bears still be alert for good short plays. The action today looks like a short covering led rally.
---
List of Stocks To Sell or Short
(Trading strategy: These stocks can be sold short, or if held should be sold. If a stock is sold short, a protective stop buy should be placed. Short plays work best when the stock market is in a down trend.)
---
TTD's Feature Bear Play
Profit Growth to Slow for Retailer, TTD Sees Drop to 17.50
GYMB, based in Burlingame, Ca., is a specialty retailer of children's clothing through its Gymboree, Janie and Jack, and Crazy 8 concepts. Annual revenues: $990. GYMB's stock gaps lower today after the company said it will report its earnings today. Trading in the stock more than doubled to 2 million shares from its average daily volume of 720,000 shares. TTD sees more on the downside, especially if earnings should disappoint.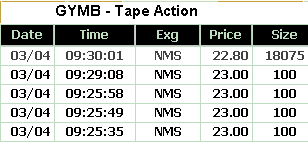 GYMB's stock gapped lower at the opening. It had a bounce and then trended sideways the rest of the day not participating in the stock market's rally.
TTD's clip of the tape shows a big block of 18,075 shares crossing on a down tick to $22.80 near the opening. The trade came on a down tick from the prior trade at $23. TTD sees the tape action indicating aggressively institutional selling pressure.
GYMB operates 614 Gymboree stores, 112 Gymboree Outlet shops, 110 Janie and Jack locations, and 37 Crazy 8 stores. The company also runs developmental programs for children through the Play & Music brand
Wall Street expects GYMB to post a 5% increase in net for the fiscal fourth quarter ended January 30. They look for net of 98 cents a share, up from 93 cents a share a year ago. Looking out to fiscal 2010 ending January analysts predict a 10% drop in profits to $2.85 a share.
TTD's daily chart shows GYMB's stock falling from the 30 to 16. It rallied and then trended sideways. Today's technical breakdown is very bearish. The TTD momentum indicator (top of the chart) is slightly bearish.
TTD is targeting GYMB's stock for a drop to 17.50 within the next few months. A protective stop buy can be placed near 24.
---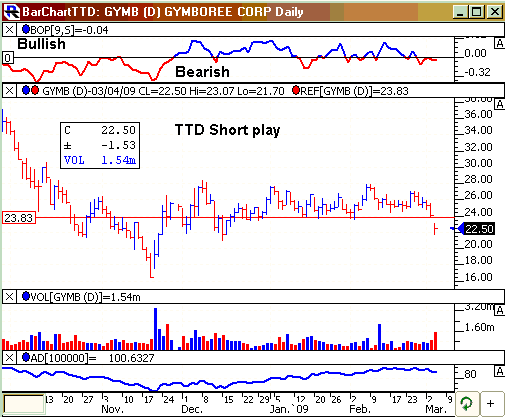 ---
TTD columnist Leo Fasciocco has covered the stock market for over 20 years. His articles appear in many publications. He is also a speaker at the Intershow conferences. He has been on television and radio. He is author of many educational articles about stock investing and the book "Guide To High-Performance Investing."

For information to subscribe to the Ticker Tape Digest Services call: B. J. Owen at 1-480-926-1680. Distributed by Corona Publishing Enterprises. Ticker Tape Digest Inc. P.O. Box 2044 Chandler, Az. 85244-2044. TTD "Professional Report" is available on the World Wide Web: $100 per month. Password needed. "TTD Professional" Faxed is $200 per month. The TTD Daily Report is $39.95. Credit cards accepted.
(The information contained has been prepared from data deemed reliable but there is no guarantee of complete accuracy. Ticker Tape Digest Inc. is not affiliated with any broker, dealer or investment advisor. Nothing in this publication constitutes an offer, recommendation or solicitation to buy or sell any securities. Further research is advised. This report is copyrighted and no redistribution is permitted with out permission. Some of the charts are from Telescan, Insight Trading, First Alert and other sources.)