---
Ticker Tape Digest
Monday - March 12, 2007
---
By Leo Fasciocco -- TTD
Ticker Tape Digest presents its daily breakout and Short Selling report. It contains Breakout Stocks and Stocks under Significant Accumulation.Data is from tape action for the day. These stocks are most suitable for aggressive investors seeking ideal entry points for leading stocks.
These stocks will do very well during bull markets and strong market rallies.
TTD also presents Stocks To Sell or Sell Short.These issues are suitable for aggressive investors willing to take short positionsboth as trades or for longer-term plays. These stocks will do very well during bear markets or market corrections
TTD's multi-media updates include a slide-show that presents charts. It is available with use of the Real Player One that can be downloaded for free from real.com. The latest versions of Microsoft's explorer and Netscape have the player already installed and works well with TTD's slide shows.
TTD's more advanced video show comes as Microsoft video file and is best used with cable or high-speed service.
TTD also has a special feature section on Tips - Questions and Answers at the Forum section.Go To Forum click here
To email Leo leo@tickertapedigest.com.For service, email Beverly Owen owen@tickertapedigest.com. TTD's Tel: 1-480-926-1680.
---
---
Breakout Stocks
Total Buy Breakouts so far today - 10
Stocks Screened- 8,200
Bull side - Modest number of breakouts today. However, some interesting new names pop up. Bulls go slow, be selective.
Long-Term Environment for bulls: Unfavorable.
Market Status (Daily) - NYSE Bullish, Nasdaq Bullish
Market Status (Weekly) - NYSE Bearish, Nasdaq Bearish
---
Today's Featured Breakout Stock
Medical Care Firm Posts Strong Net, TTD Sees Push to 29
AFAM, based in Louisville, Ky., provides home health-care and adult day-care services. It operates in the the East and Midwest in the U.S. AFAM breaks out powerfully today from a 12-week flat base. The move was triggered by a favorable operating earnings report. So far today, AFAM is trading 87,005 shares, four times its normal daily volume of 15,000 shares.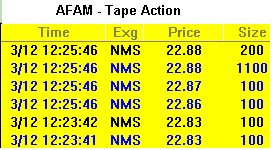 AFAM posted a 10% rise in net from operations for the fourth quarter to 26 cents a share from 24 cents a year ago.
However, adjusting year ago net for special gains from litigation settlement and taxes, AFAM's profits soared 63% to 26 cents a share from 16 cents a year ago. The stock's response to the news was extremely bullish for this thinly traded issue.
The company has only 4.8 million shares outstanding. Funds hold only 97,000 shares.
AFAM said revenue for the quarter grew 36% to $26.2 million from $19.2 million a year ago.
For the year, net income from continuing operations grew 45% to 80 cents per share from 57 cents inn 2005. Revenue for the year grew 22% to $91.8 million from $75.1 million. The company provides home-health services in Florida, Kentucky, Ohio, Connecticut, Massachusetts, Missouri, Alabama, Illinois and Indiana.
The stock's push to a new high no doubt attracted some buying from the "new high crowd." It did not take much to push the stock's price. The thin float makes the stock tricky in that if demand for the stock is strong the price could run higher easily.
A look at TTD's daily chart shows the powerful "gap breakout" to the upside today. Notice on the basing work how the spread (range from high to low on a daily basis) contracted. That is often favorable for a breakout - and so it was!
The stock's TTD momentum indicator is solidly bullish. (see top of the chart).
The accumulation-distribution line (bottom of the chart) is trending higher nicely in support of the stock's price. TTD's long-term chart of AFAM shows the stock in a very aggressive up trend.
The company made no forecast for the year. However, TTD sees good chances for 20% growth in earnings.
Strategy Opinion: AFAM is obviously extended from its breakout point. TTD suggests a scale in strategy. The stock could run. So, the key is to look for the follow through move to complete a stake.
TTD is targeting AFAM for a move to 29. A protective stop can be placed near 21. TTD rates AFAM a good intermediate-term play if earnings growth can remain strong.
Sponsorship: Average. The largest fund holder is Laudus Rosenberg US Small Cap Fund, 4-star rated, with a 0.39% stake. It has held its position steady. Also, four-star rated Bridgeway Ultra-Small Company Fund has a stake too.
Insider Activity: Neutral. Not much action lately. Not much of a following.
---
---
TTD's Breakout Profile Rating

Almost Family Inc. (AFAM)
| | | | |
| --- | --- | --- | --- |
| TTD Check List | Bullish | Bearish | Neutral |
| Near 52-week High | YES | | |
| Volume | YES | | |
| Tick Volume | YES | | |
| Price Trend - Daily | YES | | |
| Price Trend - Long Term | YES | | |
| Price Daily Spread | YES | | |
| Base Structure | YES | | |
| Base - A-D | YES | | |
| Earnings-Quarterly | YES | | |
| Earnings-Long Term | YES | | |
| Earnings Outlook | YES | | |
| Industry Group | YES | | |
| Prior Breakout Success | YES | | |
| Fund Sponsorship | | | YES |
| Total Score | 13 | 0 | 1 |
---
All Timely Breakout Stocks From Tape Action Today
(The "breakout List" gives all stocks breaking out of a base of five weeks or more. These stocks have a good chance to trend higher. However, a stop should be used to avoid those that do not work.
(Trading strategy: One should buy breakout stocks at breakpoint by using market order or stop buy)

---
Charts of Selected Breakout Stocks Today
---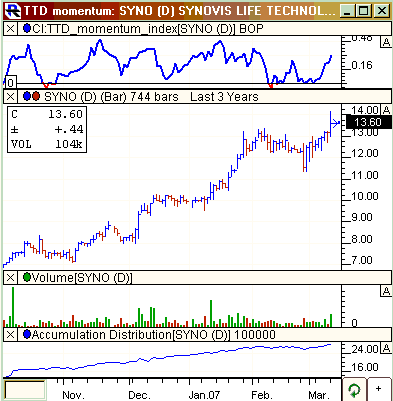 ---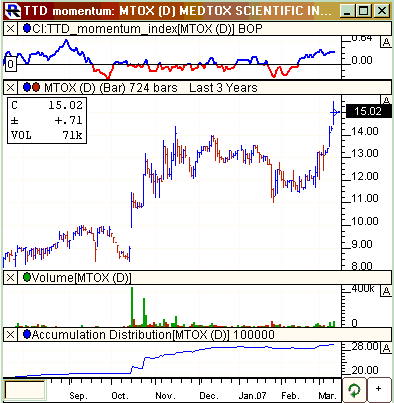 ---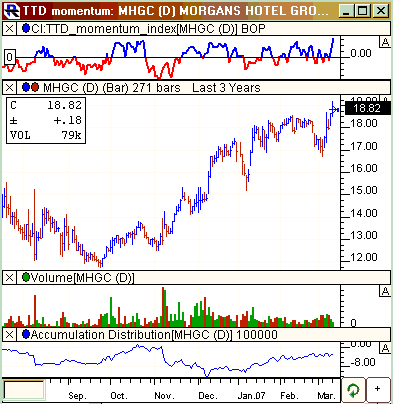 ---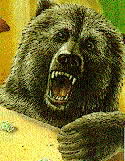 Ticker Tape Digest's
Stocks To "Sell or Short"
Ticker Tape Digest's Daily List of "Stocks To Sell or Sell Short" ranks stocks well timed to be sold immediately based on daily trading. The list can be used as an alert to reduce current long-term positions.
Shorts from tape action so far today - 3
Stocks Screened - 8,200
Long-Term Environment for bears: Favorable.
Bear Side - Only a few breakdowns today. Market consolidating after recent drop. Bears remain alert. Homebuilding related stocks remain weak and vulnerable.
List of Stocks To Sell or Short
(Trading strategy: These stocks can be sold short, or if held should be sold. If a stock is sold short, a protective stop buy should be placed. Short plays work best when the stock market is in a down trend.)
---
Commentary on TTD's Feature Bear Play
CHCI, based in Reston, Va., makes homes. Annual revenues: $224 million. CHCI falls sharply today after announcing a delay in its earnings report. Some analysts expect the company to show a loss of $1.42 a share for the quarter. The stock, which was $30 back in 2005, falls sharply today to set off a TTD short play.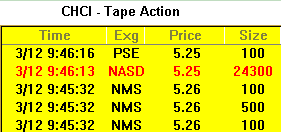 So far today, CHCI is trading off about 0.51, which is a 9% decline. Volume is running at 225,182 shares, double its normal daily volume of 121,000 shares.
The stock got off to a bearish start. TTD's clip of the tape shows a big block trade of 24,300 shares crossing on a modest down tick to $5.25 from the prior trade at $5.26.
CHCI develops single-family homes, townhouses and condominiums. It focuses on geographic areas with significant demand and high profit potential. The company currently operates in the Washington, D.C. and Raleigh, North Carolina markets.
It targets first-time, early move-up, secondary move-up, empty nester move-down and active adult home buyers.
CHIC was forming a bottom after its steady decline. However, today's breakdown and the weakness TTD is seeing in other homebuilding stocks points the finger to more on the downside. TTD is targeting CHIC for a decline to 3.50 within the next few months. The stock is most suitable for aggressive bears.
---
---
TTD columnist Leo Fasciocco has covered the stock market for over 20 years. His articles appear in many publications. He is also a speaker at the Intershow conferences. He has been on television and radio. He is author of many educational articles about stock investing and the book "Guide To High-Performance Investing."
For information to subscribe to the Ticker Tape Digest Services call: B. J. Owen at 1-480-926-1680. Distributed by Corona Publishing Enterprises. Ticker Tape Digest Inc. P.O. Box 2044 Chandler, Az. 85244-2044. TTD "Professional Report" is available on the World Wide Web: $100 per month. Password needed. "TTD Professional" Faxed is $200 per month. The TTD Daily Report is $39.95. Credit cards accepted.
(The information contained has been prepared from data deemed reliable but there is no guarantee of complete accuracy. Ticker Tape Digest Inc. is not affiliated with any broker, dealer or investment advisor. Nothing in this publication constitutes an offer, recommendation or solicitation to buy or sell any securities. Further research is advised. This report is copyrighted and no redistribution is permitted with out permission. Some of the charts are from Telescan, Insight Trading, First Alert and other sources.)