---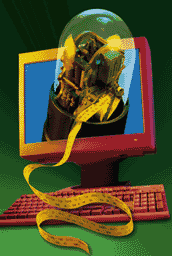 Ticker Tape Digest
Tuesday - March 13, 2007
---
By Leo Fasciocco -- TTD
Ticker Tape Digest presents its daily breakout and Short Selling report. It contains Breakout Stocks and Stocks under Significant Accumulation.Data is from tape action for the day. These stocks are most suitable for aggressive investors seeking ideal entry points for leading stocks.
These stocks will do very well during bull markets and strong market rallies.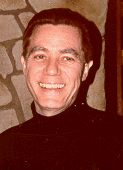 TTD also presents Stocks To Sell or Sell Short.These issues are suitable for aggressive investors willing to take short positionsboth as trades or for longer-term plays. These stocks will do very well during bear markets or market corrections
TTD's multi-media updates include a slide-show that presents charts. It is available with use of the Real Player One that can be downloaded for free from real.com. The latest versions of Microsoft's explorer and Netscape have the player already installed and works well with TTD's slide shows.
TTD's more advanced video show comes as Microsoft video file and is best used with cable or high-speed service.
TTD also has a special feature section on Tips - Questions and Answers at the Forum section.Go To Forum click here
To email Leo leo@tickertapedigest.com.For service, email Beverly Owen owen@tickertapedigest.com. TTD's Tel: 1-480-926-1680.
---
---
Breakout Stocks
Total Buy Breakouts so far today - 8
Stocks Screened- 8,200
Bull side - Small number of breakouts as market fall sharply. Bulls be selective and cautious.
Long-Term Environment for bulls: Unfavorable.
Market Status (Daily) - NYSE Bearish, Nasdaq Bearish
Market Status (Weekly) - NYSE Bearish, Nasdaq Bearish
---
Today's Featured Breakout Stock
Medical Firm to Show Profit This Year, TTD Sees Move to 11.50
BLTI, makes laser technology products for the dental market. Annual revenues: $62 million. BLTI breaks out from a 14-week flat base today on a big expansion in volume. The move comes contrary to the big drop in the stock market. BLTI will report earnings on Wednesday. The tape action would indicate that good results could be coming.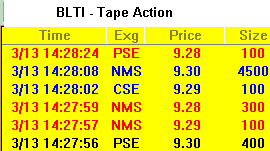 Trading in BLTI today is running at five times normal at 506,921 shares. The stock's average daily volume is 103,000 shares. The stock was showing good action in the middle of the day even though the stock market was tanking.
TTD's clip of BLTI's tape highlights a big block of 4,500 shares crossing on a modest up tick to $9.30 from the prior trade at $9.29.
BLTI's primary product, the Waterlase dental laser, is used to improve the sanitation of hard tissue dental surgery.
The company's LaserSmile and DioLase Plus products are also used for various dentistry purposes. BLTI operates design and manufacturing facilities in California, and sells its products to dentistry firms in countries throughout the world depending on FDA clearance.
The Company's earnings results release will be distributed at 7:30 a.m. Eastern Time on March 14. The Street is forecasting a loss of one cent a share for the quarter, a contraction from the loss of 5 cents a share a year ago. For the year, the firm should show a loss of 25 cents a share, down from a loss of 76 cents a share a year ago.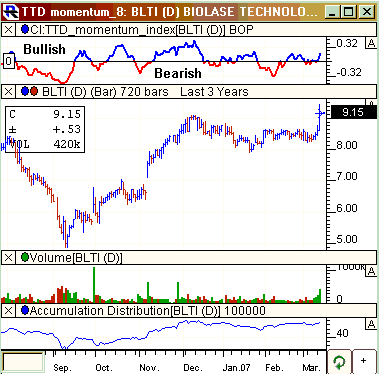 BLTI is a turnaround play. This year, analysts expect the company to show a profit of 16 cents a share. The stock sells with a 56 price-earnings ratio based on this year's projected net.
BLTI's revenues are showing almost 50% improvement. The company said its cost reduction and containment programs are positively impacting margins now.
A look at TTD's daily chart shows the stock staging a rally from 5 to 9 late last year. The following basing pattern was well-defined and provides a good platform for a move higher. The breakout today coming on expanding volume is excellent technical action.
The stock's TTD momentum indicator is bullish. (see top of chart) The accumulation- distribution line is in an overall up trend.
TTD's long-term chart shows that BLTI was a $20 stock back in 2004. The stock fell but now is showing the kind of energy that could lift it higher in coming months.
Strategy Opinion: BLTI's breakout is colored by the prospects of some favorable numbers. TTD suggests scaling into this breakout stock because of the general stock market's weak condition. TTD is looking for BLTI to climb to 12 within the next few months. A protective stop can be placed near 8. TTD rate BLTI an average intermediate-term play. A lot will depend on the company delivering earnings.
Sponsorship: Excellent. The largest fund holder is Fidelity Small Cap Stock Fund, 3-star rated, with a big 9.6% stake. It was the largest buyer recently picking up 948,000 shares. The second largest fund holder is 4-star rated American Funds Smallcap World Fund with a 3.9% stake. It recently purchased 930,000 shares.
Insider Activity: Neutral. Not much action lately. Some good insider buying late last year. That is encouraging. One analyst follows the stock, and is neutral.
---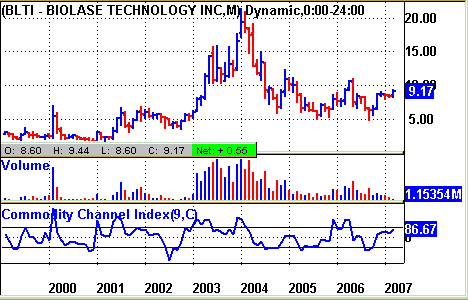 ---
TTD's Breakout Profile Rating

Biolase Technology Inc. (BLTI)
| | | | |
| --- | --- | --- | --- |
| TTD Check List | Bullish | Bearish | Neutral |
| Near 52-week High | YES | | |
| Volume | YES | | |
| Tick Volume | YES | | |
| Price Trend - Daily | YES | | |
| Price Trend - Long Term | | | YES |
| Price Daily Spread | YES | | |
| Base Structure | YES | | |
| Base - A-D | YES | | |
| Earnings-Quarterly | | YES | |
| Earnings-Long Term | | YES | |
| Earnings Outlook | YES | | |
| Industry Group | YES | | |
| Prior Breakout Success | | | YES |
| Fund Sponsorship | YES | | |
| Total Score | 10 | 2 | 2 |
---
All Timely Breakout Stocks From Tape Action Today
(The "breakout List" gives all stocks breaking out of a base of five weeks or more. These stocks have a good chance to trend higher. However, a stop should be used to avoid those that do not work.
(Trading strategy: One should buy breakout stocks at breakpoint by using market order or stop buy)
---
Charts of Selected Breakout Stocks Today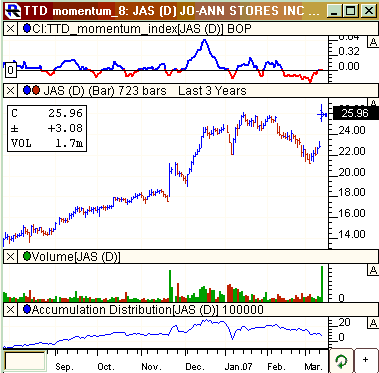 ---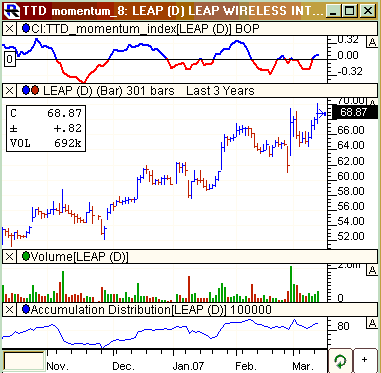 ---
---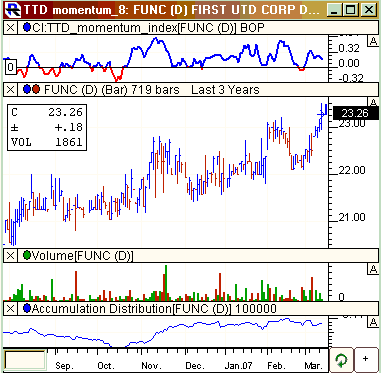 ---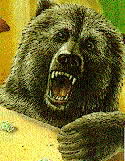 Ticker Tape Digest's
Stocks To "Sell or Short"
Ticker Tape Digest's Daily List of "Stocks To Sell or Sell Short" ranks stocks well timed to be sold immediately based on daily trading. The list can be used as an alert to reduce current long-term positions.
Shorts from tape action so far today - 12
Stocks Screened - 8,200
Long-Term Environment for bears: Favorable.
Bear Side - Good number of breakdowns today for bears. Some short plays now getting extended to the downside. Housing stocks sinking. Bears be aggressive.
List of Stocks To Sell or Short
(Trading strategy: These stocks can be sold short, or if held should be sold. If a stock is sold short, a protective stop buy should be placed. Short plays work best when the stock market is in a down trend.)
---
Commentary on TTD's Feature Bear Play
IFOX, based in Leonia, N.J., provides information technology services. Annual revenues: $148 million. IFOX falls sharply today in heavy volume after reporting earnings for the fourth quarter in line with Street estimates. Trading in IFOX swelled to 1.7 million shares, 13 times its normal daily volume.
TTD's clip of the tape shows IFOX getting off to a bearish start in the morning. A big block of 50,000 shares crossed at $14.25 within a sequence started by a down tick.
IFOX's stock had been doing well last year and early this year. However, today's break down below key support around 15 is very bearish.
IFOX handles selective IT Outsourcing Solutions. Its services provide customers with the ability to outsource non-core IT operations and IT-driven business processes to reduce costs and improve performance – without the risk or loss of control associated with wholesale outsourcing engagements.
IFOX's outsourcing methodology establishes precise metrics for measuring the ongoing success of the engagement - ensuring that clients achieve the benefits from their outsourcing decision.
At the core of IFOX's capabilities is a national, Tier-1 datacenter infrastructure with redundancy at every level. This year, analysts predict IFOX's earnings will climb 59% to 59 cents a share from 37 cents a year ago.
Although, the earnings outlook looks good, TTD sees the technical pattern now as extremely bullish. We are calling for IFOX to decline to 10 within the next few months. We view the stock as good trading short.
---
---
TTD columnist Leo Fasciocco has covered the stock market for over 20 years. His articles appear in many publications. He is also a speaker at the Intershow conferences. He has been on television and radio. He is author of many educational articles about stock investing and the book "Guide To High-Performance Investing."

For information to subscribe to the Ticker Tape Digest Services call: B. J. Owen at 1-480-926-1680. Distributed by Corona Publishing Enterprises. Ticker Tape Digest Inc. P.O. Box 2044 Chandler, Az. 85244-2044. TTD "Professional Report" is available on the World Wide Web: $100 per month. Password needed. "TTD Professional" Faxed is $200 per month. The TTD Daily Report is $39.95. Credit cards accepted.
(The information contained has been prepared from data deemed reliable but there is no guarantee of complete accuracy. Ticker Tape Digest Inc. is not affiliated with any broker, dealer or investment advisor. Nothing in this publication constitutes an offer, recommendation or solicitation to buy or sell any securities. Further research is advised. This report is copyrighted and no redistribution is permitted with out permission. Some of the charts are from Telescan, Insight Trading, First Alert and other sources.)