---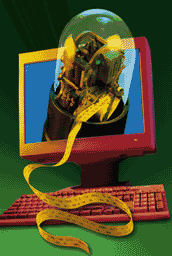 Ticker Tape Digest
Tuesday - March 17, 2009
---
By Leo Fasciocco -- TTD
Ticker Tape Digest presents its daily breakout and Short Selling report. It contains Breakout Stocks and Stocks under Significant Accumulation.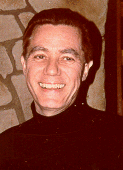 Data is from tape action for the day. These stocks are most suitable for aggressive investors seeking ideal entry points for leading stocks.
These stocks will do very well during bull markets and strong market rallies.
TTD also presents Stocks To Sell or Sell Short. These issues are suitable for aggressive investors willing to take short positions both as trades or for longer-term plays. These stocks
will do very well during bear markets or market corrections
TTD's multi-media updates include a slide-show that presents charts and analysis at midsession. Some times TTD presents feature analysis on stocks and the market. TTD uses Windows Media Files. (WMV).
TTD also presents a "Breakout Watch List" that is up dated daily. This list consists of key stocks in position to breakout. A close watch of this list can put you in the stock just as it breaks out.
TTD often suggests using stop buy orders to enter. It is very important to buy a breakout stock as close as possible to the break point. The idea is to get "elbow room" if the stock should follow through to the upside. This is very important in being successful in making big money with breakout stocks.
TTD also has special feature sections on Educational Tips on Investing.
To email Mr. Leo Fasciocco leo@tickertapedigest.com.For service, email Beverly Owen owen@tickertapedigest.com. TTD's Tel: 1-480-926-1680.
---
Total Buy Breakouts today - 0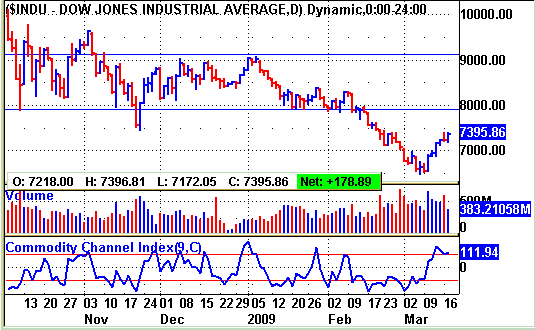 Stocks Screened - 8,200
Bull's Strategy - No breakouts today. Stock Market rallying on contracting volume. That is bearish. Bulls remain selective and cautious. Do not chase stocks overly extended in price. Key for bulls would be a big up day with strong volume.
(Put mouse on Dow chart to see Nasdaq chart)
Long Term Environment for bulls: Unfavorable
Market (Daily) - NYSE Bullish, Nasdaq Bullish
Market (Weekly) -NYSE Bullish, Nasdaq Bullish
Market (Monthly) NYSE Bearish, Nasdaq Bearish
---
Today's Feature Stock
(No Breakout stocks today. So, TTD features a recent breakout play)
Profits to Jump 52% in 1st Quarter, TTD Targets 50
TTD's Quality Rating of Stock - NFLX - ABOVE AVERAGE
NFLX, based Los Gatos, Ca., provides DVD and other entertainment rentals. Annual revenues: $1.4 billion. NFLX, one of the strongest acting stocks in the market recently follows through strongly on its breakout from Monday. TTD did not find any new breakout stocks today. So, we feature NFLX - a stock TTD has spotted up on in recent reports. It is one of the strongest acting issues in the stock market at this time.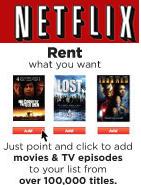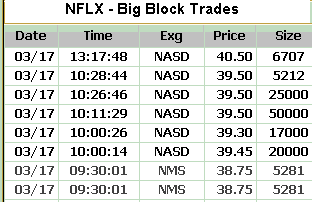 So far today, NFLX is trading a light 1.2 million shares. Its average daily volume is 2.1 million shares.
The stock is near a new all-time high. It just needs to hurdle 40.90. If it can do that it could draw in more buying from the new-high crowd.
NFLX rose steadily in the morning peaking around midday. It trended sideways through the afternoon.
TTD's clip of the tape shows the latest big block trades One can see the first block trade of the day went off at $38.75 and the latest at $40.50. That is bullish. Also, the largest trade of the day was at 50,000 shares at $39.50. That was higher than the prior block trade. So, TTD sees the tape action as bullish with institutional buyers stepping up.
TTD's performance chart shows NFLX appreciating 22% the past 12 months. That compares with a 40% drop in the S&P 500 index.
NFLX has around 9 million subscribers to its DVD-rental-by-mail service.
For a monthly fee, subscribers can have between one and four movies out at a time, depending on the plan they choose. The most popular plan allows three movies out at a time for $16.99 per month. The company's numerous distribution centers stock more than 100,000 DVD titles and provide more than 90% of its subscribers with one-day delivery.
TTD's long-term chart shows the stock in a trading range between 18 and 40 for the past several years. The stock has moved across its long-term trading range. If it can push through upside resistance around 40 and make a new high, it could be very bullish long-term.
NFLX's daily chart shows the stock following through on a recent breakout. The stock's action of the past few days has been herky-jerky. So, it does need to be watched closely.
The TTD momentum indicator (top of chart) is slightly bullish.
The accumulation - distribution line (bottom of chart) is resting after trending higher in January and February..
Analysts expect NFLX's earnings for the upcoming first quarter will jump 52% to 32 cents a share from 21 cents a year ago. The highest estimate on the Street is at 37 cents a share. That indicates some are expecting a possible big quarter.
NFLX has been increasing its subscriber base. It is also now using a streaming service. The stock got a momentary boost recently on rumors competitor Blockbuster might file bankruptcy. However, Blockbuster denied the rumor.
This year, the Street projects a 21% gain in net to $1.60 a share from $1.32 a year ago. The stock sells with a price-earnings ratio of 21 based on this year's projected net. TTD sees that as reasonable, being equal to the earnings growth rate.
This year, NFLX said it has added 600,000 new subscribers. Looking out to 2010, analysts predict a 19% increase in net to $1.90 a share from the anticipated $1.60 a shore this year.
Strategy Opinion: TTD suggests taking just a partial stake because of the weakness in the general stock market. We are targeting the stock for a move to 50, up from our prior target of 48. A protective stop can be placed near 37 after a breakout. TTD rates NFLX a good intermediate-term play provided earnings growth continues at its current pace, or better.
Sponsorship: Very Good. The largest fund buyer recently was 3-star rated Hussman Strategic Growth Fund which purchased 910,000 shares. It holds a big 4.3% stake. Another key buyer was 5-star rated ING FMR Diversified Mid Cap Fund which added 116,000 shares. NFLX has 58 million shares outstanding. Funds hold 15.1 million shares.
Insider Activity: Slightly Bearish. Insiders have been doing a bit more selling than buying. Currently, 12 analysts follow the stock, just 2 have a buy, down from 3 three months ago.
---
---
Stock Performance Chart for 12 months with Quarterly Earnings Markers.

---
TTD's Profile Rating
Netlflix Inc. - (NFLX))
| | | | |
| --- | --- | --- | --- |
| TTD Check List | Bullish | Bearish | Neutral |
| Near 52-week High | YES | | |
| Volume Expansion | | | YES |
| Tick Volume | YES | | |
| Price Trend - Daily | YES | | |
| Price Trend - Long Term | YES | | |
| Price Daily Spread | YES | | |
| Base Structure | YES | | |
| Base - A-D | YES | | |
| Earnings-Quarterly | YES | | |
| Earnings-Long Term | YES | | |
| Earnings Outlook | YES | | |
| Industry Group | YES | | |
| Prior Breakout Success | YES | | |
| Fund Sponsorship | YES | | |
| Total Score | 13 | 0 | 1 |
---
Timely Breakout Stocks From Tape Action Today
(The "breakout List" gives all stocks breaking out of a base of five weeks or more. These stocks have a good chance to trend higher. However, a stop should be used to avoid those that do not work. (Trading strategy: One should buy breakout stocks at breakpoint by using market order or stop buy.
None
---
Charts of Breakout Stocks
None
---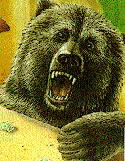 Ticker Tape Digest's
Stocks To "Sell or Short"
Ticker Tape Digest's Daily List of "Stocks To Sell or Sell Short" ranks stocks well timed to be sold immediately based on daily trading. The list can be used as an alert to reduce current long-term positions.
Shorts from tape action so far today - 3
Stocks Screened - 8,200
Long-Term Environment for bears: Favorable.
Bear Side - Only 3 breakdown stocks today as stock market remains in rally phase. Bears be patient and watchful. Current market rally looks suspect.
---
List of Stocks To Sell or Short
(Trading strategy: These stocks can be sold short, or if held should be sold. If a stock is sold short, a protective stop buy should be placed. Short plays work best when the stock market is in a down trend.)
---
TTD's Feature Bear Play
Gaps Lower on Big Volume, TTD Sees Slide to 27
RMD, based in Poway, Ca., makes medical devices, such as airflow generators and masks, to treat breathing disorders. Annual revenues: $890 million. RMD's stock falls sharply today after it was downgraded by Wachovia. The technical snap in the stock is acute and TTD sees potential for more on the downside. So far today, RMD is trading 3.1 million shares, triple its normal daily volume of 1 million shares.
RMD gapped lower at the opening, It had a short bounce up and then fell until midday. It spent the afternoon trending sideways. It was unable to mount a significant rally.
Wachovia said the company would not be immune to the economic downturn.
TTD's clip of the tape shows the big block trades. One can see the stock taking a dive in the morning falling to 34 on a block of 20,000 shares. The stock worked lower as measured by the large block trades. It hit a block trade low of $32.65. TTD sees the tape action showing some aggressive institutional selling during the sessions.
RMD's primary focus remains sleep apnea. ResMed's reach is truly global, with distribution capabilities in more than 65 countries through wholly owned and independent firms. Most of its manufacturing capacity remains in Australia, where it was founded.
This fiscal year ending June 30 analysts forecast a 25% increase in net to $1.83 a share from $1.46 a year ago. Those estimates could come down if Wachovia is right.
TTD's daily chart shows RMD breaking below key support near 34. The fall comes on a gap drop on big volume. The stock's TTD momentum indicator (top of chart) is very bearish. The accumulation - distribution line (bottom of chart) is now trending lower indicating clear selling pressure.
TTD is targeting RMD for a drop to 27 within the next few months. TTD sees the stock as a trading short. A protective stop buy can be placed near 34.50.
---
---
TTD columnist Leo Fasciocco has covered the stock market for over 20 years. His articles appear in many publications. He is also a speaker at the Intershow conferences. He has been on television and radio. He is author of many educational articles about stock investing and the book "Guide To High-Performance Investing."
For information to subscribe to the Ticker Tape Digest Services call: B. J. Owen at 1-480-926-1680. Distributed by Corona Publishing Enterprises. Ticker Tape Digest Inc. P.O. Box 2044 Chandler, Az. 85244-2044. TTD "Professional Report" is available on the World Wide Web: $100 per month. Password needed. "TTD Professional" Faxed is $200 per month. The TTD Daily Report is $39.95. Credit cards accepted.
(The information contained has been prepared from data deemed reliable but there is no guarantee of complete accuracy. Ticker Tape Digest Inc. is not affiliated with any broker, dealer or investment advisor. Nothing in this publication constitutes an offer, recommendation or solicitation to buy or sell any securities. Further research is advised. This report is copyrighted and no redistribution is permitted with out permission. Some of the charts are from Telescan, Insight Trading, First Alert and other sources.)