---
Ticker Tape Digest
Friday, March 28, 2008
---
By Leo Fasciocco -- TTD
Ticker Tape Digest presents its daily breakout and Short Selling report. It contains Breakout Stocks and Stocks under
Significant Accumulation.
Data is from tape action for the day. These stocks are most suitable for aggressive investors seeking ideal entry points for leading stocks.
These stocks will do very well during bull markets and strong market rallies.
TTD also presents Stocks To Sell or Sell Short. These issues are suitable for aggressive investors willing to take short positions both as trades or for longer-term plays. These stocks
will do very well during bear markets or market corrections
TTD's multi-media updates include a slide-show that presents charts and analysis at midsession. Some times TTD presents feature analysis on stocks and the market. TTD uses Windows Media Files. (WMV).
TTD also presents a "Breakout Watch List" that is up dated daily. This list consists of key stocks in position to breakout. A close watch of this list can put you in the stock just as it breaks out.
TTD often suggests using stop buy orders to enter. It is very important to buy a breakout stock as close as possible to the break point. The idea is to get "elbow room" if the stock should follow through to the upside. This is very important in being successful in making big money with breakout stocks.
TTD also has special feature sections on Educational Tips on Investing.
To email Mr. Leo Fasciocco leo@tickertapedigest.com.For service, email Beverly Owen owen@tickertapedigest.com. TTD's Tel: 1-480-926-1680.
---
Breakout Stocks
Total Buy Breakouts so far today - 3
Stocks Screened - 8,200
Bull side - Very few breakouts today. Bulls be conservative.
Long- term Environment for bulls: Bearish
Market Status (Daily) - NYSE Bearish, Nasdaq Bullish
Market Status (Weekly) -NYSE Bullish, Nasdaq Bullish
Market Status (Monthly) NYSE Bearish, Nasdaq Bearish
---
Today's Featured Breakout Stock
Coal Firm's Profits to Surge 207% This Year, TTD Targets 54
ANR, based in Abington, Va., produces coal. Annual revenues: $1.9 billion. ANR breaks out from a five-week flat base today and hits a new high. The stock broke out early in the session and was as high as 44.58.. So far today, volume is running at 2.2 million shares. The stock's average daily volume is 3 million shares. Coal stocks are one of the strongest market sectors of the past 12 months.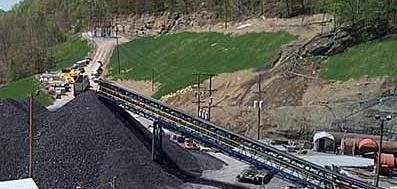 TTD highlighted ANR as a breakout at our midsession show on the Web Friday. We also featured it earlier in the week as a stock to accumulate.
TTD's clip of the tape features massive institutional accumulation that took place back on March 26. We spotted a big block of 104,500 shares crossing on a big up tick to $42.93 from the prior trade at $42.50. That was very bullish.
In Friday's trading, TTD did spot some large blocks going off on down ticks. So, there was some profit taking going on.
ANR came public in 2005 (see TTD's long-term chart). The stock declined to around 8 by late 2006. However, since then the stock has been moving higher aggressively.
TTD's performance chart shows ANR has appreciated 170% the past 12 months, easily outperforming the S&P 500 which is done about 5%. So, ANR is a leader.
ANR is a producer of Appalachian coal. The company sells 29 million tons of coal a year. The company sells mostly steam coal, primarily to electric utilities. It also sells metallurgical coal, a key ingredient in steel manufacturing. ANR operates mines and preparation plants in Virginia, West Virginia, Kentucky, and Pennsylvania.
TTD's daily chart shows ANR on a big run up from 22 earlier this year to 43.
ANR ran up from 23 back in January to 43 - a big move against a stock market that was declining. The stock then set up its 5-week base. The breakout today was good, but appeared hindered by the weakness in the general market and the fact ANR was on its sixth straight up day.
The stock's accumulation - distribution line (bottom of chart) is in a strong up trend and has already broken out to the upside.
The TTD momentum indicator (top of the chart) is bullish.
Analysts expect U.S. net coal exports to soar 300% for the 2008-2009 shipping period. They say U.S. miners are rushing to fill demands on global supplies that were hurt by weather problems in South Africa and China.
This year, analysts forecast that ANR's earnings will soar 201% to $1.36 a share from 45 cents a share a year ago. The stock sells with a price-earnings ratio of 31.
That would seem high for a coal stock. However, TTD does not see it that way since ANR's earning in 2009 will soar. The Street sees 2009 net climbing 106% to $2.80 a share from $1.36 a share.
ANR should show an acceleration in quarterly earnings growth. Net for the first quarter should be up 28% and then in the second quarter 419%. TTD sees that as a key driver near-term to send the stock higher.
Strategy Opinion: TTD is targeting ANR for a move to 55 within the next six months. A protective stop can be placed near 40 and should be honored. TTD rates ANR a very good looking intermediate-term play as long as earnings growth estimates are achieved.
Sponsorship: Excellent. The top four fund holders have a five-star rating, highest possible. The largest fund holder is Fidelity Leveraged Company Stock Fund with a 5.8% stake. The largest fund buyer lately was 4-star rated Brandywine Fund which purchased 905,000 shares. Also, CGM Capital Development Fund, 3-star rated, picked up 520,000 shares.
Insider Activity: Neutral. Some light buying and selling by insiders. Currently, 11 analysts follow the stock, 3 have a buy, down from 4 three months ago.
---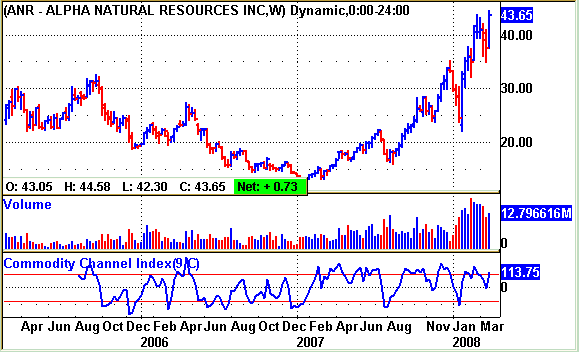 ---
Stock Performance Chart for One Year versus the S&P 500 index.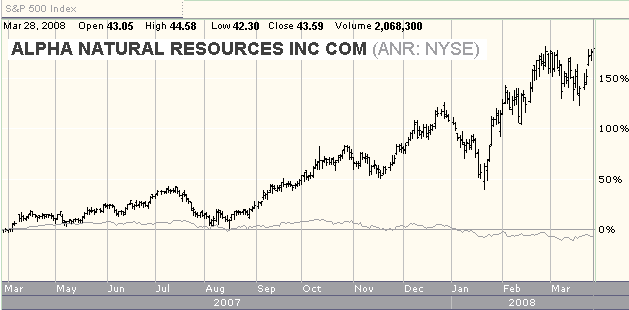 ---
TTD's Breakout Profile Rating
Alpha Natural Resources Inc. (ANR)
| | | | |
| --- | --- | --- | --- |
| TTD Check List | Bullish | Bearish | Neutral |
| Near 52-week High | YES | | |
| Volume Expansion | | | YES |
| Tick Volume | YES | | |
| Price Trend - Daily | YES | | |
| Price Trend - Long Term | YES | | |
| Price Daily Spread | | | YES |
| Base Structure | YES | | |
| Base - A-D | YES | | |
| Earnings-Quarterly | YES | | |
| Earnings-Long Term | YES | | |
| Earnings Outlook | YES | | |
| Industry Group | YES | | |
| Prior Breakout Success | YES | | |
| Fund Sponsorship | YES | | |
| Total Score | 12 | 0 | 2 |
---
All Timely Breakout Stocks From Tape Action Today
(The "breakout List" gives all stocks breaking out of a base of five weeks or more. These stocks have a good chance to trend higher. However, a stop should be used to avoid those that do not work.
(Trading strategy: One should buy breakout stocks at breakpoint by using market order or stop buy)
---
Charts of Breakout Stocks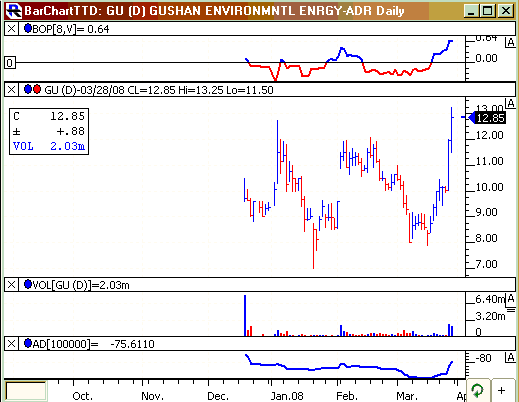 ---
---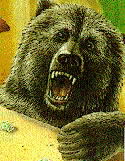 Ticker Tape Digest's
Stocks To "Sell or Short"
Ticker Tape Digest's Daily List of "Stocks To Sell or Sell Short" ranks stocks well timed to be sold immediately based on daily trading. The list can be used as an alert to reduce current long-term positions.
Shorts from tape action so far today - 7
Stocks Screened - 8,200
Long-Term Environment for bears: Neutral
Bear Side - Small list of break down stocks today. Educational stocks rolling over on heavy volume. Bears be selective.
---
List of Stocks To Sell or Short
(Trading strategy: These stocks can be sold short, or if held should be sold. If a stock is sold short, a protective stop buy should be placed. Short plays work best when the stock market is in a down trend.)

---
Commentary on TTD's Feature Bear Play
Cuts Estimates for Quarter, TTD Sees Drop to 6
OPLK, based in San Jose, Ca., provides fiber-optic components to communications equipment suppliers. Annual revenues: $163 million. OPLK falls sharply today after cutting its forecast of earnings and revenues for the fiscal third quarter ending March 30. The company blamed soft demand from Europe for its products.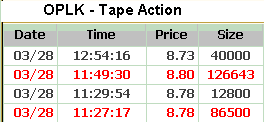 So far today, OPLK is trading 2.1 million shares, almost ten times its normal daily volume of 219,000 shares. The stock is off about 3 points. It fell early in the session. TTD's table shows the big block trades in the stock during the day.
The blocks in red are bearish and are trades that went off below the asked. The key trade is a big block of 126,643 shares traded at $8.80. The stock has been under selling pressure all day and has been unable to rally effectively.
OPLK products are designed to increase the bandwidth capacity of fiber-optic networks and help customers monitor and manage optical signals to enhance their performance. The company also supplies noise-reduction filters. Telecom equipment makers use OPLK's components to build networks internationally.
The company said earnings for the fiscal third quarter will be 6 to 10 cents a share. It said that was below its prior guidance. It said revenues for the quarter will be $39 to 40 million. That is down from its prior forecast of $41 to $45 million.
For the year ending June 30, analysts have been forecasting a 69% plunge in profits to 20 cents a share from 65 cents a year ago.
TTD's daily chart shows the big gap drop today on big volume. We see the stock as heavily damaged. It has good potential to sink further. TTD is targeting OPLK for a decline 6 within the next few months, or sooner.
---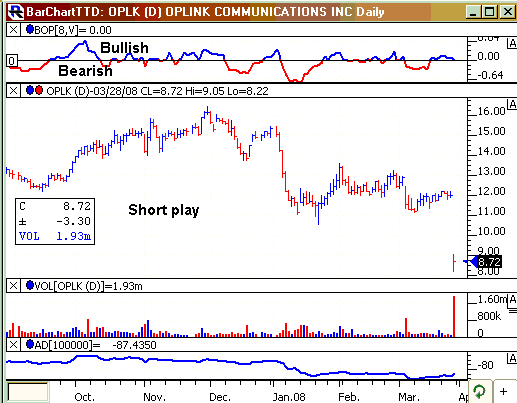 ---
TTD columnist Leo Fasciocco has covered the stock market for over 20 years. His articles appear in many publications. He is also a speaker at the Intershow conferences. He has been on television and radio. He is author of many educational articles about stock investing and the book "Guide To High-Performance Investing."

For information to subscribe to the Ticker Tape Digest Services call: B. J. Owen at 1-480-926-1680. Distributed by Corona Publishing Enterprises. Ticker Tape Digest Inc. P.O. Box 2044 Chandler, Az. 85244-2044. TTD "Professional Report" is available on the World Wide Web: $100 per month. Password needed. "TTD Professional" Faxed is $200 per month. The TTD Daily Report is $39.95. Credit cards accepted.
(The information contained has been prepared from data deemed reliable but there is no guarantee of complete accuracy. Ticker Tape Digest Inc. is not affiliated with any broker, dealer or investment advisor. Nothing in this publication constitutes an offer, recommendation or solicitation to buy or sell any securities. Further research is advised. This report is copyrighted and no redistribution is permitted with out permission. Some of the charts are from Telescan, Insight Trading, First Alert and other sources.)