---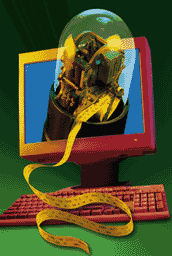 Ticker Tape Digest
Friday - April 3, 2009
---
By Leo Fasciocco -- TTD
Ticker Tape Digest presents its daily breakout and Short Selling report. It contains Breakout Stocks and Stocks under Significant Accumulation.
Data is from tape action for the day. These stocks are most suitable for aggressive investors seeking ideal entry points for leading stocks.
These stocks will do very well during bull markets and strong market rallies.
TTD also presents Stocks To Sell or Sell Short. These issues are suitable for aggressive investors willing to take short positions both as trades or for longer-term plays. These stocks
will do very well during bear markets or market corrections
TTD's multi-media updates include a slide-show that presents charts and analysis at midsession. Some times TTD presents feature analysis on stocks and the market. TTD uses Windows Media Files. (WMV).
TTD also presents a "Breakout Watch List" that is up dated daily. This list consists of key stocks in position to breakout. A close watch of this list can put you in the stock just as it breaks out.
TTD often suggests using stop buy orders to enter. It is very important to buy a breakout stock as close as possible to the break point. The idea is to get "elbow room" if the stock should follow through to the upside. This is very important in being successful in making big money with breakout stocks.
TTD also has special feature sections on Educational Tips on Investing.
To email Mr. Leo Fasciocco leo@tickertapedigest.com.For service, email Beverly Owen owen@tickertapedigest.com. TTD's Tel: 1-480-926-1680.
---
Total Buy Breakouts today - 0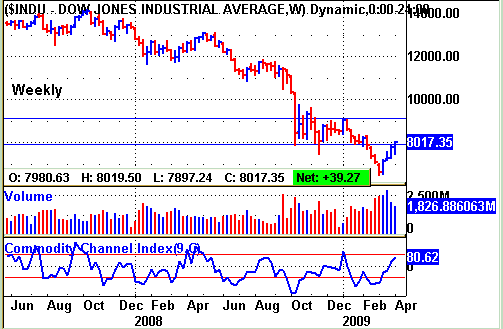 Stocks Screened - 8,200
Bull's Strategy - No breakouts today - a surprise. However, TTD has been spotting some lagging issues moving out of basing patterns after demonstrating an up trend. Today we feature Visa (V). Major market indicators mostly bullish. Bulls look to be aggressive. However, be extremely watchful of earnings as they will start to flood in the next few weeks.
(Put mouse on Dow chart to see Nasdaq chart)
Long Term Environment for bulls: Neutral
Market (Daily) - NYSE Bullish, Nasdaq Bullish
Market (Weekly) -NYSE Bullish, Nasdaq Bullish
Market (Monthly) NYSE Bullish, Nasdaq Bullish
---
Today's Feature Stock
(No breakouts near new highs today. So TTD features a strong acting stock)
Visa Inc. (V) - 21.87, up 0.77 - Breakpoint 21.21
Net to Climb 44% This Year, TTD Targets 28
TTD's Quality Rating of Stock - V - AVERAGE
V, based in manages a group of global payment card brands. It licenses them to financial institutions that issue cards to their customers. Annual revenues: $6.5 billion. V pushed out from a two-month flat base today clearing resistance at 58. The stock is not a leading issue in that it is well off from its high at 90. However, TTD sees potential for more on the upside.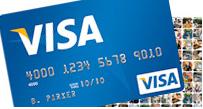 V's "companion stock" Mastercard is up 5.60 to 171.26 today. So, the group is working higher nicely.
So far today, V is trading 12.1 million shares. Its average daily volume is 10.7 million shares.
The stock began to move higher in the morning and made a strong run peaking around noon. It held its gain in the afternoon.
The tape showed strong accumulation in V late on Thursday. TTD's clip highlights a big block of 719,400 shares crossing on a nice up tick to $55.59 from $55.54. That was massive institutional accumulation.
The firm acts as the payment processor by facilitating the authorization, clearing, and settlement of transactions on its proprietary networks. Visa maintains the largest card service in the world.
TTD's performance chart shows V doing much better the past six months. V's stock has appreciated 9% while the stock market has declined 20%.
TTD's long-term chart shows V soaring after it came public. It peaked at 90 and then was swept lower with the bear market. The stock has put in what seems to be a good bottom. The key is for it to kick in an up trend. That is quite possible now, but not a given.
TTD's daily chart shows V rallying from a low at 43 in January to 58. The stock then formed a nine-week flat base. Today, it breaks out nicely with a widening of the spread. That shows good demand for the stock.
Of course, V is a lagging issue in that it has not gotten back to a 52-week high. So, it has a technical negative of "overhead resistance." That means people who bought at the higher price may want to sell and get even. That might inhibit the stock's ability to move.
The stock's TTD momentum indicator (top of the chart is now solidly bullish.
The accumulation - distribution line (bottom of chart) lags a bit.
This fiscal year ending Sept. 30, analysts predict a 20% increase in net to $2.70 a share from $2.25 a year ago. The stock sells with a price-earnings ratio of 21 which is reasonable.
Going out to fiscal 2010, the Street projects an 18% gain in net to $3.18 a share.
The company will report fiscal second quarter results on April 29.
Analysts are looking for a 23% increase in net to 64 cents a share from 52 cents a year ago. The highest estimate on the Street is at 69 cents a share.
TTD sees good chances for an upside surprise. The past four quarters V has topped the consensus estimate by 12 to 2 cents a share. So, it could surprise big.
Strategy Opinion: V is acting strong. TTD sees the stock with chances for a move to 72 within the next few months, provided earnings meet expectations. A protective stop can be placed near 55 giving it room. TTD rates V a slightly above average intermediate-term play because of its solid earnings outlook.
Sponsorship: Not available. V has 845 million shares outstanding.
Insider Activity: Not available. 20 analysts follow the stock, 10 have a buy, down from 12 three months ago.
---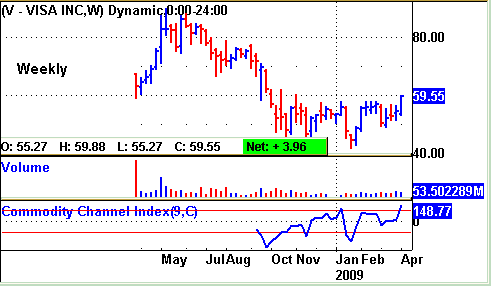 ---
Stock Performance Chart for 6 months with Quarterly Earnings Markers.

---
TTD's Profile Rating
Visa - (V)
| | | | |
| --- | --- | --- | --- |
| TTD Check List | Bullish | Bearish | Neutral |
| Near 52-week High | | | YES |
| Volume Expansion | YES | | |
| Tick Volume | YES | | |
| Price Trend - Daily | | | YES |
| Price Trend - Long Term | | YES | |
| Price Daily Spread | YES | | |
| Base Structure | YES | | |
| Base - A-D | YES | | |
| Earnings-Quarterly | YES | | |
| Earnings-Long Term | YES | | |
| Earnings Outlook | YES | | |
| Industry Group | | | YES |
| Prior Breakout Success | | YES | |
| Fund Sponsorship | YES | | |
| Total Score | 9 | 2 | 3 |
---
Timely Breakout Stocks From Tape Action Today
(The "breakout List" gives all stocks breaking out of a base of five weeks or more. These stocks have a good chance to trend higher. However, a stop should be used to avoid those that do not work. (Trading strategy: One should buy breakout stocks at breakpoint by using market order or stop buy.
None
---
Charts of Breakout Stocks
None
---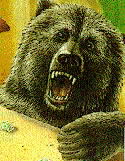 Ticker Tape Digest's
Stocks To "Sell or Short"
Ticker Tape Digest's Daily List of "Stocks To Sell or Sell Short" ranks stocks well timed to be sold immediately based on daily trading. The list can be used as an alert to reduce current long-term positions.
Shorts from tape action so far today - 3
Stocks Screened - 8,200
Long-Term Environment for bears: Neutral
Bear Side - Only a few breakdown stocks today. Many market indicators point to a rally. Bears be conservative and selective looking for damaged stocks with poor earnings.
---
List of Stocks To Sell or Short
(Trading strategy: These stocks can be sold short, or if held should be sold. If a stock is sold short, a protective stop buy should be placed. Short plays work best when the stock market is in a down trend.)

---
TTD's Feature Bear Play
Stock Cuts Under Support, TTD Sees Drop to 27
MCK, based in San Francisco, distributes dugs and medical supplies. Annual revenues: $106 billion. MCK's stock moves lower today undercutting key support near 35. The stock has been trending lower unable to participate in the stock market's rally. Analyst project a slowing of earnings growth. So far today, MCK is trading 3.2 million shares. The stock's average daily volume is 4.3 million shares.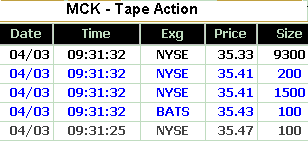 MCK's stock moved lower at the opening. It hit a bottom around noon and then staged a slightly lift.
TTD's clip of the tape shows the stock getting off to a bearish start in the morning. A block of 9,300 shares crossed the tape on a down tick to $35.33 from the prior trade at $35.41. The tape action showed institutional selling pressure in the morning.
MCK distributes pharmaceuticals, specialty drugs, medical and surgical supplies, and health- and beauty-care products in North America.
The company's technology solutions segment provides software related to pharmacy services, medical records, patient care, and financial management.
Net for the fiscal year ending March 30 is projected to increase 23% to $4.20 a share from $3.42 a year ago. However, going out to fiscal 2010 ending in March, earnings are expected to be about flat at $4.19 a share.
TTD's daily chart shows MCK's push below key support near 34.40. The stock's TTD momentum indicator (top of chart) is bearish and been mostly bearish for the past several weeks. The accumulation - distribution line (bottom of chart) is trending lower showing clear selling pressure.
Strategy Opinion: TTD is targeting MCK for a decline to 27 within the next few months. A protective stop buy can be placed near 35.50.
---
---
TTD columnist Leo Fasciocco has covered the stock market for over 20 years. His articles appear in many publications. He is also a speaker at the Intershow conferences. He has been on television and radio. He is author of many educational articles about stock investing and the book "Guide To High-Performance Investing."
For information to subscribe to the Ticker Tape Digest Services call: B. J. Owen at 1-480-926-1680. Distributed by Corona Publishing Enterprises. Ticker Tape Digest Inc. P.O. Box 2044 Chandler, Az. 85244-2044. TTD "Professional Report" is available on the World Wide Web: $100 per month. Password needed. "TTD Professional" Faxed is $200 per month. The TTD Daily Report is $39.95. Credit cards accepted.
(The information contained has been prepared from data deemed reliable but there is no guarantee of complete accuracy. Ticker Tape Digest Inc. is not affiliated with any broker, dealer or investment advisor. Nothing in this publication constitutes an offer, recommendation or solicitation to buy or sell any securities. Further research is advised. This report is copyrighted and no redistribution is permitted with out permission. Some of the charts are from Telescan, Insight Trading, First Alert and other sources.)