---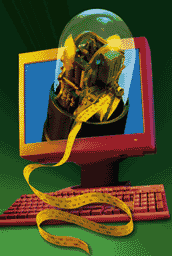 Ticker Tape Digest
Thursday - April 12, 2007
---
By Leo Fasciocco -- TTD
Ticker Tape Digest presents its daily breakout and Short Selling report. It contains Breakout Stocks and Stocks under Significant Accumulation.Data is from tape action for the day. These stocks are most suitable for aggressive investors seeking ideal entry points for leading stocks.
These stocks will do very well during bull markets and strong market rallies.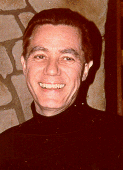 TTD also presents Stocks To Sell or Sell Short.These issues are suitable for aggressive investors willing to take short positionsboth as trades or for longer-term plays. These stocks will do very well during bear markets or market corrections
TTD's multi-media updates include a slide-show that presents charts. It is available with use of the Real Player One that can be downloaded for free from real.com. The latest versions of Microsoft's explorer and Netscape have the player already installed and works well with TTD's slide shows.
TTD's more advanced video show comes as Microsoft video file and is best used with cable or high-speed service.
TTD also has a special feature section on Tips - Questions and Answers at the Forum section.Go To Forum click here
To email Leo leo@tickertapedigest.com.For service, email Beverly Owen owen@tickertapedigest.com. TTD's Tel: 1-480-926-1680.
---
---
Breakout Stocks
Total Buy Breakouts so far today - 15
Stocks Screened- 8,200
Bull side - Some high-growth stocks breaking out today. Bulls be selective and conservative.
Long-Term Environment for bulls: Favorable.
Market Status (Daily) - NYSE Bearish, Nasdaq Bearish
Market Status (Weekly) - NYSE Bullish, Nasdaq Bullish
---
Today's Featured Breakout Stock
Bare Escentuals Inc. (BARE) 38.29, up 0.69 - Breakpoint 38
Cosmetic Firm's Net to Jump 32%, TTD Sees Move to 46
BARE, based in San Francisco, sells natural cosmetics, skin care, and body care items. Annual revenues: $395 million. BARE is a recent new issue that came out back in September. Today, BARE breaks out from a 13-week, flat base and hits a new high. The stock got a boost from a Goldman Sachs analysts who was bullish. Also, TTD featured BARE as a stock to accumulate for a breakout in our report of Wednesday.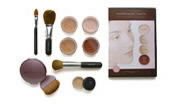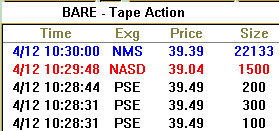 BARE gapped higher in the morning off the broker recommendation. The stock was as high as 40.30. However, it sagged back as the day wore on. It has just been able to maintain itself over the breakout point of 38.
So far today, volume has swelled to 1.2 million shares, double its normal daily volume of 450,000 shares.
In the morning a big block of 22,133 shares crossed the tape on a big up tick to $39.33 from the prior trade at $39.04. That showed good institutional interest. That was the largest trade of the day.
TTD highlighted BARE as a breakout at our midsession show on the web.
The company came out with its bareMinerals makeup brand in 1976. It sells its products under brand names such as RareMinerals, i.d. bareMinerals, md formulations, and Bare Escentuals. The company sells its products through 30 of its own stores, about 330 retailers, and about 900 spas. Berkshire Partners LLC and JH MDB Investors own a majority stake in the firm.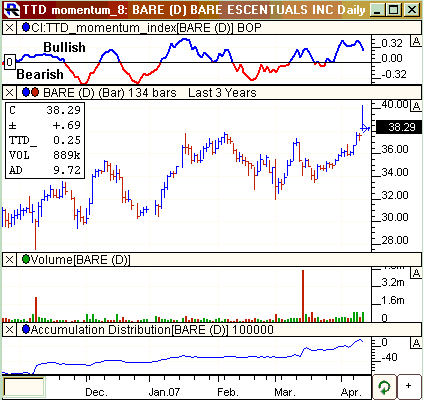 TTD's daily charts shows the breakout through resistance at 38. The stock has retraced a good chunk of its morning gain. That is questionable action. So, BARE needs to be watched closely to see it does not cut back below 38.
There are some positives for bulls. The volume is expanding, the TTD momentum indicator (top of the chart) is very bullish, and the accumulation - distribution line (bottom of the chart) has hit a new peak.
BARE's move today carried it to a new high. So, the stock could attract some buying from the new high crowd the next few sessions.
This year, BARE's earnings should climb 32% to 86 cents a share from 65 cents a year ago. The stock sells with a p/e ratio of 43. The company is expanding through acquisitions and new products. Sales growth is running at 52%
. Looking out to 2008, earnings should rise 29% to $1.11 a share.
For the upcoming first quarter net should be 18 cents a share. Comparable results were not available. The highest estimate on the Street is at 19 cents a share. In the prior quarter, BARE topped the Street consensus estimate by five cents a share.
Strategy Opinion: BARE's breakout was good but the action afterwards may indicate some profit taking. TTD is targeting the stock for a move to 46 within the next few months. A protective stop can be set at 37, which is tight. It should be honored. TTD rates BARE a good intermediate-term play due to its good earnings outlook.
Sponsorship: Very Good. The largest fund holder is 5-star rated Fidelity Contrafund with a 1.3% stake. It was a recent buyer of 1.1 million shares. Also, 5-star rated Baron Small Cap Fund recently purchased 250,000 shares.
Insider Activity: Neutral. Not much activity lately. Two analysts follow the stock, one has a buy, one is neutral.
---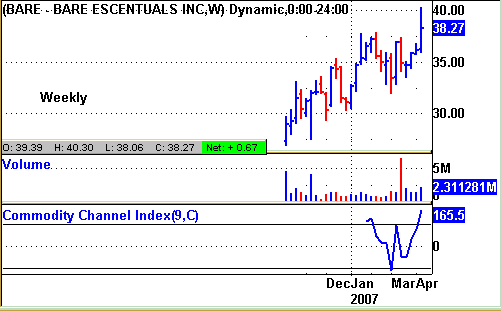 ---
TTD's Breakout Profile Rating

Bare Escentuals Inc. (BARE)
| | | | |
| --- | --- | --- | --- |
| TTD Check List | Bullish | Bearish | Neutral |
| Near 52-week High | YES | | |
| Volume | YES | | |
| Tick Volume | YES | | |
| Price Trend - Daily | YES | | |
| Price Trend - Long Term | YES | | |
| Price Daily Spread | YES | | |
| Base Structure | YES | | |
| Base - A-D | YES | | |
| Earnings-Quarterly | YES | | |
| Earnings-Long Term | YES | | |
| Earnings Outlook | YES | | |
| Industry Group | YES | | |
| Prior Breakout Success | YES | | |
| Fund Sponsorship | YES | | |
| Total Score | 14 | 0 | 0 |
---
All Timely Breakout Stocks From Tape Action Today
(The "breakout List" gives all stocks breaking out of a base of five weeks or more. These stocks have a good chance to trend higher. However, a stop should be used to avoid those that do not work.
(Trading strategy: One should buy breakout stocks at breakpoint by using market order or stop buy)
---
Charts of Selected Breakout Stocks Today
---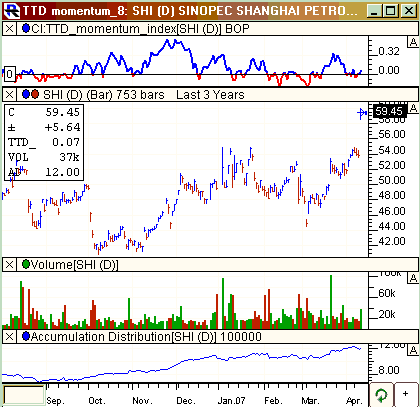 ---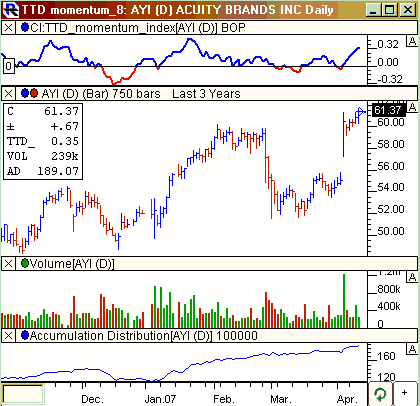 ---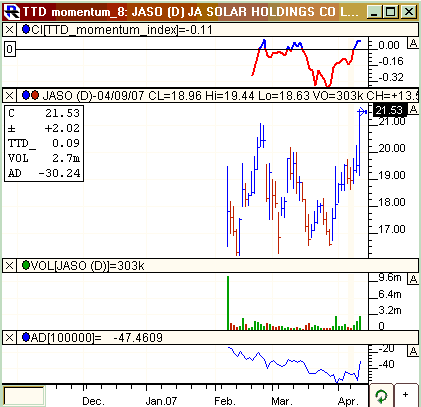 ---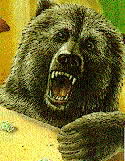 Ticker Tape Digest's
Stocks To "Sell or Short"
Ticker Tape Digest's Daily List of "Stocks To Sell or Sell Short" ranks stocks well timed to be sold immediately based on daily trading. The list can be used as an alert to reduce current long-term positions.
Shorts from tape action so far today - 6
Stocks Screened - 8,200
Long-Term Environment for bears: Unfavorable.
Bear Side - Very few breakdowns today. Bears be selective and conservative.
List of Stocks To Sell or Short
(Trading strategy: These stocks can be sold short, or if held should be sold. If a stock is sold short, a protective stop buy should be placed. Short plays work best when the stock market is in a down trend.)
---
Commentary on TTD's Feature Bear Play
HZO, based in Clearwater, Fla., is a recreational boat dealer with 90 outlets. Annual revenues: $1.3 Billion. HZO gaps lower today in heavy volume after slashing its earnings outlook. Volume so far today has swelled to 2.1 million shares, eight times its normal daily volume of 258,000 shares. The stock showed heavy institutional selling.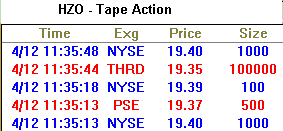 HZO said its earnings this year will be around 45 to 65 cents a share. That is down sharply from the prior forecast of $1.40 to $1.50 a share. The earnings forecast is down significantly from the prior years $2.12 a share.
The company said same unit sales will be flat to slightly lower.
A look at TTD's clip of the tape shows a big block of 100,000 shares crossing on a down tick to $19.35 from the prior trade at $19.39.
The company's dealerships sell new and used pleasure boats, fishing boats, motor yachts, ski boats, and high-performance boats.
Sales of new boats made by Brunswick, including Sea Ray and Boston Whaler boats, account for about 60% of revenue.
The company also sells boat engines, trailers, parts, and accessories. It also arranges for financing and insurance and provides repair and maintenance.
A look at TTD's chart shows the gap drop in HZO. That is very bearish. The stock's TTD momentum indicator has now dipped into the bearish zone. The accumulation - distribution line had been improving, but now shows signs of weakening. TTD sees more on the downside. We expect HZO sail south to 15 within a few months, or sooner.
---
---
TTD columnist Leo Fasciocco has covered the stock market for over 20 years. His articles appear in many publications. He is also a speaker at the Intershow conferences. He has been on television and radio. He is author of many educational articles about stock investing and the book "Guide To High-Performance Investing."

For information to subscribe to the Ticker Tape Digest Services call: B. J. Owen at 1-480-926-1680. Distributed by Corona Publishing Enterprises. Ticker Tape Digest Inc. P.O. Box 2044 Chandler, Az. 85244-2044. TTD "Professional Report" is available on the World Wide Web: $100 per month. Password needed. "TTD Professional" Faxed is $200 per month. The TTD Daily Report is $39.95. Credit cards accepted.
(The information contained has been prepared from data deemed reliable but there is no guarantee of complete accuracy. Ticker Tape Digest Inc. is not affiliated with any broker, dealer or investment advisor. Nothing in this publication constitutes an offer, recommendation or solicitation to buy or sell any securities. Further research is advised. This report is copyrighted and no redistribution is permitted with out permission. Some of the charts are from Telescan, Insight Trading, First Alert and other sources.)