---
Ticker Tape Digest
Monday - April 23, 2007
---
By Leo Fasciocco -- TTD
Ticker Tape Digest presents its daily breakout and Short Selling report. It contains Breakout Stocks and Stocks under Significant Accumulation.Data is from tape action for the day. These stocks are most suitable for aggressive investors seeking ideal entry points for leading stocks.
These stocks will do very well during bull markets and strong market rallies.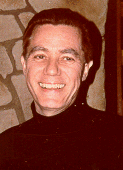 TTD also presents Stocks To Sell or Sell Short.These issues are suitable for aggressive investors willing to take short positionsboth as trades or for longer-term plays. These stocks will do very well during bear markets or market corrections
TTD's multi-media updates include a slide-show that presents charts. It is available with use of the Real Player One that can be downloaded for free from real.com. The latest versions of Microsoft's explorer and Netscape have the player already installed and works well with TTD's slide shows.
TTD's more advanced video show comes as Microsoft video file and is best used with cable or high-speed service.
TTD also has a special feature section on Tips - Questions and Answers at the Forum section.Go To Forum click here
To email Leo leo@tickertapedigest.com.For service, email Beverly Owen owen@tickertapedigest.com. TTD's Tel: 1-480-926-1680.
---
Breakout Stocks
Total Buy Breakouts so far today - 22
Stocks Screened- 8,200
Bull side - Breakout list expands as market pulls back slightly. Bulls be venturesome. Some high growth stocks breaking out today.
Long-Term Environment for bulls: Favorable.
Market Status (Daily) - NYSE Bullish, Nasdaq Bullish
Market Status (Weekly) - NYSE Bullish, Nasdaq Bullish
---
Today's Featured Breakout Stock
Tractor Stock Hits New High, TTD Targets 52
CNH, based in Amsterdam, is one of the world's largest makers of agricultural and construction equipment. Annual revenues: $12.6 billion. CNH Global stands for Case New Holland. Today, the stock breaks out powerfully from an 8-week flat base and hits a new high. Volume so far today is running at 1.9 million shares, about five times its normal daily volume of 409,000 shares.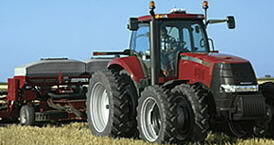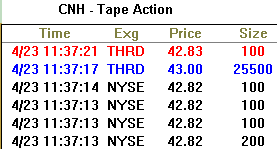 The trigger for the stock's move today was a report of strong net for the first quarter. CNH came in with a profit of 40 cents a share, up from 16 cents a year ago.
That topped the consensus Street estimate of 35 cents a share. The highest estimate on the Street was a 41 cents a share. Revenues rose to $3.5 billion from $3.2 billion a year ago.
TTD featured CNH as a a stock to accumulate in anticipation of a breakout in our April 18th TTD pro report. The stock was also covered in today's web show.
The stock has been showing good tape action. TTD's clip of today's action shows a big block of 25,500 shares crossing on a big up tick to $43 from the prior trade at $42.82.
The stock has doubled from 20 to 40 during the past 12 months. (see TTD's long-term chart)
CNH's farm equipment includes tractors, harvesters, sprayers, and hay balers. The make up 60% of sales. The company also makes light-industrial and construction equipment including backhoes, excavators, forklifts, miniloaders, and telescopic handlers.
The company operates in 16 countries and sells worldwide through about 10,800 dealers. Financial services are offered in the US and Canada through CNH Capital America. Fiat controls 90% of the stock.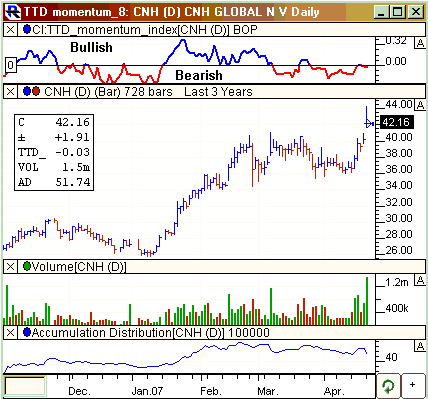 TTD's daily chart shows today's "gap breakout." The stock has pulled back a bit from its peak today, probably due in part to the soft stock market. That has dinged the accumulation - distribution line which has curled down. (see bottom of chart)
The TTD momentum indictor is about neutral. It will be important to see if CNH can hold its breakout and follow through to the upside.
This year, CNH's profits should surge 40% to $2.13 a share from $1.52 a year ago. The stock sells with a price-earnings ratio of 18. TTD sees that as a low valuation given the strong earnings this yea and the outlook.
Next year, CNH's earnings should climb 29% to $2.74 a share. So, the profit growth is about double the p/e ratio. That is a good valuation for growth investors.
CNH's net for the second quarter should rise 40% to 86 cents a share from 65 cents a year ago. CNH is benefiting from strong sales and expanding profit margins. It has also been able to maintain its prices.
Strategy Opinion: CNH's breakout looks good supported by strong profits. TTD is targeting the stock for a move to 52. In our prior report we were looking for a move to 48. So, we are more optimistic. A protective stop can be placed near 38.
CNH a very good intermediate-term play due to its strong profit outlook and modest valuation.
Sponsorship: Very Good. The largest fund buyer recently was 4-star rated Fidelity Mid-Cap Stock Fund, which purchased 506,000 shares. It is the second largest fund holder now. The largest fund holder with a 1.2% stake is Franklin Balance Sheet Investment Fund, 4-star rated.
Insider Activity: Not available. Six analysts follow the stock, one has a buy, 4 are neutral, one has a sell.
---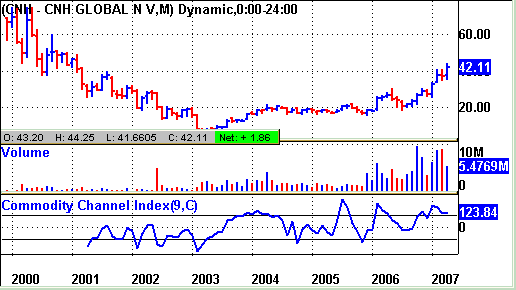 ---
TTD's Breakout Profile Rating

CNH Global N.V. (CNH)
| | | | |
| --- | --- | --- | --- |
| TTD Check List | Bullish | Bearish | Neutral |
| Near 52-week High | YES | | |
| Volume | YES | | |
| Tick Volume | YES | | |
| Price Trend - Daily | YES | | |
| Price Trend - Long Term | YES | | |
| Price Daily Spread | YES | | |
| Base Structure | YES | | |
| Base - A-D | YES | | |
| Earnings-Quarterly | YES | | |
| Earnings-Long Term | YES | | |
| Earnings Outlook | YES | | |
| Industry Group | YES | | |
| Prior Breakout Success | YES | | |
| Fund Sponsorship | YES | | |
| Total Score | 14 | 0 | 0 |
---
All Timely Breakout Stocks From Tape Action Today
(The "breakout List" gives all stocks breaking out of a base of five weeks or more. These stocks have a good chance to trend higher. However, a stop should be used to avoid those that do not work.
(Trading strategy: One should buy breakout stocks at breakpoint by using market order or stop buy)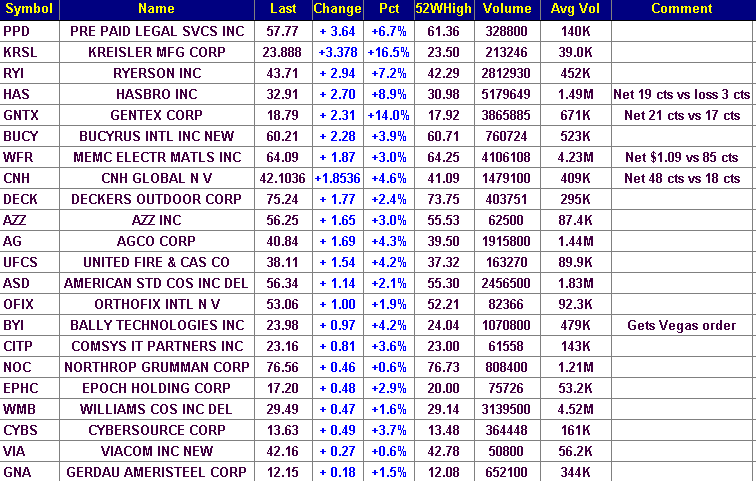 ---
Charts of Selected Breakout Stocks Today
---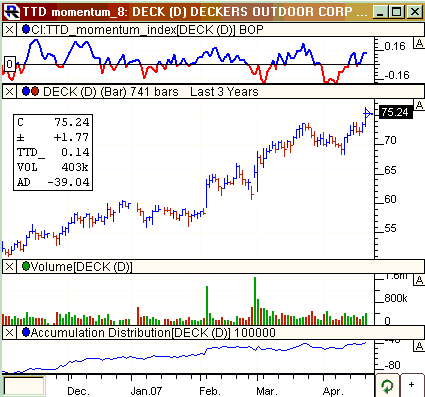 ---
---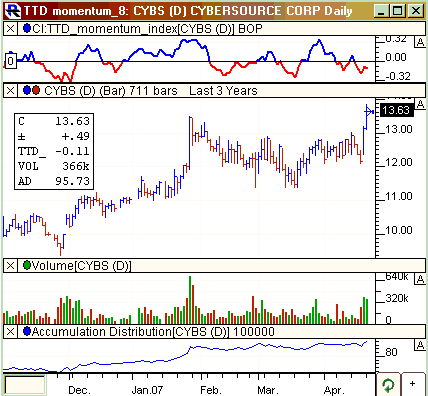 ---
Ticker Tape Digest's
Pre-Market Breakout Watch List
Selections - For Tuesday - April 24, 2007
---
Ticker Tape Digest provides a list of potential breakout stocks from our screen of companies that will show some of the strongest earnings gains. One of the best ways to play these stocks is to study the list and then put a stop buy order in to catch the stock on the breakout.
One can take either take a full position on the breakout if they are aggressive, or scale-in looking to add to the stake later if they are conservative. TTD's premarket breakout watch list gives you a great opportunity "to be prepared for the next key breakout stock just before it happens." The list will be updated about every week.
---
TTD's Breakout Watch List Set up on April 9, 2007
Latest prices are for April 23
---
Stocks with Gain in blue have surpassed their breakpoint and have broken out of their base.
Stocks with Gain in red have not broken out of their base yet.
---
---
---
---
Guide: Symbol=Ticker, Name=Corporate name, Entry is the buy price to enter on the breakout, Last=prior close, Change=change from last close to prior, Date=date of price of close etc, Gain in blue is price above breakpoint (entry), Gain in red is price below breakpoint (entry)., % Gain in blue is % over breakpoint (entry), Gain in red is % below breakpoint (entry)
TTD takes no responsibility for trading by those using this information. The stocks presented in our report are those we deem the best looking "Day Trades" for the long side. We take no responsibility for the accuracy of this data, although every effort is made to present the information correctly. Copyright Ticker Tape Digest.
---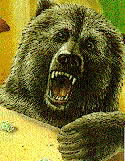 Ticker Tape Digest's
Stocks To "Sell or Short"
Ticker Tape Digest's Daily List of "Stocks To Sell or Sell Short" ranks stocks well timed to be sold immediately based on daily trading. The list can be used as an alert to reduce current long-term positions.
Shorts from tape action so far today - 7
Stocks Screened - 8,200
Long-Term Environment for bears: Unfavorable.
Bear Side - Small number of breakdowns today, but some interesting plays. Bears be selective. TTD's short play from last week Robert Half (RHI) falls 0.78 to 33.22 today.
List of Stocks To Sell or Short
(Trading strategy: These stocks can be sold short, or if held should be sold. If a stock is sold short, a protective stop buy should be placed. Short plays work best when the stock market is in a down trend.)

---
Commentary on TTD's Feature Bear Play
IGT, based in Reno, is one of the largest makers of slot machines. It controls 66% of the North American market. Annual revenues: $2.5 billion. IGT breaks down today undercutting key support near 39 after reporting disappointing sales. for the fiscal second quarter ended March 31. The stock is down 1.59 so far today. Volume is running at 5.9 million shares, about double its normal daily volume of 3.3 million shares.
TTD's clip of the tape highlights a big block of 50,000 shares going off on a down tick in the morning to $39 from the prior trade at $39.03. There was some accumulation in the afternoon on the tape. However, TTD still sees the stock moving lower.
IGT came in with fiscal second quarter net of 38 cents a share, up from 35 cents a year ago. However, revenues dropped 5% to $610 million from $644 million.
IGT also produces video gaming, player tracking, and accounting systems.
IGT also produces reel-type slot machines, video gaming machines and video gaming terminals for government-sponsored lotteries. the firm also makes progressive jackpot slot-machine networks that link slot machines from several casinos to increase jackpot payoffs.
This fiscal year ending Sept. 30, analysts expect the company to show an 11% increase in profits.
IGT's stock has been trending lower from a peak near 48 to 39. (see chart) The stock tried to form a bottom but is now breaking down. The TTD momen tum indicator is bearish. The accumulation - distribution line tried to rally, but TTD still sees as vulnerable. TTD sees IGT as a trading short for aggressive bears. We are targeting the stock for a decline to 31 within the next few months.
---
---
TTD columnist Leo Fasciocco has covered the stock market for over 20 years. His articles appear in many publications. He is also a speaker at the Intershow conferences. He has been on television and radio. He is author of many educational articles about stock investing and the book "Guide To High-Performance Investing."

For information to subscribe to the Ticker Tape Digest Services call: B. J. Owen at 1-480-926-1680. Distributed by Corona Publishing Enterprises. Ticker Tape Digest Inc. P.O. Box 2044 Chandler, Az. 85244-2044. TTD "Professional Report" is available on the World Wide Web: $100 per month. Password needed. "TTD Professional" Faxed is $200 per month. The TTD Daily Report is $39.95. Credit cards accepted.
(The information contained has been prepared from data deemed reliable but there is no guarantee of complete accuracy. Ticker Tape Digest Inc. is not affiliated with any broker, dealer or investment advisor. Nothing in this publication constitutes an offer, recommendation or solicitation to buy or sell any securities. Further research is advised. This report is copyrighted and no redistribution is permitted with out permission. Some of the charts are from Telescan, Insight Trading, First Alert and other sources.)