Ticker Tape Digest
Wednesday - April 25, 2012
---
By Leo Fasciocco -- TTD
Ticker Tape Digest presents its daily stock market report containing stocks to go long as breakout trades, quick trades, or bargain trades. We also feature stocks under Significant Accumulation that are poised to breakout.
Ticker Tape Digest's
Daily schedule guide for TTD subscribers
1. Pre-market - check Breakout Watch List and Quick Trades.
2. Morning - (11:30 - 12 A.M.) - check breakout stocks tape and breakout chart slide show.
3. Midday (1 P.M.) check TTD Midsession Report and see market video show.
4. After close (4 P.M.) check final TTD Report for day.
---
Trading Strategies
Bullish
Aggressive Investors Bullish - "Breakout Stocks" - ideally suited for bull markets and special situation stocks. Potential for large returns. (See Performance)
---
Aggressive Investor Bullish- "Quick Trade Stocks" -ideally suited for entry into top performing issues looking for a small quick profit." (See Performance)
---
Conservative Investors "Bargain Buy Trades for the Long Term." Ideally suited for entry into top performing big cap stocks on pullbacks within overall up trend.(See Performance)
---
Bearish
Aggressive Bearish Investors - "Breakdown Stocks" to Sell Short. Ideally suited for bear markets or market pull backs. Potential for large returns (See Performance)
The TTD report also contains stocks to short as breakdown plays and as bargain (swing trade) shorts.
Investors should tend to try to go with a strategy that fits with the stock market's trend, unless there is a special situation play.
TTD's Breakout Stocks - Long are most suitable for aggressive investors seeking ideal entry points into leading stocks, especially during bull markets. They can do extremely well in bull markets with gains of as much as several hundred percent.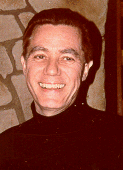 These stocks can also do extremely well during strong market rallies, or if they are in a industry group that is performing very well. They tend to have strong earnings outlooks and are near new-52 week, or all-time highs.
TTD Quick Trade Stocks - Long These are leading issues that have pulled back in recent days, but could move higher soon. They are most suitable for Aggressive Investors willing to trade short term. These stocks will do extremely well during market advances. They have about 74% win rate. During market rally sequences the win rate is even higher. The return is small 3% to 8% in just a few days.
TTD's Bargain Buy Trades - Long - Long Term. These are for conservative bullish Investors These long-term buys are ideally suited for entry into stocks on pull backs within overall up trend. These stocks can give a good return long-term especially during a bull market.
TTD also presents Stocks To Sell or Sell Short. These issues are suitable for aggressive investors willing to take short positions both as trades or for longer-term plays. These stocks will do very well during bear markets or market pull backs.
TTD's Bearish breakdown stocks to sell short. These issues have potential to fall sharply. They often show a technical breakdown and also some fundamental business problem such as weak earnings.
TTD's multi-media updates include a slide-show that presents charts and analysis at midsession. Some times TTD presents feature analysis on stocks and the market. TTD uses Windows Media Files. (WMV).
TTD also presents a "Breakout Watch List" that is up dated daily. This list consists of key stocks in position to breakout. A close watch of this list can put you in the stock just as it breaks out. A good idea is to study the list and be ready to move into a stock quickly as it hits its breakpoint.
TTD often suggests using stop buy orders to enter. It is very important to buy a breakout stock as close as possible to the breakpoint. The idea is to get "elbow room" if the stock should follow through to the upside. This is very important in being successful in making big money with breakout stocks.
It is also essential to have a stop loss strategy for all stocks in which positions are taken. Not every stock will work as expected. It is important for investors to "police" their portfolios and avoid getting trapped in any bad positions.
Quality rating of breakout Two key factors: 1 - Stock near all-time in price or near a 52-week high. 2 - earnings growth current year is strong. The ideal play is a stock with an Above Average Quality Rating. The stock is near a new high and will have strong earnings. TTD's other ratings are Average and Below Average.
TTD also has special feature sections on Educational Tips on Investing.
To email Mr. Leo Fasciocco leo@tickertapedigest.com.For service, email Beverly Owen owen@tickertapedigest.com. TTD's Tel: 1-480-926-1680.
---
Breakout Stocks
Total Buy Breakouts so far today - 26
Overall Quality of Breakouts - Above Average
Stocks Screened - 8,300
Bull side - Large number of breakouts, with some good looking plays. Bulls can be venturesome. Stock market holds in up trend with momentum still bullish. (Put mouse on Dow chart to see Nasdaq chart)
Long Term Environment for bulls: Favorable
Stock Market Momentum:
Market (Daily) - NYSE Bullish, Nasdaq Bullish
Market (Weekly) - NYSE Bearish, Nasdaq Bearish
Market (Monthly) - NYSE Bullish, Nasdaq Bullish
---
Ticker Tape Digest's
Timely Breakout Stocks From Tape Action - April 25
(The "breakout List" gives all stocks breaking out of a base of five weeks or more. These stocks have a good chance to trend higher. However, a stop should be used to avoid those that do not work. They are ranked according to percentage change and classified as leaders or other. (Trading strategy: One should buy breakout stocks at breakpoint by using market order or stop buy)All Timely Breakout Stocks From Tape Action Today )
---
Today's Featured TTD Breakout Stock
Hits All-Time High, Net to Surge, TTD Targets 90
TTD's Quality Rating of Stock - ULTI - ABOVE AVERAGE
ULTI, based in Weston, Fla., provides web-based payroll and employee management solution. Annual revenues: $269 million. ULTI's stock breaks out today from a 8-week flat base today. So far today, ULTI is trading a heavy 492,934 shares, triple its average daily volume of 151,000 shares. ULTI reaffirmed that it will show strong revenues for the second quarter and year.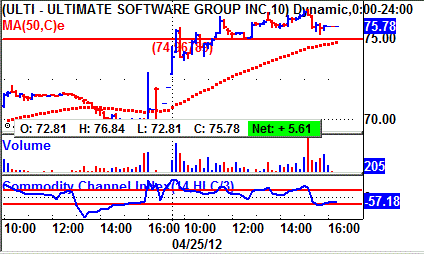 TTD highlighted ULTI as a breakout at our midsession video show on the Web Wednesday.
ULTI's 10-minute chart shows the stock rising sharply in the morning. It cleared its breakpoint line in the afternoon and then held its ground.
ULTI said that for the second quarter revenues would be about $79 million. That is close to the Street's estimate of $78.3 million. For the year revenues are expected to come in at $331 million. That is in line with Street estimates of $330.6 million.
The stock responded very bullishly to the news.
ULTI's tape action showed some aggressive buying.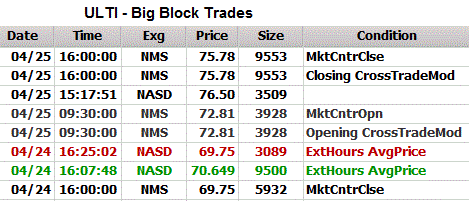 A block of 3,928 shares (duplicated) crossed the tape in the morning at $72.81. That was up sharply from the prior block at $69.75.
The price for the blocks peaked near the close with 3,509 shares crossed at $76.50.
The tape action showed good institutional buying as the stock cut across its breakpoint line.
ULTI provides Web-based payroll and employee management solutions to organizations of all sizes.
The company software UltiPro suite enables businesses to manage human resources and payroll strategically and cost-effectively.
ULTI offers application hosting through IBM Global Services and a business-to-business Web portal, providing access to value-added resources via the Internet.
ULTI's 12-month performance chart shows the stock appreciating 34% versus a 4% gain for the S&P 500 index.
ULTI's long-term chart shows the stock climbing from 5 back in 2002 to a peak of 41 in 2008. The stock then fell back during the bear market to 11. It has since staged a sensational recovery. The stock's push to a new all-time high is bullish and could draw in more buying on Thursday.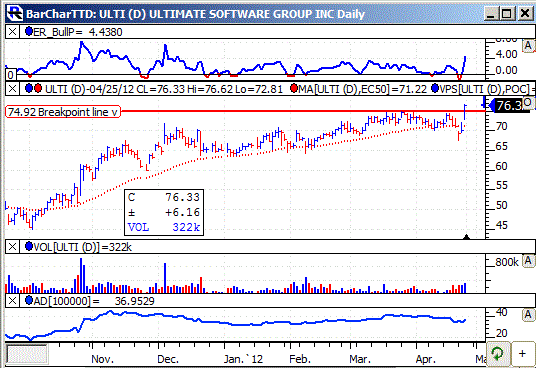 ULTI's daily chart shows the climbing from 45 back October. The stock rallied to a peak near 72 in March. The flat base formed from March through April was set up well. There was a recent shake out to the downside but the stock has since bounced back strongly.
The move comes with a good pick up in volume.
ULTI's TTD momentum indicator (top of chart) is strongly bullish.
The accumulation - distribution line (bottom of chart) pulled back a bit late recently. That shows there was some recent selling pressure. So, the stock should be watched closely.
ULTI's key driver will be its strong earnings outlook.
For 2012, analysts project a 299% jump in net to 64 cents a share from 16 cents in 2011.
The stock sells with a price-earnings ratio of 110. That is high. However, on an earnings-valuation basis the p/e ratio is okay.
Profits for the upcoming second quarter should surge 257% to 11 cents a share from 3 cents a year ago. The highest estimate on the Street is at 14 cents a share. UTLI topped the consensus estimate for the first quarter. So there is chances for an upside surprise in the second quarter.
Going out the third quarter net is projected to skyrocket 405% to 20 cents a share from 4 cents a year ago.
Going out to 2013, the Street looks for a 54% jump in profits to 98 cents a share from the anticipated 64 cents for 2012.

Strategy Opinion: TTD is targeting ULTI for a move to 90 within the next few months off this breakout..
A protective stop can be placed near 71. The stock has a beta of 1.42 versus 1.00 for the S&P 500. So, ULTI can get volatile.
TTD rates ULTI an average intermediate-term play most suitable for an aggressive investor.
Sponsorship: Excellent. The largest fund holder is 5-star rated Wells Fargo Advantage Growth Fund with a 5.5% stake. It was a recent buyer of 44,000 shares. 5-star rated TimesSquare Small Cap Growth Inst. Fund was a recent purchaser 20,000 shares. ULTI has 27.6 million shares outstanding.
Insider Activity: Extremely Bearish. Insiders have been exercising options to buy the stock from $4.57 to $7.92 and a few months ago at $2 and $3.10. They have done some selling around $68. Currently, 13 analysts follow the stock, 3 have a buy, down from 7 three months ago.
---
---
Stock Performance Chart with Quarterly Earnings Markers
Insider Activity - Buying in Green - Selling in Red
---
TTD's Breakout Profile Rating
Ultimate Software Group Inc. - (ULTI)
| | | | |
| --- | --- | --- | --- |
| TTD Check List | Bullish | Bearish | Neutral |
| Near 52-week High | YES | | |
| Volume | YES | | |
| Tick Volume | YES | | |
| Price Trend - Daily | YES | | |
| Price Trend - Long Term | YES | | |
| Price Daily Spread | YES | | |
| Base Structure | YES | | |
| Base - A-D | YES | | |
| Earnings-Quarterly | YES | | |
| Earnings-Long Term | YES | | |
| Earnings Outlook | YES | | |
| Industry Group | YES | | |
| Prior Breakout Success | YES | | |
| Fund Sponsorship | YES | | |
| Total Score | 14 | 0 | 0 |
---
Charts of Selected Breakout Stocks
TTD's Quality Rating of Stock - LECO - ABOVE AVERAGE
TTD's Quality Rating of Stock - CCI - ABOVE AVERAGE
TTD's Quality Rating of Stock - AOS - ABOVE AVERAGE
TTD's Quality Rating of Stock - HCII - ABOVE AVERAGE
---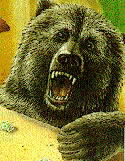 Ticker Tape Digest's
Stocks To "Sell or Short"
Ticker Tape Digest's Daily List of "Stocks To Sell or Sell Short" ranks stocks well timed to be sold immediately based on daily trading. The list can be used as an alert to reduce current long-term positions.
Shorts from tape action so far today - 5
Stocks Screened - 8,300
Long-Term Environment for bears: Unfavorable.
Bear Side - Small number of breakdowns today. Bulls be selective. Stock market remains in a trading range. TTD's short play from Tuesday was Netflix Inc. (NFLX) at 87.04. Today, the stock has declined to 85.67 and is working well for bears.
---
List of Stocks To Sell or Short

---
TTD's Feature Bear Play
Posts Loss for the Quarter, TTD Sees Drop to 9.50
ZIP, based in Cambridge, Ma., operates a car sharing network. Annual revenues: $242 million. ZIP's stock falls sharply today in heavy volume after the company reported a loss for the first quarter. So far today, ZIP is trading 1.4 million shares, triple its normal daily volume of 339,000 shares. TTD sees more on the downside.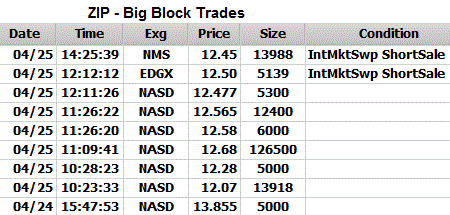 ZIP reported a first quarter loss of eight cents a share compared with a loss of 95 cents a share a year ago.
ZIP's stock fell sharply in the morning and hit an intraday low of $12. The stock then edged up a bit and then trended sideways.
ZIP's tape action shows the recent big block trades.
One can see the price for the block trades declining from $13.85 to $12.07 at the opening on 13,918 shares. The price for the blocks afterwards bounced up and down in price.
ZIP provides car sharing network providing self-service vehicles to members located in reserved parking spaces throughout the neighborhoods where they live and work.
The company's vehicles are available for use through its reservation system available by phone, internet or wireless mobile devices. Once the vehicle is reserved the member unlocks the vehicle with his or her keyless entry card and drives away. Its primary solutions include: Individual Membership, Zipcar for Universities, Zipcar for Business and Zipcar for Government and FastFleet.
This year analysts are forecasting ZIP will show a profit of 11 cents a share compared with a loss of 24 cents a year ago.
ZIP's chat shows the stock falling from 21 in October to 12 by December. The stock then bounced up and trended sideways. Today's breakdown technically indicates good potential for a further mover lower.
Strategy Opinion: TTD is targeting ZIP for a drop to 9.50 within the next few months, or sooner. A protective stop buy can be placed near 13.30.
---
TTD's Quality Rating of Stock -ZIP - BELOW AVERAGE
---
TTD takes no responsibility for trading by those using this information. The stocks presented in our report are those we deem the best looking "Day Trades" for the long side. We take no responsibility for the accuracy of this data, although every effort is made to present the information correctly. Copyright Ticker Tape Digest.
---
TTD columnist Leo Fasciocco has covered the stock market for over 20 years. His articles appear in many publications. He is also a speaker at the Intershow conferences. He has been on television and radio. He is author of many educational articles about stock investing and the book "Guide To High-Performance Investing."

For information to subscribe to the Ticker Tape Digest Services call: B. J. Owen at 1-480-926-1680. Distributed by Corona Publishing Enterprises. Ticker Tape Digest Inc. P.O. Box 2044 Chandler, Az. 85244-2044. TTD "Professional Report" is available on the World Wide Web: $100 per month. Password needed. "TTD Professional" Faxed is $200 per month. The TTD Daily Report is $39.95. Credit cards accepted.
(The information contained has been prepared from data deemed reliable but there is no guarantee of complete accuracy. Ticker Tape Digest Inc. is not affiliated with any broker, dealer or investment advisor. Nothing in this publication constitutes an offer, recommendation or solicitation to buy or sell any securities. Further research is advised. This report is copyrighted and no redistribution is permitted with out permission.)
---