---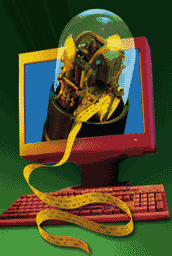 Ticker Tape Digest
Thursday - May 10, 2007
---
By Leo Fasciocco -- TTD
Ticker Tape Digest presents its daily breakout and Short Selling report. It contains Breakout Stocks and Stocks under Significant Accumulation.Data is from tape action for the day. These stocks are most suitable for aggressive investors seeking ideal entry points for leading stocks.
These stocks will do very well during bull markets and strong market rallies.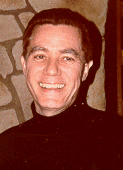 TTD also presents Stocks To Sell or Sell Short.These issues are suitable for aggressive investors willing to take short positionsboth as trades or for longer-term plays. These stocks will do very well during bear markets or market corrections
TTD's multi-media updates include a slide-show that presents charts. It is available with use of the Real Player One that can be downloaded for free from real.com. The latest versions of Microsoft's explorer and Netscape have the player already installed and works well with TTD's slide shows.
TTD's more advanced video show comes as Microsoft video file and is best used with cable or high-speed service.
TTD also has a special feature section on Tips - Questions and Answers at the Forum section.Go To Forum click here
To email Leo leo@tickertapedigest.com.For service, email Beverly Owen owen@tickertapedigest.com. TTD's Tel: 1-480-926-1680.
---
Breakout Stocks
Total Buy Breakouts so far today - 5
Stocks Screened- 8,200
Bull side - Small list of breakouts today as market falls sharply. Bulls be selective and watch all stops on current positions.
Long-Term Environment for bulls: Favorable.
Market Status (Daily) - NYSE Bearish, Nasdaq Bearish
Market Status (Weekly) - NYSE Bullish, Nasdaq Bullish
---
Today's Featured Breakout Stock
Machinery Firm to Show Good 1st Half Net, TTD See Move to 39
HDNG, based in Elmira, N.Y., makes industrial machine tools for small and mid-sized shops that turn out machined parts for the automotive, medical equipment, and farm equipment industries. Annual revenues: $327 million. HDNG breaks out strongly today from a seven-week, cup-and-handle base after reporting strong earnings for the first quarter. Volume is running at four times normal at 704,057. Its average daily volume is 179,000 shares.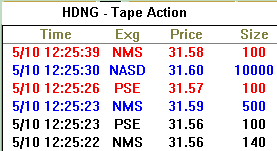 TTD's clip of the tape shows good action around midday after the good earnings came in earlier in the session.
A block of 10,000 shares crossed on an up tick to $31.60 from the prior trade at $31.57. The stock's response to the earnings was very bullish.
HDNG came in with first quarter net up 177% to 61 cents a share from 22 cents a year ago.
The 61 cents a share topped the consensus Street estimate of 44 cents a share, which was also the highest by analysts. As TTD has said when a company can post quarterly net well above the highest estimate, the stock has good chances to move higher on the news and for the next several weeks. That is because analysts are forced to raise estimates for the year.
HDNG's precision turning machine tools shape metal, composites, and plastics.
Its computer-controlled machines cut either horizontally or vertically and can be connected to automatic material feeders for unattended machining.
The Cobra line of lathes is marketed as an inexpensive alternative for smaller shops. HDNG also offers a line of work- and tool-holding devices. The company, which dates back to 1890, sells its products in North America, Western Europe, and the Asia/Pacific region.
This year, TTD expects HDNG's earnings to rise 17% to $1.85 a share from $1.58 a year ago. There is a good chance they could do even better.
Sales for the quarter rose 15%. The company is showing good order flow.
For the upcoming second quarter, net is projected to rise 50% to 51 cents a share from 34 cents a share a year ago.
Strategy Opinion: HDNG's strong earnings for the quarter sets the stock up well to do well off this breakout. TTD is targeting the stock for a move to 39 within a few months. A protective stop can be placed near 30. TTD rates HDNG a good intermediate-term play.
Sponsorship: Very Good. The two largest fund holders have a 5-star rating. They are Franklin MicroCap Value Fund with a 10.2% stake and Fidelity Low-Priced Stock Fund with a 10%.
Insider Activity: Neutral. Not much action lately. One analyst follows the stock and has a strong buy.
---
---
TTD's Breakout Profile Rating

Hardinge Inc. (HRDG)
| | | | |
| --- | --- | --- | --- |
| TTD Check List | Bullish | Bearish | Neutral |
| Near 52-week High | YES | | |
| Volume | YES | | |
| Tick Volume | YES | | |
| Price Trend - Daily | YES | | |
| Price Trend - Long Term | YES | | |
| Price Daily Spread | YES | | |
| Base Structure | YES | | |
| Base - A-D | YES | | |
| Earnings-Quarterly | YES | | |
| Earnings-Long Term | YES | | |
| Earnings Outlook | YES | | |
| Industry Group | YES | | |
| Prior Breakout Success | YES | | |
| Fund Sponsorship | YES | | |
| Total Score | 14 | 0 | 0 |
---
All Timely Breakout Stocks From Tape Action Today
(The "breakout List" gives all stocks breaking out of a base of five weeks or more. These stocks have a good chance to trend higher. However, a stop should be used to avoid those that do not work.
(Trading strategy: One should buy breakout stocks at breakpoint by using market order or stop buy)

---
Charts of Selected Breakout Stocks Today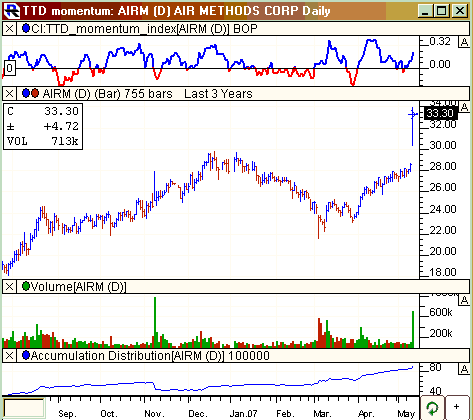 ---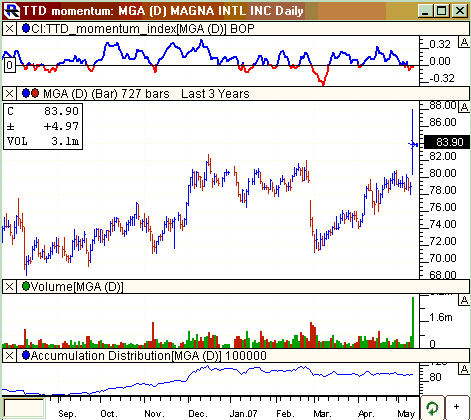 ---
---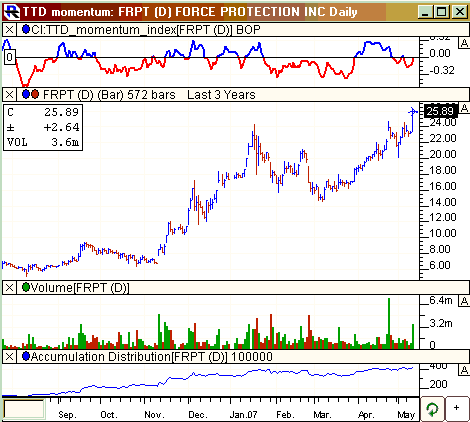 ---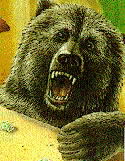 Ticker Tape Digest's
Stocks To "Sell or Short"
Ticker Tape Digest's Daily List of "Stocks To Sell or Sell Short" ranks stocks well timed to be sold immediately based on daily trading. The list can be used as an alert to reduce current long-term positions.
Shorts from tape action so far today - 4
Stocks Screened - 8,200
Long-Term Environment for bears: Unfavorable.
Bear Side - Just a few breakdowns today. However, the market is starting to pull back. So, bears should be alert now and more aggressive. TTD's short from Wednesday Supertex Inc. (SUPX) falls 0.88 to 30.85 today.
List of Stocks To Sell or Short
(Trading strategy: These stocks can be sold short, or if held should be sold. If a stock is sold short, a protective stop buy should be placed. Short plays work best when the stock market is in a down trend.)
---
Commentary on TTD's Feature Bear Play
KNOT, based in New York, is an online publisher serving the wedding market sector with content and services through TheKnot.com. Annual revenues: $72 million. KNOT falls some 3 points today in heavy trading so far today. The trigger: a report of lower quarterly earnings. TTD sees KNOT as a short for aggressive bears.
So far today, KNOT is trading a heavy 3.5 million shares, seven times its normal daily volume of 500,000 shares. The action indicates a rush to the exits by some institutions.
TTD's clip of the tape highlights a big block of 30,000 shares crossing on a down tick to $19 from the prior trade at $19.04.
KNOT reported net for the first quarter declined to 5 cents a share from 7 cents a year ago. The stock's extremely bearish reaction to the news comes while the company toots its horn in a bullish way.
KNOT's web site offers advice and information on topics from engagement to honeymoon, as well as wedding planning tools (budget planner, gown finder), chat rooms, a directory of local resources, and an online gift store.
The company's WeddingChannel.com offers online registry services. Other sites include TheNest.com and PartySpot.com. The firm also licenses its content toWeb portal MSN and cable operator Comcast. In addition to online content, The Knot publishes The Knot Wedding Magazine, more than a dozen regional magazines, and books on lifestyle topics.
For the upcoming second quarter, analysts are forecasting a 10% drop in net to 14 cents a share from 15 cents a year ago.
KNOT breaks below key support at 20 today. The stock was acting well and looked poised to rally. But, instead the stock went the otherway - down. TTD is targeting KNOT for a decline to 14 within the next few months. TTD sees KNOT as a trading short for bears.
---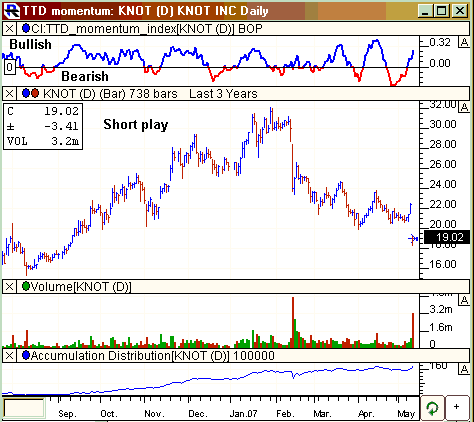 ---
TTD columnist Leo Fasciocco has covered the stock market for over 20 years. His articles appear in many publications. He is also a speaker at the Intershow conferences. He has been on television and radio. He is author of many educational articles about stock investing and the book "Guide To High-Performance Investing."

For information to subscribe to the Ticker Tape Digest Services call: B. J. Owen at 1-480-926-1680. Distributed by Corona Publishing Enterprises. Ticker Tape Digest Inc. P.O. Box 2044 Chandler, Az. 85244-2044. TTD "Professional Report" is available on the World Wide Web: $100 per month. Password needed. "TTD Professional" Faxed is $200 per month. The TTD Daily Report is $39.95. Credit cards accepted.
(The information contained has been prepared from data deemed reliable but there is no guarantee of complete accuracy. Ticker Tape Digest Inc. is not affiliated with any broker, dealer or investment advisor. Nothing in this publication constitutes an offer, recommendation or solicitation to buy or sell any securities. Further research is advised. This report is copyrighted and no redistribution is permitted with out permission. Some of the charts are from Telescan, Insight Trading, First Alert and other sources.)