---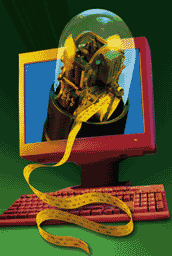 Ticker Tape Digest
Monday - May 18, 2009
---
By Leo Fasciocco -- TTD
Ticker Tape Digest presents its daily breakout and Short Selling report. It contains Breakout Stocks and Stocks under
Significant Accumulation.
Data is from tape action for the day. These stocks are most suitable for aggressive investors seeking ideal entry points for leading stocks.
These stocks will do very well during bull markets and strong market rallies.
TTD also presents Stocks To Sell or Sell Short. These issues are suitable for aggressive investors willing to take short positions both as trades or for longer-term plays. These stocks
will do very well during bear markets or market corrections
TTD's multi-media updates include a slide-show that presents charts and analysis at midsession. Some times TTD presents feature analysis on stocks and the market. TTD uses Windows Media Files. (WMV).
TTD also presents a "Breakout Watch List" that is up dated daily. This list consists of key stocks in position to breakout. A close watch of this list can put you in the stock just as it breaks out. TTD often suggests using stop buy orders to enter. It is very important to buy a breakout stock as close as possible to the break point. The idea is to get "elbow room" if the stock should follow through to the upside. This is very important in being successful in making big money with breakout stocks.
TTD also has special feature sections on Educational Tips on Investing.
To email Mr. Leo Fasciocco leo@tickertapedigest.com.For service, email Beverly Owen owen@tickertapedigest.com. TTD's Tel: 1-480-926-1680.
---
Breakout Stocks
Total Buy Breakouts so far today - 3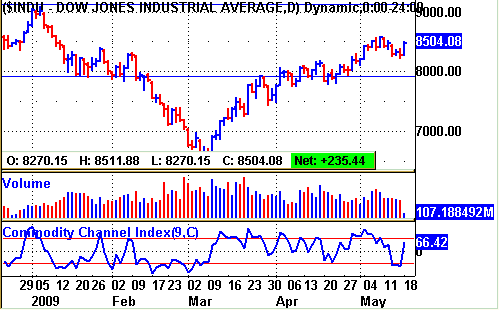 Stocks Screened - 8,200
Bull side - Only 3 breakout stocks and all are overseas. The stock market is acting firm after a good run. Bulls remain alert. The key is to look for new leadership both in individual stocks and industry sectors.
(Put mouse on Dow chart to see Nasdaq chart)
Long Term Environment for bulls: Neutral
Market (Daily) - NYSE Bullish, Nasdaq Bullish
Market (Weekly) -NYSE Bullish, Nasdaq Bearish
Market (Monthly) NYSE Bullish, Nasdaq Bullish
---
Today's Featured Stock
India Car Firm's Net to Rise 28% in Fiscal 2010, TTD Targets 12.50
TTD's Quality Rating of Stock - TTM - BELOW AVERAGE
TTM, based in India, is India's largest automobile maker. Annual revenues: $8.1 billion. TTM's stock breaks out from a seven-week base today on big volume. The stock is a turnaround play. It was $20 back in 2007, fell to 4 and then rallied from to 8 to set up its base. The company has been negotiating with the Indian government on TTM's plans to produce an eco-car.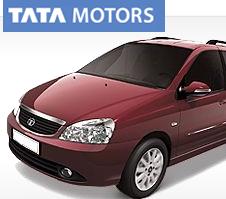 TTD highlighted TTM as a breakout at our midsession show on the Web today.
So far today, TTM's stock is up sharply. Volume is running at a heavy 7.2 million shares, almost five times its normal daily volume of 1.5 million shares.
TTM's stock drove higher in the morning and peaked around 10 a.m. It then moved sideways the rest of the day.
TTD's clip of the tape shows some extremely bullish tape action. There are three big blocks listed that traded during the day. The price for the blocks climbed nicely from $8.39 to $8.90 and then to $9.62. That showed very strong and aggressive institutional buying.
TTM produces a variety of vehicles and cars. It is a part of the $60 billion Tata Group that is in turn owned by charitable trusts. It has a technical and manufacturing collaboration with Fiat of Italy. In June 2008, Tata Motors acquired Jaguar Land Rover from Ford for $2.3 billion.
The company said it may reconsider its eco-car investment unless the government allows eco-car producers to manufacture fewer than 100,000 units in their fifth year of production.
TTM plans to launch its first eco-car in 2011 but is waiting for the state to relax its conditions. Concern is focused on the required minimum output of 100,000 units within five years, which could create a market surplus with sinking demand in the slowdown. TTM has joined with other car producers and the Federation of Thai Industries (FTI) to request the Industry Minister to relax the output requirement.
TTM officials said the India domestic market is too small to absorb big output of cars at a time of poor export markets.
If TTM imported its Nano to Thailand, it would need to adjust the car's specification to comply with Thai regulations such as emission standards, and the model would have a selling price of 140,000 baht a unit, said a source in the car industry.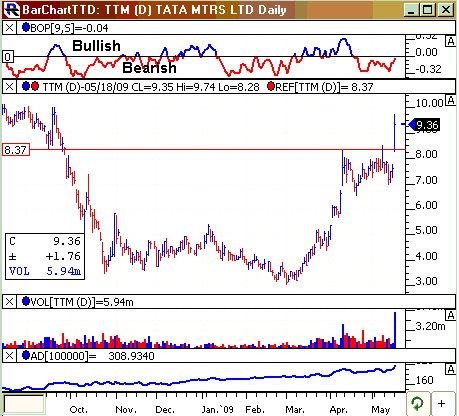 TTM's stock has been strong lately. TTD's performance stock shows it up 130% the past six months. That compares with a 10% rise in the S&P 500 index.
TTM's long-term chart shows the stock trading at 8 back in late 2004. The stock climbed to a peak of 21.99 in 2006. It was dragged down with the bear market hitting a low of 3.18 in early 2009. It has since rallied strongly.
TTM's daily chart shows the stock recent rally from its low. The base set up was good. The trading range was tight. There was an attempt to breakout about a week ago, but that did not click.
The breakout today is impressive in that it comes with (1) big volume, (2) a gap move and (3) a widening of the daily trading spread (range from high to low.
The stock's Accumulation - distribution line (bottom of chart) is in a strong up trend. It has broken out to the upside to confirm the same action in the price of the stock.
This fiscal year ending March 30, analysts expect TTM to post a profit of 12 cents a share. Comparable figures were not available.
Looking ahead to fiscal 2010 ending in March, the Street predicts a 25% jump in net to 15 cents a share from the expected 12 cents a share in fiscal 2009.
The stock sells with a price-earnings ratio of 60 based on the fiscal 2010 net.
Strategy Opinion: TTM is a speculative breakout, but one that is moving with strong momentum. TTD sees the stock suitable only for aggressive investors. We are targeting TTM for a move to 12.50 within the next few months, or sooner. A protective stop can be placed near 8.50. TTD rates TTM an average intermediate-term play.
Sponsorship:Excellent. The largest fund holder is 5-star rated Nuveen Tradewinds Value Opportunities Fund with a 0.60% stake. It has held its position steady. A key buyer recently was 4-star rated ING Value Choice Fund which purchased 466,000 shares. TTM has 385 million shares outstanding. Funds hold 3.9 million shares.
Insider Activity: Not available. Three analysts follow the stock. None have a buy.
---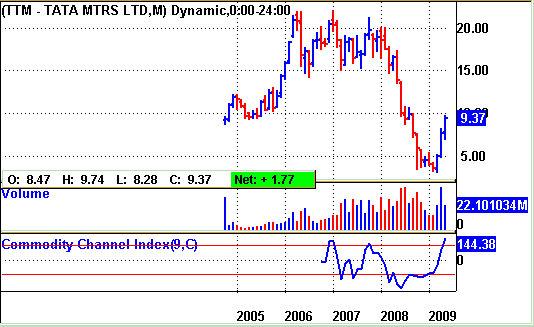 ---
Stock Performance Chart for 6 months with Quarterly Earnings Markers.

---
TTD's Breakout Profile Rating
Tata Motors Ltd. (TTM)
| | | | |
| --- | --- | --- | --- |
| TTD Check List | Bullish | Bearish | Neutral |
| Near 52-week High | | | YES |
| Volume | YES | | |
| Tick Volume | YES | | |
| Price Trend - Daily | YES | | |
| Price Trend - Long Term | | YES | |
| Price Daily Spread | YES | | |
| Base Structure | YES | | |
| Base - A-D | YES | | |
| Earnings-Quarterly | | | YES |
| Earnings-Long Term | | | YES |
| Earnings Outlook | YES | | |
| Industry Group | | YES | |
| Prior Breakout Success | | | YES |
| Fund Sponsorship | YES | | |
| Total Score | 8 | 2 | 4 |
---
All Timely Breakout Stocks From Tape Action Today
(The "breakout List" gives all stocks breaking out of a base of five weeks or more. These stocks have a good chance to trend higher. However, a stop should be used to avoid those that do not work.
(Trading strategy: One should buy breakout stocks at breakpoint by using market order or stop buy)

---
Charts of Breakout Stocks
TTD's Quality Rating of Stock - TCL - BELOW AVERAGE

---
TTD's Quality Rating of Stock - SAM - BELOW AVERAGE

---
Ticker Tape Digest's
Stocks To "Sell or Short"
Ticker Tape Digest's Daily List of "Stocks To Sell or Sell Short" ranks stocks well timed to be sold immediately based on daily trading. The list can be used as an alert to reduce current long-term positions.
Shorts from tape action so far today - 2
Stocks Screened - 8,200
Long-Term Environment for bears: Neutral
Bear Side - Only two breakdown stocks so far today as stock market stages broad rally. Bears be conservative and selective.
---
List of Stocks To Sell or Short
(Trading strategy: These stocks can be sold short, or if held should be sold. If a stock is sold short, a protective stop buy should be placed. Short plays work best when the stock market is in a down trend.)

---
Commentary on TTD's Feature Bear Play
Triggers Suit with Bayer on Drug, TTD Sees Drop to 20
ONXX, based in Richmond, Ca., develops and markets novel therapies that target molecular mechanisms that cause cancer. Annual revenues: $194 million. ONXX's stock fall sharply today after the company filed a suit against Bayer Corp. over anti-cancer products. ONXX's stock breaks below key support near 25 today on expanding volume. TTD sees more on the downside.
ONXX's stock moved lower at the opening and hit a bottom around 10 a.m. It rallied to cut its loss but then faded the rest of the day.
ONXX is trading 1.7 million shares, almost double its normal daily volume of 953,000 shares.
ONXX filed a suit against the German health-care firm Bayer, asserting ONXX's rights to a Phase II anti-cancer compound discovered during joint research between the two companies.
The suit was filed in U.S. District Court for the Northern District of California. ONXX said it wants the court to declare that the two companies jointly own fluoro-sorafenib, which it called "a variant of Nexavar," under their collaboration agreement.
ONXX said the two companies continue to collaborate to develop and commercialize Nexavar. It said discussions with Bayer regarding Onyx's rights to fluoro-sorafenib under the companies' 1994 collaboration agreement were not productive.
The tape action in response to the suit was very bearish. This year, analysts have been forecasting ONXX's earnings will increase to 84 cents a share from 3 cents a year ago.
TTD's daily chart shows ONXX's stock breaking below key support near 25. The move comes with heavy volume.
Strategy Opinion: TTD is targeting ONXX for a decline to 20 within the next few months or sooner. TTD sees the stock as a trading short. A protective stop buy can be placed near 25.30.
---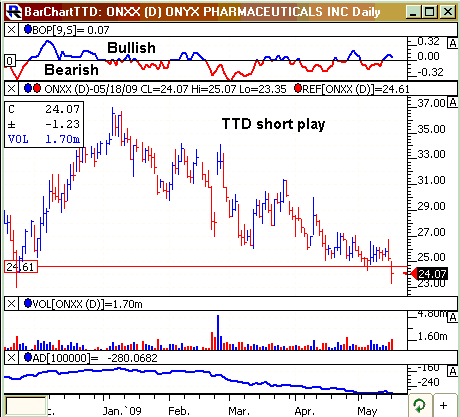 ---
TTD columnist Leo Fasciocco has covered the stock market for over 20 years. His articles appear in many publications. He is also a speaker at the Intershow conferences. He has been on television and radio. He is author of many educational articles about stock investing and the book "Guide To High-Performance Investing."

For information to subscribe to the Ticker Tape Digest Services call: B. J. Owen at 1-480-926-1680. Distributed by Corona Publishing Enterprises. Ticker Tape Digest Inc. P.O. Box 2044 Chandler, Az. 85244-2044. TTD "Professional Report" is available on the World Wide Web: $100 per month. Password needed. "TTD Professional" Faxed is $200 per month. The TTD Daily Report is $39.95. Credit cards accepted.
(The information contained has been prepared from data deemed reliable but there is no guarantee of complete accuracy. Ticker Tape Digest Inc. is not affiliated with any broker, dealer or investment advisor. Nothing in this publication constitutes an offer, recommendation or solicitation to buy or sell any securities. Further research is advised. This report is copyrighted and no redistribution is permitted with out permission. Some of the charts are from Telescan, Insight Trading, First Alert and other sources.)