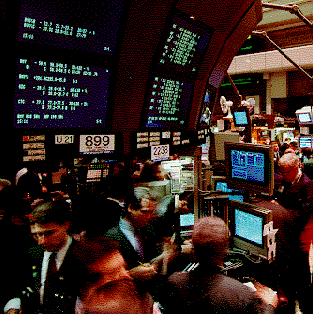 ---
How To Handle A Blow off Play -
Invision Technologies
By Leo Fasciocco - Ticker Tape Digest
November 24, 2001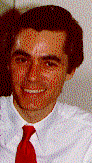 Question: Could you look at the chart for Invision Technologies Inc. (INVN) for me. It looks like it is setting up for a climax run to me, if it is not already there. What's your opinion on this one?
On a different note, I am a high school teacher in Oregon. I teach math and have a "stocks" class that I started this year. I would be interested to know if you knew of anyone or how I could find a broker or investment advisor in the Portland area, who would be willing to come in to talk to my stocks class. I have given several presentations myself to my class, but am looking for an outside source to back it up. Thanks for your awesome service! - Ken
Answer: Hi Ken, on INVN, yes, the stock does look like it is in a blow off stage. It has had the typical big run up and volume was a giant 7.8 million shares on Friday (Nov. 30).
A good strategy is to sell in two parts. One-half into the strength and the second half when the stock gives signs of having peaked. One has to watch the stock on a 30 or 15 minute chart because everything is accelerated with time. The reversal of selling will be swift. Typically, the stock will retrace most of its gain during one day and then afterwards set up a base for the next several weeks. That might show up as the stock closing on its low for the day. Friday, it closed near its high for the day. So, it has not peaked yet. The tick volume on Friday was up tick volume of 52,500 shares. There was some selling late in the day.
Also, blows offs generally peak on the day of the heaviest volume, but some times that can only be seen in retrospect for complete accuracy.Nevertheless one can take a guess. And in INVN's case it is close to a probable peak having surged 8 points in three sessions. These kinds of stocks are "fun" to play. I generally sell early and happily leave with a nice profit and do not look over my shoulder.
I don't know of any broker using the breakout method in the Portland area. If I find out about one I will let you know.
---
Question: I still have some Philip Morris (MO). Do they look like they are falling and in a head-and-shoulders pattern? Bob
Answer: Bob, MO looks ok. The tape action has been neutral. It is in a sideways consolidation long-term. I see more sideways action. It is ok to hold.
---
Question: Mr, Leo how are you doing? I'm interested in some recent pull backs for long-term plays. They are Enron (ENE) at 8, Providian (PVN) 4, Grey Wolf (GW) 2.70, Alloy Inc. (ALOY) at 15 and MTR Gaming Group (MNTG) at 12.50. I need your suggestion for the above to put on a buy or avoid for sometime, Samir.
Answer: Hello Samir, ENE - Enron broke down badly past two days with heavy down tick volume. It should be avoided. It is still looking to hit a bottom, has not even formed a bottom, nor turned. Tape is very bearish. PVN - Providian ,was a TTD short at 15 in October. See TTD's search engine for latest report. Broken stock. Rumors are firm may be sold. Avoid. It could stay dormant for some time. Too speculative.
GW - Oil play, rallied to 3.25 recently, then pulled back on the disappointing news on oil production and fall in oil prices. Tape was very weak on pull back. Avoid. However, other oil plays showed big accumulation on pull back. BJ Services (BJS) and big cap play Schlumberger (SLB).
ALOY is consolidating after pullback following rally from 9.50 to 16.50. It is doing basing work with neutral tape. Just watch it for now.. MNTG - recent TTD buy feature - is a gaming stock. It is holding its breakout and tape is positive. Can buy here around 12, but only partial position -- 50%. Then seek to average up with next 50% at 14. Good chance to move higher.
---
Question - Leo, nice call on Scan Soft (SSFT) a couple of weeks back. (editor put on TTD at 1.75 hit 4.25 by late November). Could you comment on the accumulation on oil service stocks you had seen recently? this appears to have been some sort of head fake. could you comment on the last couple of days of action in the sector? - John
Answer - John, oil service showed tremendous accumulation during October and early November. The disappointing news about OPEC's production cuts knocked the stock back in mid-November. However, the stocks showed strong accumulation despite the drop in their stock prices. So, Your question is good.
BJS Services (BJS) showed up tick volume that was extremely strong - and surprisingly bullish. So did Weatherford International (WFT), Smith International (SII) just to name a few. So, I would expect a rebound in oil service.
End
---
---
TTD Quick Trades Win 4 Out 5, Still One Must Be Alert
Question: I very much enjoy using your TTD service. However I feel that you are not perfectly accurate about your day trade section. JDEC (J.D. Edwards) triggered a buy and then closed for a minor loss which is not noted in the review section.
A little bit more accuracy would be appreciated even if it takes away from your winning percentage which is outstanding anyway! Respectfully yours, > > Jonathan D. J. of California
Answer: Jonathan, Thanks for your comments. The TTD commentary on the TTD day trades has a touch of subjectivity to it because not everyone would sell at a particular time, nor even at the end of the day.
Generally, I find it good that when a buy is kicked in and the stock rises a certain amount that a stop can be placed near the buy, if comfortable. That way it is either a win or breakeven.
TTD may consider using a pct. gain target for each quick trade. That may give us a solid parameter of measure as to the performance. We are not overly concerned about the win percentage. The key is that it gives an idea of say 80% winners and 20% are losers. One needs to be on their toes knowing that one out of five trades will not work. By the way, the TTD Quick Trades work very well on rally days. The percent winners is extremely high for the long side.
---
Question: I'm interested in tape action on two internet pullbacks PMCS and AOL. Is AOL, which is an institutional favorite getting any buying on the tape on this pullback? This looks like an interesting beneficiary if managers pile into gotta-have techs with seasonal inflows.
Verio (VRIO) - recent TTD breakout has pulled back also. Tape favorable? I remember you said it had excellent sponsorship from Janus. Firsthand's web site shows that Kevin Landis also holds the stock.
Your recent feedback on chip stocks LSI, TXN, and XLNX worked well. Thanks. I aggressively added to LSI and TXN @55 and 95 on recent weakness. Thumbs up. I have been holding market leaders XLNX and PMCS from that group and already took profits on BRCM awhile back.
PMCS is nearing your target of 140- Tape OK or time to get off? I notice your accumulation feature Renal Care Group ( featured last month and reinforced recently) looks like it is starting to move. Still positive? Thanks, Randy
Answer: Wow! That's a lot, but here goes.
1. AOL's pull back from 94 came with down tick volume. I would expect a sideways basing formation and a probable test of 70. It is 75 7/8. So more to go on downside near-term.
2. VRIO - breakouit at 45. Got to 55 5/8. It has since pulled back and retested top of base and is now bouncing up to 46 1/2. The tape has shown up tick volume dominating easily. So, I would expect new rally to carry further.(editors note VRIO is now 71 7/8)
3. PMCS - hit 160 3/8. Tape remains positive and up trend looks fine. Obviously, extended from breakpoint.
4. RCGI - is starting to creep higher as expected. Tap is positive. Looks fine so far. I expect this one to work higher, but it has the potential to pick up buying if it gains momentum (Editors note: RCGI has climbed from 20 to 27 in 8 weeks.)
---
Question: As a new subscriber, I'm enjoying TTD and have profited from a number of your suggestions. I seem to do better with the Day Trades, and Stocks Under Accumulation than I do with the breakout plays.
I adhere to a strict 7% stop loss rule and more often than not, I have been shaken out when a breakout recedes to the base. Recent examples include PSUN, VTSS, and ADI > (before earnings announcement sent it skyward into the 70's). I may have to widen my stop margin to factor in increased volatility and/or technical support levels.
Several questions: 1. For a Day Trade, if the stock gaps open to a price above your TTD "TTD suggested buy price" do you consider it a play, or does the higher entry price increase the risk and reduce the profit potential such that it's generally better to pass?
Is the tape for Lennar Corp. (LEN) still showing accumulation? I was intrigued by the large uptick volume that you identified several days ago and took a position at a good price but observation of Friday's time & sales seemed to indicate more selling than buying. Many thanks, Jim S.
Answer: 1. A gap opening above the buy price on a day trade is generally a buy, but some consideration must be given to the circumstances. Just a few examples, a gap up with the market acting strong at the opening bell can often times results in an easy win very quickly - a matter of hours.
If a stock gaps responding to news, you have to be careful. It could work or it may be met with selling. If a stock gaps with a big move... say 5 points or more... then you should be careful. It does require a subjective touch, but the buy should be considered.
2. On Lennar.... yes, LEN did show selling on Friday. It traded 400,400 shares with down tick volume of 174,600 shares. That compares with the big buy day on Dec. 15, when it traded 816,700 shares with up tick volume of 478,200 shares. I would play it tight any move below 15 would be reason for concern. It is 15 1/2.
Editors note: LEN is 16 3/8 and still holding in a base.
---
Wall Street Word of Wisdom: The power to understand and ability to act turns information into profits.
---
Mr. Fasciocco is a nationally known investment writer. His articles were used for the books "High Performance Investing" and the "Encylopedia of Investing." He also writes a report on daily stock market trading for Ticker Tape Digest. He can be reached via e-mail at leo@tickertapedigest.com. You can write to him at P.O. Box 2044, Chandler, Az. 85244.
Copyrighted by Ticker Tape Digest