Getting A Ticket On A Good Turnaround
Can Land An Investor Some Tidy Profits
When it comes to investing in turnarounds, an investor can make a lot of money - if he's right and does his homework.
For most of 1995, technology stocks grabbed the headlines and rightly so. Many soared because of increased demand for memory chips, computers and software.
But, another group that did well too and showed a big "turnaround" was the airline stocks. One of the Big Board leaders in the group at that time was UAL Corp. (UAL). It's also a classic example of a stock having everything in place for a sustained turnaround move.qp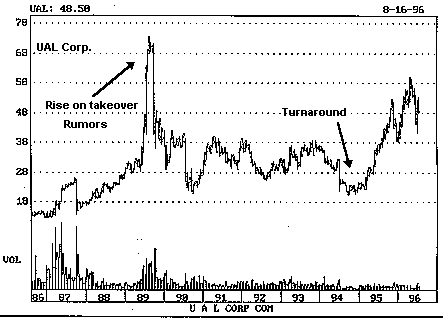 When studying a company as a possible turnaround there is a check list an investor can follow. If most of the items are in place, the bang for the buck could be awesome.
The check List:
(1) Look for a change in ownership or management.
(2) Look for changes being made to improve the business.
(3) Look for a benefit from a technological or cyclical change in the industry.
(4) Look for an increase in profitability from weak profits or red ink.
(5) Look for good technical action in the stock.
(6) Look to see if the stock can sustain a long-term up trend.
(7) Look for any important institutional buying.
If a stock fits the bill, then by all means get your ticket punched (buy the stock), and hop on board for the ride.
Now, lets take a look at an example of a good turnaround - UAL Corp. There have been others too.
UAL's stock soared to a peak of 73 in 1989 (adjusted for a 4-for-1 stock split. That's the same year earnings soared to $14.96 a share. But, what gave the stock a big boost was a potential buyout. But, it never materialized. The stock fell. With it too, the market came down as the takeover fervor of the late 1980s faded.
By 1992, UAL's stock fell on hard times and into the 20s. High costs and fare wars in the airline industry buffeted the firm. UAL lost $14.31 a share in 1991 and $17.34 a share in 1992.
Then things began to change. Enter new ownership: UAL employees.
In a unique switch, UAL's employees bought control of the company and 56,000 of the 79,000 workers made concessions. The cost saving was projected to be $3.3 billion over six years.
Next new management came in. Gerald Greenwald took over as chairman in July 1994. He had been with Chrysler Corp.
Operational changes were made next and they started to pay off. To meet competition, UAL launched a no-frills shuttle operation for the West Coast. It showed a nice profit. In 1995, UAL added 4,000 workers, of which 2,000 were phone reservationists.
In addition, UAL bought several new planes. It expanded its routes overseas. And, most importantly the airline industry clicked in. UAL's profits began to soar.
Analysts projected UAL's net income to rise from 76 cents a share in 1995 to $14.29 a share in 1995 and $17.60 a share in 1996. Some even estimated $20 a share in 1997. UAL's price-earnings ratio on an estimated basis was only 8.
The stock took off. UAL's stock tripled in 1995 from 17 to 52. On a long-term basis, UAL's stock emerged from a six-year base with resistance at 27. Also, the well-managed Fidelity Funds disclosed they held 11% of UAL.
Of course, not all potential turnarounds will have everything in place like UAL. But, the basic pattern is pretty much the same.
Investors should not be hesitant in buying a turnaround with the idea they missed the initial liftoff. A good turnaround stock can make a fourfold or fivefold move over a two year period or more. An example: Chrysler Corp. (C) with Lee Iacocca in the driver's seat.
However, one should be careful, when dabbling in low-priced turnaround plays and those coming out of bankruptcy. The risk of the turnaround failing and a plunge in the stock is much higher.
Finding a potential turnaround requires a bit of the "detective" in an investor. Reading news stories about companies is one way and the other is to watch the tape action via Ticker Tape Digest. Look at stocks, breaking out and those showing unsusual accumulation. Then follow that up with research.
There is no need to "bet the house" on a turnaround. A reasonable investment can be made in a scaled in manner. One last bit of advice, beware of tips. Never buy a stock on tip a big turnaround is coming. Instead, do research and watch the trading activity.
end
Copyright Ticker Tape Digest August 19, 1996