How to Get To the "Heart of an Investment:
Check The Philosophy
---
By Leo Fasciocco, Syndicated Investment Columnist
January 2004 - When considering a stock investment, many investors pour over the "numbers." They study a company's earnings and the growth prospects for its products or services. They also analyze its stock chart pattern using sophisticated technical tools.
All this is good. But, something else is important too -- knowing a company's philosophy.
You may say that that is awfully hard to pinpoint. You might also feel that it is not very important. Well, investors who put money in companies such as Enron and MCI and a few other debacles sure wish they had known the true philosophy of those firms. If they had, they may not have lost a lot of money.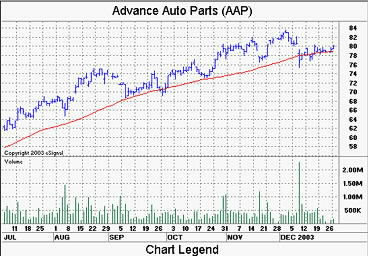 In my years of following the markets and corporations, I have had the opportunity to interview many top corporate executives, such as those at General Motors, Sears and Exxon.
Some impressed me; some did not.
Even today, when I speak with analysts, they often relate to me what they think of management -- are they operating a real company, or are they just in it to make big bucks for themselves?
When considering buying a stock, investors should take the time to visit the firm's corporate website and read up on the history and try to see what the firm's philosophy or mission statement is.
A stock that caught my eye recently was Advanced Auto Parts Inc. (AAP). The stock climbed from 50 at the start of 2003 to a peak of $83.65 by early December. It then pulled back several points in mid-December, when competitor Autozone Inc. (AZO) reported weak same-store sales. AAP Chart AZO Chart However, Advanced Auto's sympathy price pull-back was different from that of Autozone.
Advanced Auto showed very strong accumulation on the tape. That was indicated by several large blocks going off on up ticks during the day.
Fundamentally, Advanced Auto looks very good. Earnings for 2003 are projected to drive ahead 58 percent to $4.24 a share from $2.68 a year ago. Looking out to 2004, analysts' projections are at $5.11 a share, a 21 percent gain.
Advanced Auto's website (www.advance-auto.com) showed the usual product and service reports. It also had a section on the company's philosophy, which was put in place by Arthur Taubman back when he founded the company in 1932. He passed on in 1994, but the fact that the firm put the philosophy up on its website would indicate it was still following it.
Advanced Auto had a four-point philosophy that it believed a good company should follow. Interestingly, none of the points said, "We want to make a lot of money."
Instead, they said: Provide a value to its customer. (For Advanced Auto that meant quality products at affordable prices.) Have a solid reputation: Nothing replaces honesty and integrity. Keep this goal in mind at all times: The pleasing of every customer with service and items that make him or her want to return. Treat the team members (employees) with love and respect -- like a family.
Of course, words are only words.
The key is to see if the company does follow a philosophy of doing business that is good and just.
That can often be seen by how the company operates and also by the impression given by management.
Top money manager Perk Perkins of Perkins Capital Management used to have a saying: "Let's go out and see the color of their ties." What Perk meant was that he wanted to see what kind of people managed the firm. That was an important part of his stock analysis.
As we move into 2004, a presidential year, the stock market often has a bias to move higher. That would fit well with the bullish outlook for stocks continuing. In turn, the IPO market should bring forth some very interesting investment prospects. It would be wise for eSignal subscribers to keep in mind, not just the numbers of a firm, but its character too, as reflected by its management.
Mr. Fasciocco's articles appear on www.tickertapedigest.com. He is an independent contributing writer for several national publications. He is also president of Corona Investment Management. To get a free trial subscription to the Ticker Tape Digest Pro Report, which comes out daily on the web with midday updates, send an email message to freetrial@tickertapedigest.com. Mr. Fasciocco can be reached by email at leo@tickertapedigest.com.