The Catch Word To Finding Big Winers: "Surprise
a Look at RIMM and Taser
---
By Leo Fasciocco, Syndicated Investment Columnist
February, 2004 - The goofy PFC Gomer Pyle (USMC), a character in the popular 60s comedy TV show, used to say to his sergeant when he thought he did something great -- surprise, surprise, surprise!
Those same words should bring investors to "attention" when they scan the news and look for stocks that could be potential big winners in the current bull market.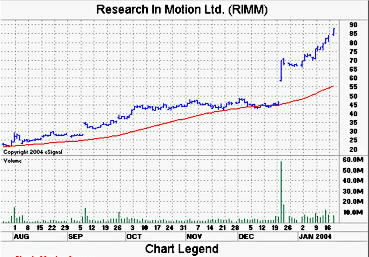 Generally, in the early stages of a new bull market, companies that come up with a big bullish surprise can sometimes go on to be the standard-bearers. That's because a big earnings surprise, the surprise success of a new product or the surprise development of a new industry, can propel a stock to new highs.
Take the case of the stock of Research In Motion Inc. (RIMM), the Canadian maker of wireless products and computer products.
The stock rallied from $13.50 at the start of 2003 to $44 by December, a great gain. But, the best was yet to come. On December 23, the stock surged 18 points to $9.60 after reporting net (from operations for the fiscal third quarter ended November 30) of 31 cents a share compared with a loss of 19 cents a year ago. The results easily surpassed the consensus Street estimate of 17 cents.
Analyst Robert Stone of S.G. Cowen was surprised. "We expected the results for the quarter to be high but not that high," he said. "We boosted our rating on RIMM to a strong buy from market performer." RIMM's most popular product is a portable two-way email device called the BlackBerry, a cigarette pack-sized wireless product with a built-in keyboard that enables users to send and receive text messages.
The firm also makes wireless PC cards for laptops and handheld computers and radio-based modems that other manufacturers put into portable devices. RIMM sells to corporations, resellers and wireless carriers. It has partnerships with wireless service providers Cingular and Motient and equipment makers such as IBM and Nortel Networks.
The strong earnings were due to much higher subscriber growth in Europe and strong sales through its carrier channels. RIMM said it expects the momentum to carry for the next two quarters. Analysts are forecasting earnings will be 90 cents a share for the fiscal year ending February 28 compared with a loss of 58 cents a share. For fiscal 2005, they are projecting a big 159 percent surge in net to $2.33 a share and for fiscal 2006, a 24 percent gain to $2.90 a share. RIMM's stock is now at 78 as of mid-January and trending higher.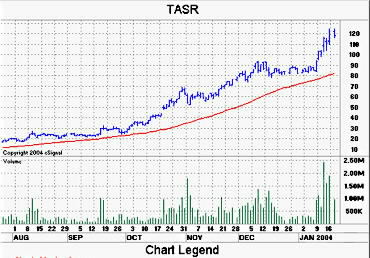 It has the potential to do very well in coming months. Of course, it is a bit extended. One would seek a buy point on a pull-back or a breakout from a new base.
Another hot number that has shot ahead is Taser International (TASR). The Arizona firm makes Taser stun guns that deliver a high-voltage surge of electrical pulses than can knock a person down. It is coming out with a tamer version to sell to the public. It can be carried without a permit in 43 states. The police version is being bought by more and more city forces.
The surprise: The Taser gun is a big hit! It's also providing a charge to Taser's bottom line. Net for 2004 is expected to jump 58 percent to $1.23 a share from an anticipated 78 cents for 2003. Going out to 2005, analysts see net climbing 200 percent to $2.50 a share. The stock has surged from $15 at mid-2003 to $115. The stock will split 3 for 1.
Although Taser is extremely extended in price now, it can continue to perform well in 2004. And, who knows: The firm may get even more contracts, and profits could grow more than expected. In a bull market, aggressive money is more willing to go after stocks with something new that is turning into a big success. It is not like a bear market, where everyone is fearful. The tone of the stock market has now changed. So, investors should be alert to new surprise developments that push a stock higher.
It could well be a big winner in the making.
Mr. Fasciocco's articles appear on www.tickertapedigest.com. He is an independent contributing writer for several national publications. He is also president of Corona Investment Management. To get a free trial subscription to the Ticker Tape Digest Pro Report, which comes out daily on the web with midday updates, send an email message to freetrial@tickertapedigest.com. Mr. Fasciocco can be reached by email at leo@tickertapedigest.com