"Smoke Stack Stocks" Catching Fire,
U.S. Steel and Phelps Dodge
---
By Leo Fasciocco, Syndicated Investment Columnist
Most investors don't like to get their hands dirty investing in "smoke stack" stocks.
They would rather buy some exotic medical or computer technology play. However, this time around, in the stock market's new bull market "smoke stack," stocks such as U.S. Steel (X) and Phelps Dodge Corp. (PD) are on fire.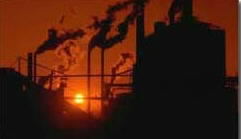 They could stay hot for awhile as earnings continue to improve significantly.
U.S. Steel has surged from $10 a year ago to $35 (as of mid-February) -- a gain of 250 percent. The stock is now in a well defined seven-week flat base with upside resistance at $38.
Phelps Dodge is one of the better performing metal issues, having moved up from $32 a year ago to $82 -- a gain of 256 percent. Phelps recently pushed out from a seven-week base with upside resistance at $80.
So what's up?
Earnings prospects are better and new developments at both companies are making their businesses operate better. Some other "smoke stack stocks" are doing well too. Issues such as Alcoa (AA) and auto play General Motors (GM) are trending higher nicely as their business rebounds with the economy.
Trading in U.S. Steel's stock is continuing a pattern of accumulation that has been in place for the past several months. My work has shown excellent accumulation by measuring big block trades going off on up ticks.
On the other side of the coin, distribution has not been significant. That means that those with big profits in the stock already are not heading for the exits. U.S. Steel should show good earnings the next two years. This year, analysts forecast a profit of $3 a share, compared with a loss of 55 cents a share a year ago. For 2005, earnings are expected to advance 26 percent to $3.77 a share.
The company will be showing some strong quarterly comparisons. For the first quarter, analysts see net jumping to 36 cents a share from a loss of 19 cents a share a year ago. Going out to the second quarter, net should surge to 80 cents a share from a loss of one cent a year ago.
U.S. Steel is benefiting from increased sales, better steel prices and cost cutting. It should do well with tonnage because of a continued decline in imported steel and the shutdown of bankrupt competitors. Institutional sponsorship is very good. The largest fund holder is Hartford Capital Appreciation Fund. The 5-star Morningstar rated fund has a 2.6 percent stake in U.S. Steel and was a recent buyer of 2.7 million shares. Also, 5-star rated Strong Advisor Small Cap Value fund was a buyer of 288,000 shares.
Phelps Dodge, based in Phoenix, produces copper in its mining operations and makes products for the transportation and energy industry. The firm is the world's second-largest producer of copper and a world leader in producing molybdenum.
The company and its two divisions, Phelps Dodge Mining Company and Phelps Dodge Industries, posted a profit for 2003 of 43 cents a share, versus a loss in 2002. This year, analysts forecast a hefty boost in net to $6.90 a share. Next year, they see net climbing another 21 percent to $8.33 a share.
Phelps Dodge is benefiting from higher prices for its metal products. Also, the company recently announced an expansion of its production operations at several mining and processing facilities in North and South America. The decision came in response to higher copper prices and indications that the improved market for copper is sustainable.
The company expects to produce 2.8 billion pounds of copper in 2004 and 3 billion pounds in 2005. The company produced 2.6 billion pounds in 2003.
Mr. Fasciocco's articles appear on www.tickertapedigest.com. He is an independent contributing writer for several national publications. He is also president of Corona Investment Management. To get a free trial subscription to the Ticker Tape Digest Pro Report, which comes out daily on the web with midday updates, send an email message to freetrial@tickertapedigest.com. Mr. Fasciocco can be reached by email at leo@tickertapedigest.com.