Two Tricks To Finding Winners in Technology Stocks
---
By Leo Fasciocco, Syndicated Investment Columnist
April 2003 - Wow! You know you've hit rock bottom when they don't even give you lunch at a technology investing panel meeting.
But, yes, that's what happened at the Florida Money Show held in February near Orlando.
After I don't know how many years at the Florida conference, perhaps 20, the sponsors decided to make the tech panel meeting free! Also, the regular host, Charles Githler, chairman of the Money Show, skipped out. The ever-friendly Charles was seen earlier at the conference moderating a panel called "A Portfolio for Income and Safety."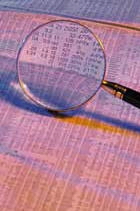 But, here is the kicker — the technology panel, which included speakers like Walter Price, portfolio manager of PIMCO RCM Global Technology Fund, and Michael Murphy, editor of the well-regarded California Technology Stock Letter, drew a standing-room-only crowd of approximately 800.
What the crowd was saying is that, even though technology stocks may have gone through their worst bear market of all time, there is still plenty of investor interest.
Don't forget: Technology brought us things we now think of as commonplace, such as the computer, the Internet and cell phone. It will bring us even newer things in years to come.
In mid-March, Intel disclosed that it will introduce a new microchip that will allow laptops to make wireless connections from places like hotels, airports and airplanes. Hewlett-Packard (HPQ) and Dell Computer (DELL) will be bringing out new laptops using Intel's Centrino chip.
Interestingly, none of the panelists suggested Intel or Dell as a buy. However, fund manager Price said he would be a buyer of Hewlett-Packard. Intel's stock rallied last year from a low of $13 in October to $22 by November. It has since drifted back to $16 — a 78 percent retracement of its gain.
Dell followed approximately the same course, rising from $24 in October to $31 by November. It has since pulled back to $26 — a 71 percent retracement. Hewlett held up better. It rose from $11 in October to $21. It has pulled back to $16 — a 50 percent retracement.
What eSignal subscribers should be looking for as the tech sector begins to rebound is for tech companies that will be showing a quarterly acceleration in earnings growth (sequential quarters showing a higher percentage increase in earnings) and tech stocks acting strong and poised to make 52-week highs.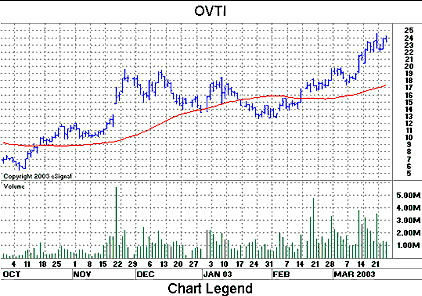 Hewlett, aided by cost cutting from its merger or Compaq Computer Corp. will show an acceleration in earnings growth. Net for the fiscal first quarter ending January 30, 2003, rose 26 percent. The fiscal second quarter should be up 42 percent and fiscal third quarter 100 percent. Accelerating earnings growth is a great fundamental driver for a stock.
That is because many growth funds, such as the American Century Funds and some institutions, seek to buy companies with that kind of rapid growth rate. However, it is also important for the stock of the firm to show accelerating earnings growth acting well.
Another tech play that will show accelerating earnings growth is Arrow Electronics Inc. (ARW), a distributor of electronic components and computer products. Net for the first quarter should be up 100 percent, the second quarter 225 percent and the third quarter 1,600 percent. The stock, $9 last October, is now $14. It is trending higher with strong accumulation on the tape.
There are several other technical issues that will show accelerating quarter profit growth. They include Siliconix, Inc. (SILI), Tier Technologies (TIER) and Veeco Instruments, Inc. (VEC) — a favorite of money show panelist Josh Wolfe, editor, Forbes/Wolfe Nanotech Report. As for tech issues making new 52-week highs, the list is skimpy now.
But, things could change, An ideal situation would be to buy a tech stock breaking out from a technical price base of more than six weeks and also making a 52-week high. One tech issue doing that now (mid-March) is OmniVision technologies, a designer of single-chip image sensors that capture and convert images for camera, surveillance systems, games and videophones.
It outsources its chip making to Taiwan Semiconductor Corp. For the fiscal year ending April 30, 2003, analysts expect OmniVision to post a hefty 376 percent surge in earning to 48 cents a share from 10 cents a year ago. Going out to fiscal 2004, they see a 73 percent jump in net to 82 cents a share. President Shaw Hong said sales in the fiscal third quarter ending January 31 were triple a year ago. He said that this reflected strong demand from makers of digital still cameras and cameras for cell phones.
Mr. Fasciocco's articles appear on www.tickertapedigest.com. He is an independent contributing writer for several national publications. He is also president of Corona Investment Management. To get a free trial subscription to the Ticker Tape Digest Pro Report, which comes out daily on the web with midday updates, send an email message to freetrial@tickertapedigest.com. Mr. Fasciocco can be reached by email at leo@tickertapedigest.com.