Riding a Winner Using the A / D Line -
a Look at Getty Images' Stock
---
By Leo Fasciocco,
Syndicated Investment Columnist
April 2004 - There is an old saying among those who follow horse racing -- or for that matter any sport -- You never bet against a winner.
That can also go for the stock market.
When a stock is moving higher and the company continues to turn out strong earnings, the odds are, it will continue to move higher, especially in a bull market. Quite a few of these stocks are popping up these days. The trick to playing them is to find them in bases that are showing good accumulation. That word "accumulation" can be a tricky one.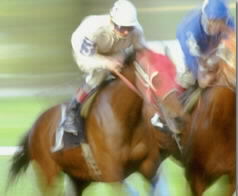 What it means is that the majority of large block trades in a stock are going off on up ticks. That is a sign that institutions are accumulating the stock in anticipation of a move higher. The "smart money" is often right, especially when it comes to stocks of firms showing strong profits. That is because, in a bull market, many mutual funds load up on the good-looking stocks. They want them in their portfolios because they look good.
One little-known issue with a well-known name is Getty Images Inc. (GYI). The Seattle-based firm is a supplier of some 70 million still images and 30,000 hours of stock film footage. It provides the images to three markets -- creative professionals (advertising and graphic design), the media (print and online publishing) and corporate communication departments for businesses.
The Getty family owns 20 percent of the company. The late John Paul Getty, of course, was the founder of the dynasty and was a successful oil man. Getty Images' stock began moving higher from a low of $14 back in August of 2002. It peaked in the low 50s earlier this year. It is now in a technical consolidation, moving sideways in a range between $53 and $48.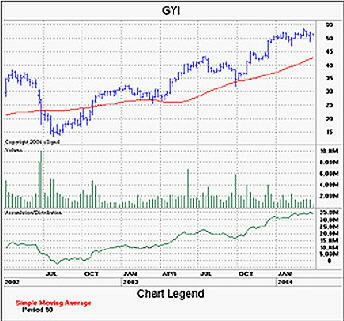 The stock has been exhibiting very good accumulation. If one were to use eSignal's charts and look at the accumulation-distribution indicator for Getty Images, one would see that it is trending higher. Also, for the past eight weeks, a study of the tape for Getty reveals that most of the large block trades have been going off on up ticks.
What all that says is that Getty Images' stock still has potential to move higher based on its technicals and tape action. For 2003, Getty posted a 200 percent surge in earnings on a 13 percent gain in revenues. Revenues are benefiting from increased spending in the advertising and marketing industries. Analysts see two big quarters coming up for Getty. Net for the first quarter should climb 52 percent to 35 cents a share from 23 cents a year ago.
The highest estimate on the Street stands at 36 cents, the lowest at 34 cents. So, the number seems solid. An upside surprise would boost the stock. Net for the second quarter should advance 57 percent to 36 cents a share from 23 cents a year ago. The highest estimate on the Street is at 40 cents.
The company said it began to see signs of recovery in the market for visual content in the fourth quarter. It said it expects to see continued solid revenue and earnings growth this year. For this year, it expects revenues in the range of $560 million to $580 million, up from $523 million a year ago. Earnings per diluted share should be approximately $1.35 to $1.50. Analysts project net for the year to be up 39 percent to $1.46 a share from $1.05 a year ago. Going out to 2005, they see profits advancing 22 percent to $1.78 a share.
Columbia Acorn Fund, 5-star-rated according to Morningstar, is the top fund holder with a 2.1 percent stake. 5 stars is the best rating for a fund. Columbia Acorn has held its position steady. 5-star-rated Fidelity Contrafund is the third largest holder and was a recent buyer of 583,000 shares. Also 5-star-rated, Artisian Mid Cap Fund was a buyer of 83,000 shares.
Some other issues that are trending higher with good accumulation are Vimpel Communications (VIP), the Russian cell phone firm, Caremark RX Inc. (CMX), the prescription benefits management firm, Station Casinos Inc. (STN), the Las Vegas hotel-casino firm and Chicos FAS Inc. (CHS), the ladies' apparel company.
They are all worth following.
Mr. Fasciocco's articles appear on www.tickertapedigest.com. He is an independent contributing writer for several national publications. He is also president of Corona Investment Management. To get a free trial subscription to the Ticker Tape Digest Pro Report, which comes out daily on the web with midday updates, send an email message to freetrial@tickertapedigest.com. Mr. Fasciocco can be reached by email at leo@tickertapedigest.com.