Using Insider Buying to Find Winners:
A Look at Harman and United Auto Group
---
By Leo Fasciocco, Syndicated Investment Columnist
May 2003 - You might call them "tell-tale signs."
They are those less-followed indicators showing that a stock has potential to move higher in coming months. One that has a well-known history is insider buying by a firm's corporate management or large shareholders. Insider activity, as it is known, comes with the basic idea that corporate management almost always knows what is going on at a company.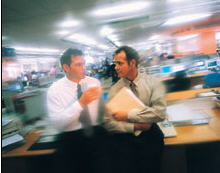 I remember years ago when I interviewed the president of a well-known apparel company in Philadelphia. I was sitting in his office and asked him what earnings might be for the next quarter. He reached into his coat pocket, pulled out a 15-cent, little note pad the size of his hand, picked up a pencil and started to write on the pad. He looked up at me and said, "15 cents a share!"
Of course, insider buying and selling is not illegal. Corporate executives have the right to buy and sell their company's stock. But, there are regulatory rules. They have to report their transactions, which in turn are made public. The trick for investors is to sort out what is meaningful and use insider activity that can help point the way to a winning stock. I would venture to say that a lot of insider activity is not very helpful. It takes a keen eye to spot what is important.
However, eSignal subscribers can do that very easily by following certain guidelines. The basic rule is that you want to look for insider activity that is "unusual." That means, if there is insider buying, it should be more than what has taken place in the past. If there is insider selling, it should be significantly more than ever before.
Generally, insider buying is more important that insider selling. That's because insiders have to put up money in most cases even if they have options to buy the stock. However, insider selling can be done, not because an insider thinks the stock is going down, but for personal reasons that have nothing to do with the company.
So, insider buying activity tends to be more reliable, but not infallible. Whenever buying a stock, one should check on insider activity.
This can be done by going to eSignal Central. There are other sources too, such as Thomson Financial (www.thomsonfn.com) and Big Charts (www.bigcharts.marketwatch.com). Here's what to look for when checking for insider buying:
(1) Is it unusual?
(2) Who is doing it?
(3) At what price is the insider buying?
(4) Has the insider bought at lows before?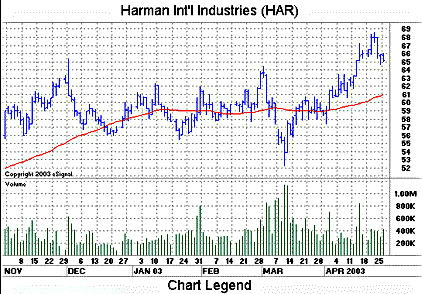 One stock that is showing a lot of insider buying is Harman International (HAR), the maker of audio equipment. It is a good example of a stock with the 1-2-3 punch of good technical action, a strong earnings outlook and heavy insider buying. Technically, HAR's stock is in an up trend, having rallied from $40 back in August of last year to $63.
It has been basing for most of this year and is poised to break out to a new high. It just needs to get over $65. Earnings for the fiscal year ending June 30 will soar 59% to $2.98 a share from $1.87 a year ago. Going out to fiscal 2004 ending June 30, analysts see a 24% gain in net to $3.70 a share.
The company won an important order to put a digital information center in the Mercedes-Benz S class car. Harman said the deal will boost sales by $200 million a year. First shipments are due in the fourth quarter of 2005. With those bright prospects in mind, insiders have been heavy buyers of Harman's stock.
Interestingly, the biggest buying lately was by Erich Geiger, Harman's chief technology officer. He bought 13,334 shares in early March when the stock was $64. He used stock options. Harman insiders were also buyers back in December at $58, November at approximately $57 and October between $50 and $55.
Harman CEO Bernard A. Girod was a buyer of 4,826 shares in early November. There was one insider sale in early November. So, the insider activity is very bullish. Other stocks have been showing up with very significant insider buying.
United Auto Group Inc. (UAG) is being bought by insiders, especially Roger S. Penske, an officer and director. The stock peaked at $32 back in May of 2002 and turned south hitting $10 earlier this year. It is now heading north again and is at $13.60. Penske is noted for being in the fast lane with his insider buying (very accurate).
He was a buyer at $12 in April.
Mr. Fasciocco's articles appear on www.tickertapedigest.com. He is an independent contributing writer for several national publications. He is also president of Corona Investment Management. To get a free trial subscription to the Ticker Tape Digest Pro Report, which comes out daily on the web with midday updates, send an email message to freetrial@tickertapedigest.com. Mr. Fasciocco can be reached by email at leo@tickertapedigest.com.