How High is the Sky?
You Might Be Surprised!
---
By Leo Fasciocco, Syndicated Investment Columnist
July 2003 - How High Is the Sky? It's a well known fact that new bull markets bring forth new leaders and big winners.
After three years of a vicious bear market, many issues are coming to life and the blooming of a new bull market is becoming more evident.
Even though the economy still seems soft and unemployment high, past experience tells us bull markets are usually born out of recessions.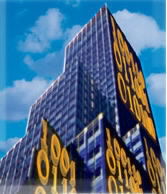 Bulls can key on several things when seeking out that elusive big winner.
First, look for a stock that is acting strong. Secondly, check to see if it will show strong earnings growth. Thirdly, there should be a key catalyst that can ignite big interest in the stock — something new.
In mid-June, as I was watching the tape, I saw Boston Scientific Corp. (BSX), a maker of medical products, come to life. The day was June 11. The time, midsession. Boom! BSX takes off like a bullet at midday climbing quickly from $54 to close at $60 by the final bell.
Then, the next morning, BSX gaps ahead another $2.30 to $62.30 at the opening.
A medical analyst in Los Angeles called to tell me the reason. She was at the Goldman Sachs 24th Annual Global Healthcare conference at the Ritz Carlton hotel in Dana Point, CA.
She said Boston Scientific's CFO Larry Best announced BSX would file with the FDA the fifth and final module of its premarket application for a drug-coated stent for the U.S. The news, of course, was not the news. It was the way the stock reacted to the news — very bullishly.
Also, my analyst source told me there was a real buzz about Boston Scientific.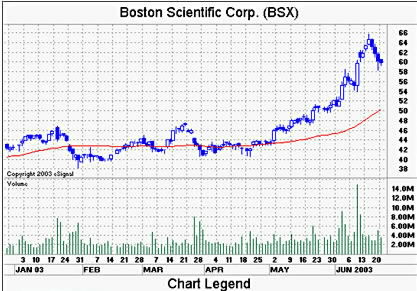 Ah! Anecdotal evidence of big interest in the stock.
Angiotech Pharmaceuticals Inc. (ANPI), a corporate partner with Boston Scientific on the project, rose sharply too. From June 11 to the close on June 12, Angiotech surged from $30 to $40.50 — even more than Boston Scientific. Angiotech develops products to enhance medical devices through pharmacotherapeutics.
Listening to Boston Scientific's explanation of its product could set the average eSignal user's head a-spinning. The company described its Taxus clinical program as a series of studies designed to collect data on a polymer-based, paclitaxel-eluting stent technology for reducing coronary restenosis, the growth of neointimal tissue within an artery after angioplasty and stenting.
However, for investors investing in the market, the key is the green on the bottom line and the performance of Boston Scientific's stock.
This year, analysts expect Boston Scientific's earnings to climb 26% to $1.26 a share from $1 a year ago. Going out to 2004, they project net will soar 117% to $2.73 a share. Most importantly, the company's earnings growth will accelerate significantly in the first three quarters of next year. Net should be up 79% in the first quarter to 50 cents a share, 113% in the second quarter to 64 cents a share and 140% in the third quarter to 72 cents a share.
Accelerating earnings growth is often the strong driver that sends a stock higher. Boston Scientific is $61 (as of mid-June). It sells with a price-earnings ratio of 48 based on this year's projected net. Most would say that is pretty expensive.
However, how high is high?
That's where our bull market theme comes into play.
Years ago, there was a hot stock called U.S. Surgical Corp. Their business was developing less invasive surgical products. The stock was surging during its run and making new highs — just as Boston Surgical is now. Back then, I was having a conversation with William O'Neil, the astute investor and publisher of Investor's Business Daily.
I said to Bill, "U.S. Surgical's p/e is very high."
His answer: "You watch. It'll go much higher."
He was right. It did.
Boston Scientific has the same look that U.S. Surgical did. During the past two years, Boston Scientific's stock soared from $20 to $61. It remains in a strong up trend. My tape work studying accumulation based on daily up-tick volume shows the stock continues to act very strong without any significant distribution.
However, this story is not just about Boston Scientific and its companion Angiotech.
The point is investors should be on the lookout for leading stocks with strong earnings and something new in the works. If you find them, there is a good chance you will be rewarded handsomely.
Mr. Fasciocco's articles appear on www.tickertapedigest.com. He is an independent contributing writer for several national publications. He is also president of Corona Investment Management. To get a free trial subscription to the Ticker Tape Digest Pro Report, which comes out daily on the web with midday updates, send an email message to freetrial@tickertapedigest.com. Mr. Fasciocco can be reached by email at leo@tickertapedigest.com.