Taking a Trip into the Wild Blue Yonder
with JetBlue Airways -- and George Soros
---
By Leo Fasciocco, Syndicated Investment Columnist
I was sitting at the Orlando airport in Florida earlier this year and got into a conversation with a lady from Florida.
It all started when I mentioned a nice-looking blue plane at the terminal.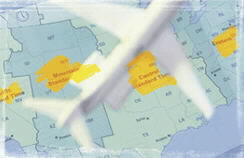 She said that was a JetBlue Airway's (JBLU) plane. She then started to rave about the service of the airline and how her family, especially her father, liked to travel with JetBlue.
"Hmm!" I said to myself, "I am going to have to check this JetBlue stock out."
It was February, and the stock, like most airline issues, was still heading South, having fallen from a peak of $37 a year ago to $21.
However, in March the stock firmed, rallied and then formed a base. In April, JetBlue broke out powerfully at $30. It is now at $44 and heading North. Airline stocks, which have gone through very hard times due to the slowdown in the economy and the terrorists' attack, are now on the way back. Interestingly, a recent report said airline safety in 2002 was excellent.
Some industry observers believe that was due to improvements in safety and also to the fact that major airlines, such as UAL Corp., and AMR Corp., made cutbacks and are now operating only the most modern planes with the best pilots and staff. For eSignal users, playing airline stocks could well be a pleasant trip in the next few years -- provided nothing bad happens.
The key names that could do well are the smaller airlines that have carved out a profitable business. JetBlue is one of them. The stock is making new highs. It also has great institutional sponsorship.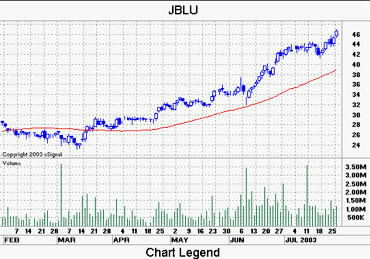 Fidelity Contrafund is the largest fund holder with 4.5% of the stock. The fund is 5-star rated by Morningstar. Fidelity Contrafund was a recent buyer of 1.8 million JBLU shares. Five-star-rated Federated Kaufmann Fund was a buyer of 200,00 shares.
JetBlue is based out of JFK International in New York. It flies to 20 U.S. cities. Its planes have leather seats and DirectTV. A second hub was set up at Long Beach airport, near Los Angeles. It tries to use less crowded airports to keep its turnaround times down. It has 40 aircraft.
George Soros controls 24% of the stock.
This year, analysts expect earnings to climb 33% to $1.12 a share from 84 cents a year ago. Going out to 2004, they see profits rising 36% to $1.52 a share and for 2005, another 23% to $1.87 a share.
AirTran Holdings Inc. (AAI), based out of Orlando, is another strong carrier. It uses low fares to draw business and leisure travelers. It operates mostly out of Atlanta to approximately 40 cities in the East and Midwest. It recently moved into Las Vegas. AirTran's stock has surged from approximately $4 at the start of this year to $11.33 as of mid-July.
It was as high as $12.55 during July. This year, analysts project a hefty 873% surge in profits to 49 cents a share from 5 cents a year ago. For 2004, they see net climbing 65% to 80 cents a share.
Southwest Airlines Inc. (LUV) has been one of the most consistent money makers in the difficult airline business. The Dallas-based firm keeps costs low by using only one kind of plane, a Boeing 737. It features no frills and low fares. It flies to many cities in the U.S. This year, Southwest's stock has rallied from $12 to $17.50. The key to the stock's prospects is an acceleration in earnings growth.
This year, analysts expect a 24% increase in net to 33 cents a share. Next year, the growth rate will expand to 63% with net advancing to 54 cents a share. As is sometimes the case, some of the hottest airline stocks this year have been the often-troubled. America West Holdings' (AWA) stock surged from $1.77 back in March to a peak of $9 in July.
Continental climbed from $4.50 to $15.40 during the same time. Both companies will show a loss this year and next. The big guys, Delta Airlines Inc. (DAL) and AMR Corp. (AMR), have seen their stocks climb. However, both will operate in the red in 2003 and 2004. Black ink is expected to flow in 2005. United Airlines (UALAQ) is in bankruptcy and selling for 76 cents a share.
New bull markets often bring on new industries and some of the old -- such as the airlines. However, it is in these resurging groups that one can often find new names that will do very well, especially if they are showing strong earnings growth.
Mr. Fasciocco's articles appear on www.tickertapedigest.com. He is an independent contributing writer for several national publications. He is also president of Corona Investment Management. To get a free trial subscription to the Ticker Tape Digest Pro Report, which comes out daily on the web with midday updates, send an email message to freetrial@tickertapedigest.com. Mr. Fasciocco can be reached by email at leo@tickertapedigest.com.