Slot Machines Ring Up Big Profits For Casino Firms
Like MGM Mirag and International Game
---
By Leo Fasciocco, Syndicated Investment Columnist
September 2003 - Beware of those one-arm bandits, if you're a gambler.
But, if you're an investor, it's a different story.
They are moneymakers and a big reason why many gaming stocks are doing well. In August, I traveled back to my birth place -- Atlantic City -- for the first time in many years. The old beach homes were there, but, dominating the skyline, were the giant hotel-casinos put up by Trump Hotels & Casinos (DJT), Caesars, Harrah's (HET) and the newest of all -- the Borgata Hotel Casino, a joint venture of MGM Mirage Inc. (MGG) and Boyd Gaming Inc. (BYD).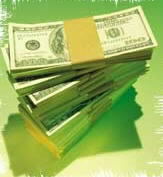 I was in Atlantic City to attend the Money Show investment conference. I happened to stay at the Sheraton Hotel where the Miss America contestants will be in September during their big show.
Many gaming stocks have done well this year and prospects of a further advance after a consolidation period are looking good. Harrah's stock has moved up from $31 to $42 this year, a gain of 35%. MGM climbed from $25 to $34, a rise of 36%. Boyd surged from $11.50 to a peak of $18.50 this year. It is now at $16.50 as of a mid-August, a gain of 43%. Park Place Entertainment (PPE) rose from $6.75 to $9, a 33% appreciation. It owns three Atlantic City properties, the Hilton, Bally's Park Place and the Claridge Hotel Casino.
August is a busy time for Atlantic City and the casinos were packed, especially on the weekend.
There are two key themes that should propel gaming profits. The first is Atlantic City's move to be a big convention destination. The second, the extremely profitable returns from slot machines. Atlantic City recently built a huge convention center. One source told me that there was a recent convention there that drew 60,000 and used all the available rooms in the city.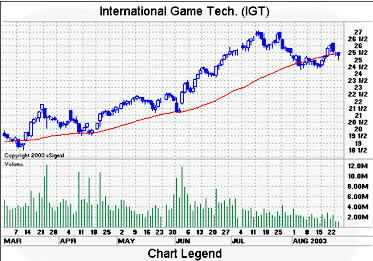 I also understand that the newly built Borgata Hotel Casino with 2,000 rooms has options to add another 3,000 rooms. It is one of the glitziest hotel in town now. Although Atlantic City is still in the rebuilding stage, it is obvious that money is being poured into the location, which has easy ground access along the Northeast corridor.
Many of those coming to the investment conference drove from New York, Pennsylvania, Maryland and New England. I was told by sources that half the hotel rooms in the city are often used as comps given to gamblers who get credits from their play. It would appear that the casinos are doing so well they can afford this enticement.
It was interesting to learn that the "take" on the slot machines runs approximately 18%, according to one of the dealers at a major casino. That is much higher than I thought. What that means is that a person with $100 just needs to run that through the slot machine seven times, and he / she should lose approximately 80% of that money.
The "take" on table games is approximately 14%.
So, looking around the casino was like watching people getting "held up" in a very exciting atmosphere by these flashing one-arm bandits. No wonder slot machine stock International Gaming Technology Inc. (IGT) continues to be a market leader!
In the past two years, the stock has surged from $10 to a peak of $27, adjusted for stock splits. That is a 170% appreciation. Also, WMS Industries (WMS) said in August that it will reenter the slot machine-making business. Its stock responded by gapping ahead from $17.50 to $21 on the news on heavy volume. WMS held 18% of the slot machine market, but lack of system integrity (cheating) caused them to drop out of the market.
Yes, there are risks. WMS will debut a new line-up of slot machines at the Global Gaming Expo on September 16 to 17 in Las Vegas. Analysts see WMS's new slots on casino floors by the fall. Some expect the firm to sell 15,000 to 20,000 machines and get 10 to 15% of the slot machine market. The Street is looking for WMS to show a loss this year of 13 cents a share, a profit of 6 cents a share in 2004 and a profit of 98 cents a share in 2005. It is a stock to watch.
IGT is the leading slot machine maker. Analysts expect IGT's net to climb 30% to $1.09 a share for the fiscal year ending September 30. For fiscal 2004, they project a 15% gain to $1.25 a share. IGT's stock is now in a consolidation after a sharp run up. Boyd Gaming's earnings should increase 33% in 2004 to $1.28 a share, while MGM's profits should climb 20%.
They could well be big beneficiaries of the continued build-out of Atlantic City.
Mr. Fasciocco's articles appear on www.tickertapedigest.com. He is an independent contributing writer for several national publications. He is also president of Corona Investment Management. To get a free trial subscription to the Ticker Tape Digest Pro Report, which comes out daily on the web with midday updates, send an email message to freetrial@tickertapedigest.com. Mr. Fasciocco can be reached by email at leo@tickertapedigest.com.