A Golden Rule To Finding Big Bull Market Winners:
Seek The Big Profit Makers Such as eBay and Martek
---
By Leo Fasciocco, Syndicated Investment Columnist
November 2003 - How things have changed!
Recently, I met a fellow who was a computer engineer with Applied Materials Inc. (AMAT).
He was laid off approximately two years ago. However, he had a smile on his face. The reason: He told me he was now day trading a stock account this year with a couple of hundred thousand dollars and going in and out of AMAT. He proceeded to tell me all the technical and tape-watching tricks he was learning and all the money he was making.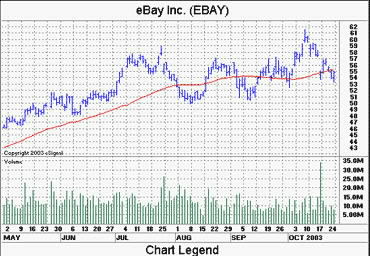 Bull markets can make geniuses out of a lot of people. The key is to keep well grounded in the basic principles of good investing. That means investing in stocks of good companies with (1) strong earnings growth, (2) a good business model and (3) a stock price in a solid up trend.
In a bull market, good acting stocks with strong earnings growth often reward investors handsomely. That is because big institutions and mutual funds want those stocks in their portfolios. Thus, the prices of leading stocks often get pushed up more than one might expect. Also, their price-earnings ratios expand significantly.
Investors should seek to go with the market leaders and avoid the temptation of dipping into the low-priced, speculative junk pile.
You can identify the leading stocks because they are making new highs and have strong earnings growth. To get good performance, you also want to avoid the big, popular stocks that are showing slow earnings growth even though they may be touted by big-name brokerage firms.
The time to buy leading growth stocks should be when they are breaking out from a base (sideways pattern) of at least six weeks or when they have pulled back and are starting to turn up again. One that is very good for spotting high growth stocks is the "Quicken Stock Search" at esignal.com.You can screen for stocks with very favorable fundamental parameters.
There are other sources on the Internet too. I did a screen of big cap stocks, and it showed that eBay Inc. (EBY), Yahoo Inc. (YHOO), Marvel Technology Group Inc. (MRVL) and Taiwan Semiconductor Co. (TSM) will be among the big growth stocks for the next two years.
eBay is the well-known Internet auction site. Earnings this year will surge 80 percent to 78 cents a share and next year, 34 percent to $1.05 a share. Sales this year will be up 70 percent. eBAY is growing due to an increase in the number of registered users on its website and an aggressive expansion overseas. This year, the stock has soared from $33 to $58, adjusted for a stock split.
Yahoo is an Internet site that features various services and gets its revenues from advertising. Net this year will surge 91 percent to 34 cents a share and next year 46 percent to 50 cents a share. The company should continue to do well because a better economy will rejuvenate advertising related stocks. This year, Yahoo has climbed from $17 to $42.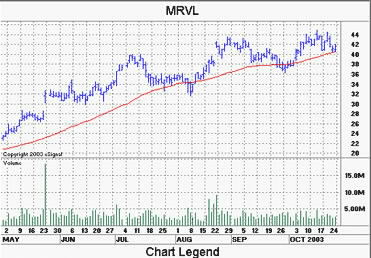 Marvell Technology has lived up to its name: The stock has surged from $19 to $43 this year. The firm produces integrated circuits for the high-speed, digital data storage and broadband networking markets. Earnings for the year ending January 30 should leap 77 percent and for the next fiscal year, 30 percent.
Taiwan Semiconductor, a maker of integrated circuits, will rack up a 108 percent gain in net this year and 77 percent next year. It is benefiting from the recovery in the semiconductor industry. The stock has advanced from $7.25 to $11.60 this year.
In the mid-and-small-cap sectors of the market, one can sometimes come up with new names that will be showing great earnings growth. One of those is Martek Biosciences Corp. (MATK), a producer of nutritional oils for infant formula and fluorescent markers for gene and protein detection. The company's net will climb to 58 cents a share for this fiscal year ending October 31 from a loss of 32 cents a year ago. In fiscal 2004, it should rack up a 110 percent gain in net to $1.22 a share. The stock has advanced from $25 to $52 this year.
Two other strong growth stocks are Netflix, Inc. (NFLX) and Lexar Media, Inc. (LEXR). Netflix's net will soar 187 percent to 83 cents a share next year. It provides an online movie subscription services. Lexar, a producer of digital film and connectivity solutions for the digital photography market, should rack up a 493 percent increase in net this year and a 38 percent improvement next year.
Mr. Fasciocco's articles appear on www.tickertapedigest.com. He is an independent contributing writer for several national publications. He is also president of Corona Investment Management. To get a free trial subscription to the Ticker Tape Digest Pro Report, which comes out daily on the web with midday updates, send an email message to freetrial@tickertapedigest.com. Mr. Fasciocco can be reached by email at leo@tickertapedigest.com