---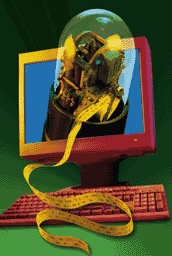 How To Improve Your Investing Using
The Ticker Tape Digest Report
---
Ticker Tape Digest's Daily Report on the Market is dedicated to providing investment information to readers that is timely, accurate and vital to enhance money-making trades both on the longside and shortside.
To use the Ticker Tape Digest Report, one should be aware of the investment philosophy behind the service and the key advantages that will enable you to get the jump on the crowd and do well with your trading.
You should be aware of the key features in TTD's Report and traits of stock's that are provide by the service. TTD's Forum - Q&A is available to answer your questions and also our show "Let's Talk Stocks - Your Stocks."
TTD has back tested data for years and has analyzed thousands of stock charts, weekly, daily and intraday. In addition, we have analyzed the operations of thousands of companies in terms of earnings, sales and business. We have also spoken with many top officers of companies.
Investment Strategy
Used by The TTD Report
The Ticker Tape Digest Report is designed to:
Highlight stocks breaking out to the upside from sound bases.
Highlight stocks breaking to the downside.
Highlight stocks showing unusual accumulation or distribution.
TTD's goal is to find a good "trend play" that will last at least several months either on the upside or the downside.
Our TTD stocks under accumulation or distribution often will help you in catching stocks before they move out of a base, or when they have topped after an advance. We use a special tick volume study. It has a great track record for showing unusual buying or selling.
One of the great advantages of TTD's Service is that you will get during the day and prior to the close a report on what stocks are just beginning to make what could be a big move to the upside or a big move to the downside.
We screen about 8,500 stocks during the day to see which are moving and meet our criteria. When you read the TTD Report it will be during trading hours of the same day allowing you to act immediately.
The TTD Report is your eyes watching the ticker tape all day. You don't have to stay glued to a wall board ticker or call someone with the question: "What looks good today."
No. Your TTD Report does all the work for you. Your decision is to select the stocks most appropriate for your style and to manage your money in the way best suited to your comfort.
When you receive your TTD report you will know exactly what are the key stocks just moving to the upside and downside. Also by knowing that you will develop a great feel for the general trend of the stock market.
We believe timing is extremely important in discovering stocks that will be big winners on the upside and good short plays on the downside.
Our studies have shown that many times a stock will begin to make a major move by first breaking out of a price consolidation area. A consolidation can take several forms but the basic pattern of the stock's price is that it is going sideways.
Generally, the breakout we prefer for the long picks in the TTD Fax Report is from a stock that has exhibited an uptrend prior to the consolidation. This tells us that the stock already has something bullish going for it. Also, we like to focus on firms with strong earnings growth.
However, we will put into the TTD Report stocks just beginning to turn up from a downtrend. Generally, those stock will have long basing periods of several months and the underlying company will have an outstanding "story" - that is a turnaround in earnings or some dynamic new development in the works.
We use the same "basic principles" for our breakdowns on the short side. We want stocks that are just beginning to breakdown from a consolidation area. we prefer those with weak earnings or deteriorating industry prospects.
As you can see our approach to the market is:
(1) Timing.
Find those stocks with bullish and bearish technicals just beginning to develop.
(2) Fundamentals.
Try to stay with those breakout stocks whose fundamentals support the technical trend. For longs, we want strong earnings, or a powerful earnings turnaround or dynamic new story. For shorts, we want deteriorating profits or some looming negative.
(3) A belief that a stock's price action will lead news.
We have seen over and over again that a stock will move up or down before the news is made public. That is why it is important to buy or short a stock from the TTD Fax immediately and not wait for news. If you do, in many cases about 75% of the move will have already have taken place and you will miss out.
(4) It is a market of stocks - not a stock market.
Many television commentators talk about the Dow industrials and this general market indicator and that indicator. But, the TTD Service gives you the best indicator of them all - the exact number of playable stocks to the upside and to the downside.
When the "market" starts to move up you will get a lot of stocks breaking out. If it is not moving up, there will not be many good stocks to buy. It is simple as that. The same goes for the shortside.
Turning Strategy into Dollars
We believe very strongly that you will improve your investment returns using the TTD Report. However, you must be willing to follow some important guidelines.
For Bulls Only
The goal for someone who is bullish is to buy a stock on the longside that is just breaking out of base that the TTD Daily Fax has pinpointed. Do some quick checking of the company to make sure for yourself the fundamentals are sound or there is a positive story in the works.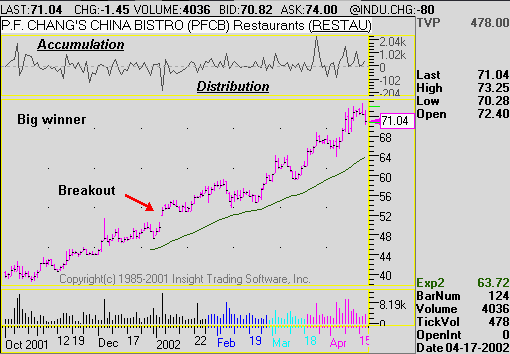 Buy the stock the same day or early the next morning. Do not hesitate or the stock may get away from you and rise to quickly. You do not want to buy a stock that has moved too far up from its base, say 10%.
In fact, the TTD Report will not list stocks too far extended from a base. The reason is if the stock should correct after breaking out it could pull back an amount that would put a "late buyer" too much in the hole.
After buying a stock from the TTD Report, it may move up a little bit more and then pull back. Do not be disturbed this is normal. If the stock does not hit our suggested stop sell point, stay with it.
Within at least three weeks, the breakout stock should resume its uptrend and should be doing well. Of course, it will go through some gyrations but stay with it.
When should you sell and take a profit? That will be up to you.
The TTD Report does not give sell recommendations per se because each investor has different goals. Some are short-term oriented and invest just for a few months; others are long-term players seeking to hold a stock several years.
It is very important to remember that if you buy a stock always set a price at which you will sell if it should decline. We give a suggested stop price for our top picks as a guide.
Our studies have shown that 2 out of 3 stocks will work on the upside. Stocks that do not work should be sold. Never, we repeat never hold a stock that has violated your stop sell price. You must sell and cut any loss. This is very important for your success.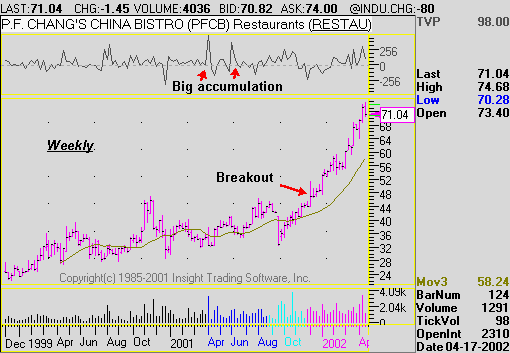 ---
For Bears Only
The TTD Report is one of the few services providing daily information on stocks to sell short. Selling short is for aggressive investors who want to exploit the downside.
Selling short occurs when one sells a stock that they do not have. The transaction is credited to their brokerage account. When they buy the stock, it covers, or replaces, the borrowed stock. The idea is to "sell short" at a high price and then buy back at a low price and to pocket the difference as a profit.
For example, say you "sold short" 1, 000 shares of IBM at 112 and then bought the stock later at 102 to cover your short. You would make $10,000. You sold getting credited for $112,000. but when you bought at 102 it cost you only $102,000.
When going short, it is wise to use only a portion of your portfolio, perhaps no more than 30%. Also, one must be very alert to cover any short that hits a stop buy point. Again, like on the longs, you must never let any stock trade turn into a big loss.
The TTD Fax list good prospective short plays. We feature one stock with a chart every day so you can get a feel for the pattern and fundamentals. We then list four or five top shorts and then the remaining shorts screened for the day.
Like long plays, TTD's Fax service seeks short plays that are "trending lower." We are not interested in a "day trade" for a short.
When going short with a stock from the TTD list, the stock may continue to head lower, or lift slightly. Do not be worried if the stock does rise a bit after being sold short, This happens. Give the short time and hold as long as it does not violate the suggested protective stop buy point.
The shorts highlighted by the TTD Report are those that have just begun to breakdown from a base. Also, the stocks should have already been in overall downtrends and have deteriorating fundamentals.
We do not like to highlight selling short stocks that have had a big rise and are market leaders. They may look good as a short but what often happens is that they can turn and rally strongly. We also prefer high-priced stocks when going short, but will not avoid the cheaper ones.
The short list can also be used as a warning. If you find one of the stocks that you own is being recommended as a short. It is often wise to sell the long.
Volume and Accumulation
Another feature of the TTD Report is our "Key stocks showing important accumulation or distribution. Our Volume AD indicator is derived from a special method of tracking all of the intraday trading in a stock. From that we derive what is called tick volume. That is we measure the difference of stock traded on up ticks vs. down ticks.
TTD has found Tick volume to be superior to almost any method of tracking accumulation or distribution. We have looked at studies such as On-Balance volume and the Demand index and have found them wanting.
Accumulation-Distribution is unique in that it will show important accumulation:
When a stock is basing.
When it is breaking out.
When it is advancing
When it has made a bottom.
There is an "art" to using accumulation-distribution in that it must be correlated with a stock's current price pattern and with its historical tick volume pattern. We have found many times that "unusual tick volume" will precede important news that will drive a stock higher.
Accumulation-Distribution studies are well regarded by our professional and institutional subscribers. They provide the subtle edge that can make a big difference in investment performance.
Tick Volume And Distribution
Distribution is important too because it allows one to see when selling is coming into a stock heavy even though the stock may have risen in price for the day.
TTD spots distribution when a stock rises yet the AD indicator lags or turns down.. The AD line is correlated with the price pattern of the stock.
Some key uses of distribution:
Spotting stocks about to peak.
Spotting stocks acting weak in a base.
Spotting stocks in a steady downtrend.
Summary
The TTD Report provides a big advantage to you in timing and spotting stocks just beginning to make a move or showing important accumulation. By getting the TTD Report the same day the stock is moving you will be right on top of the market. You will be amazed at how you will be able to time your buys so well.
No other independent daily investment service, no newspaper, no television, no stock market commentator can give you the timely information you need to get a big jump on the crowd when it comes to getting aboard a winning stock on the upside or downside.
We know you will find the TTD Report a tremendous help to improving the returns on your stock investments. TTD is an independent publisher of investment information. We are not tied to any brokerage firm, insurance company or financial institution.
Our sole goal is to provide readers with the best information to invest their money well in equities. If you have any questions or any suggestions please E-Mail us at leo@tickertapedigest.com
- End -
---
(Copyright: Ticker Tape Digest 2002 - 2010